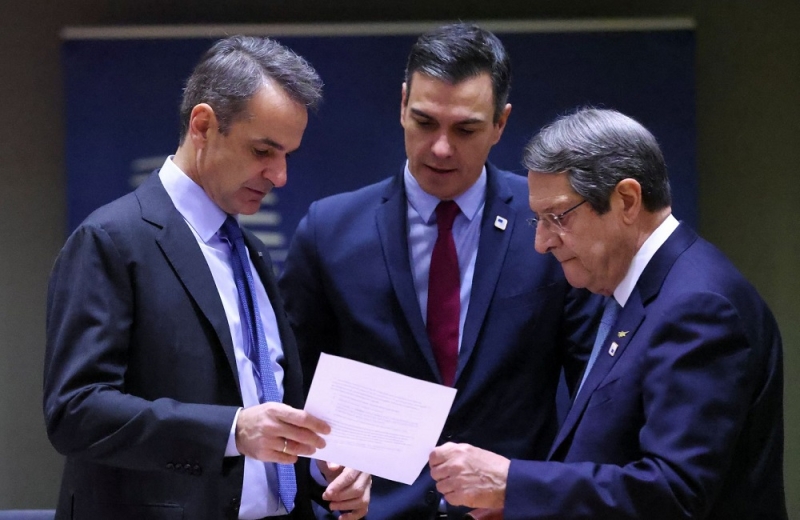 🔴 ÚLTIMA HORA | Sánchez se levanta de la cumbre europea y fuerza un parón técnico para lograr una excepción ibérica que permita bajar rápidamente la luz https://t.co/6vf8klVYd7 pic.twitter.com/2HZmrkzc6h
— EL PAÍS (@el_pais) March 25, 2022
Leaders are getting frustrated with #Scholz because he doesn't seem to have his predecessor's ability to find compromise, the source says.

"General feeling in the room is that with Merkel we would have gotten a deal on the cap a long time ago."

— Dave Keating (@DaveKeating) March 25, 2022
According to the Spanish website Ultima Hora, Pedro Sanchez read on Twitter a post by a journalist of France 24, according to which he revealed that the Prime Minister of Spain would veto the decisions of the Summit. Outraged that this information was leaked, he left the room.
However, this is only an interpretation that is not confirmed by any other international media.
New text on the energy crisis
According to the information from the international media, about an hour ago a new text of the agreement on the energy crisis was distributed, which has not satisfied many EU countries.
>
Greek Prime Minister Kyriakos Mitsotakis reiterated his proposal for the need to impose a ceiling on the price of gas and to address the passing of gas prices in the electricity market and to consumers.
In high tones the debate < According to Politico, citing EU diplomats, the debate is taking place in a very "intense" atmosphere.
Leaders gathered in Brussels for the summit are facing the difficult task of finding a common way to stem the spike in electricity prices as Europe seeks to cut off a key energy source – Russia. The compromise remains… far away as leaders continue to add things to the common text.
Various ideas have fallen on the table about how a compromise could be found, according to an official familiar with the matter. discussion – but they all have strong supporters and opponents.
The camps
One group wants aggressive EU intervention, including electricity or gas price caps, or perhaps a change in the whole structure of the energy market as a whole. The Mediterranean countries have pioneered this effort, with partial support from Belgium and Poland.
Another group, led by Germany and the Netherlands, is reacting to such dramatic measures. Instead, they want to accelerate the development of renewable energy sources and quickly adopt the EU's Fit for 55 emissions reduction package. They argue that reshaping the current market could threaten Europe's energy security.
Disagreement over gas
how the EU will ensure that it has enough gas for next winter, given the rapid pace at which Europe is shrinking Russian energy markets. The bids on the table include the common market and gas storage from the EU. While these proposals have proved less controversial, Berlin does not seem convinced, according to Politico.
Finally, It is noted that Italy has proposed the creation of an energy fund to help speed up the transition from Russian oil and gas – an idea also promoted by French President Emanuel Macron.