D. Nikolaou: The products and services of the Bank of Cyprus available everywhere, at any time with QuickHub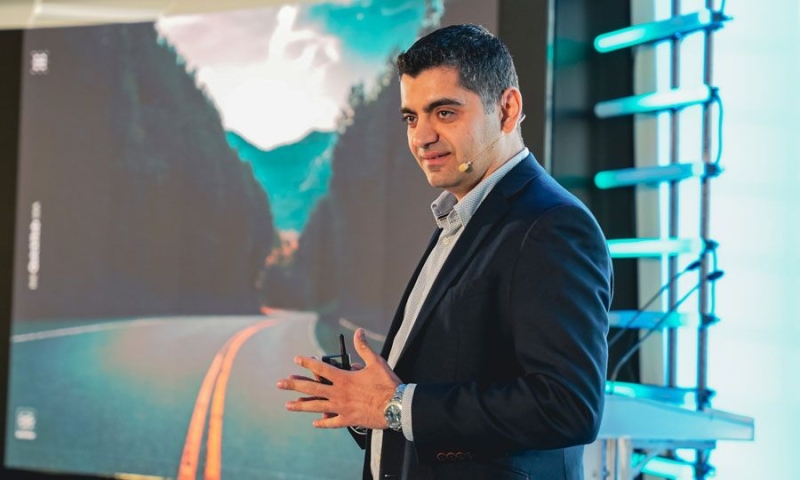 "QuickHub is a easy-to-use tool that does not require advanced digital skills to operate"
By Panagiotis Rougalas
At the end of March 2023, 94.2% of the number of transactions involving deposits, cash withdrawals and transfers within and outside the Bank of Cyprus were carried out through digital channels. As stated by the Director of Digital Transformation of the Bank of Cyprus, Dimitris Nikolaou, even in difficult times for the banking sector, the Bank of Cyprus continued to invest in digital transformation, understanding its value both for the Bank as an Organization, but above all for its customers of.
The director of the Digital Transformation department of the Bank of Cyprus analyzes in an interview with "K" the new QuickHub service, explains its functions and highlights its value.
For example, as he emphasizes, through QuickHub they can carry out daily and basic transactions such as opening an account, issuing a new card, applying for a personal loan and car rental.
– What percentage of traditional operations of a branch are now done through the bank's digital channels and what exactly does the new QuickHub service offer?
– The adoption of digital products and services continued to grow and gain momentum in the first quarter of 2023. At the end of March 2023, 94.2% of the number of transactions involving deposits, cash withdrawals and transfers within and outside the Bank, were carried out through digital channels. It is very important to point out that over time our customers trust our digital solutions more and more. It is indicative that 82.7% of our private customers choose digital channels over stores for their transactions. As of the end of March 2023, active users of mobile banking and QuickPay have grown by 15.1% and 29.3% respectively over the last 12 months. March also saw the highest number of QuickPay users so far, with 173 thousand active users. At the same time, for 2023, the highest number of payments via QuickPay was recorded in March, with 536 thousand transactions. In addition to these, we see that the Jinius digital platform is being used to a great extent by the business, in which more than 1,500 companies have registered.
The new QuickHub service is a different approach to the access of our existing and new customers to the Bank's products and services. The philosophy and operation of QuickHub is based on the logic that they are available everywhere, at any time. We are talking about an innovative digital store that gives direct access to products and services, with the push of a button. The Bank's private customers can locate and utilize it both in the BoC Mobile App and in Internet Banking. It enables them to complete their daily transactions with greater ease and accessibility as it is simple and secure to navigate and use, whether through their computer or mobile phone.
For example, through QuickHub they can carry out everyday and basic transactions such as opening an account, issuing a new card, applying for a personal loan and car rental. At the same time, our customers can proceed through the BoC Mobile App to insure their car and home, as well as to deposit checks.
– Are you preparing a training program on the capabilities of the service QuickHub for people with no digital skills?
– It is an easy-to-use tool that does not require advanced digital skills to operate. Anyone can find it on the home page of our digital channels, try it out and easily familiarize themselves with its use. Nevertheless, he can contact the specialized service operators at our bank branches or contact the Bank's call center. It is important at this point to mention that all this development in the development of digital products and services is directly intertwined with the Bank's focus on strengthening its relationship with its customers. In connection with the digital transformation we have turned our attention to the transition to a more modern way of conducting banking operations. This is how we proceed by strengthening the digitization of our customer service, but also of the Bank's internal operations. Essentially, this is how we design new products, develop new digital capabilities, hence the Bank of Cyprus strongly supports the transition of our country to the digital economy.
Mostly digital
– When do you expect all the bank's services to be digitized, if there is such a plan?
– It would not be an exaggeration to say that the vast majority of our services are already digital. What I want to emphasize is that we do not digitize for the sake of digitization. We advance digitization wherever and whenever we see that there is substance and value in doing so. Our goal and purpose is to improve our customers' experience. We have recently launched tools and products such as Digital onboarding, MoneyFit, mobile check deposit and QuickLoans.
– Based on the bank's digitization plan, what is the optimal number of branches that should remain on a Pan-Cypriot basis and what is the number of employees?
– There is no set number of stores to chase or some magic number of stores and employees. We constantly evaluate the data that comes before us based on the daily friction and feedback we receive from our customers. As I have told you before, most of the services that one can find in a Bank of Cyprus branch are now available and easily accessible on our digital channels. As we move forward, we see that bank branches will gradually begin over time to focus more on the issues that touch the important moments in the lives of our customers. We will be there, simply put, to support them in starting their new life by getting married, buying a house or an apartment.
– Do you think we are moving towards the abolition of paper money as a medium of exchange? and how does this affect the spread of ATMs in the Bank of Cyprus network?
– Despite the fact that the use of cash in citizens' daily transactions has been on the decline in recent years, which has accelerated during and after the coronavirus pandemic, I believe that we are still a long way from their abolition. Of course, we must not forget – after all, this was one of the main lessons of the pandemic crisis – that everything can be overturned and changed very quickly. We at Bank of Cyprus make sure to constantly optimize our ATM network and improve our customer service. We monitor the needs that exist, and where and where necessary we transfer machines, while we have proceeded to strengthen our network with new machines to serve the needs of businesses. In any case, our belief is that digital and card payments are much simpler and easier to use, and therefore we are here to help and support our customers in this transition.
Not in cryptocurrencies
– Are cryptocurrencies an area that concerns you with the possibility of seeing this possibility in the range of services of the Bank of Cyprus?
– No. Cryptocurrencies as such are a field that does not concern us as a Bank. Beyond that though, there is a piece of this cryptocurrency ecosystem that is interesting. I am of course referring to the technology behind cryptocurrencies (distributed ledger, blockchain, etc.).
Investments in technology and competition
– How much of the bank's fund is earmarked for its digital transformation? Will we see this percentage rise, and if so, how much?
– Even in difficult times for the banking sector, we continued to invest in digital transformation because we understand its value both for us as an Organization, but above all for our customers. This investment of ours has grown over the years and is expected to continue. Our goal is for the Bank of Cyprus to offer its customers the best and widest range of digital products and services, which ideally meet their every need. But beyond that, we are also moving forward with our expansion into new innovative services that now concern the big capital of the digital economy. I initially gave you the numbers showing the increased impact of Jinius in the business. It is an innovative platform which, utilizing the power of the Bank of Cyprus, shapes the digital ecosystem of the Cypriot economy by connecting businesses, organizations, suppliers and customers in a single digital environment. Jinius offers every business innovative services and tools that digitize, simplify and accelerate their daily transactions and activities. The innovative digital services it offers are aimed at every business and create the conditions for digital development. and the neo–banks, and not other Cypriot banking institutions and banks based in the EU?
< p>– We are in a highly competitive environment both locally and internationally. In this environment, therefore, you cannot underestimate anyone. I would say that all those you refer to are our potential competitors. It is precisely for this reason that we focus our attention on both. It is very important that we all understand that the technology is here, the future is digital and the Bank of Cyprus declares its readiness to lead this transition as well, for the benefit of the entire economy.
< iframe width='300px' height='500px' src='https://www.adstorebluebird.cy/api/banner/ServeBanner?zoneId=2734' frameborder='0' scrolling='no'>