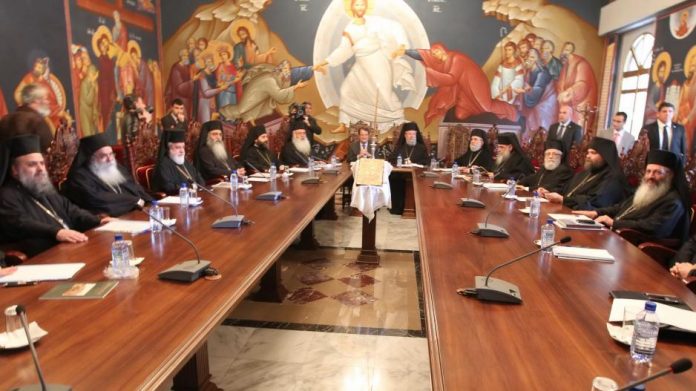 The background inside the church of Cyprus is in full swing. Camps are being formed among the members of the Holy Synod, who are fighting over various issues. The main issues that concern the camps are the succession to the archbishopric throne and the position of the church of Cyprus in the Ukrainian one. The two issues are linked, while a recent event related to the Cyprus issue has rekindled the rivalry.
Strange as it may seem, the trigger for the outbreak of underground warfare came from the United States. The presence of the American Archbishop Elpidoforos, at the inauguration of the House of Turkey, next to Ersin Tatar and the Turkish President Erdogan, gave the opportunity to a camp to come forward. The energy of Archbishop Elpidoforos gives the opportunity to the pro-Russian camp of the church to bring the Ukrainian back to the fore.
The issue is discussed by many and it is pointed out the fact that the usually lazy Archbishop Chrysostom, did not find a word to say about the appearance of Elpidoforos next to the Turkish leaders. The reason, as it is claimed, is the fact that Elpidoforos is a man of Patriarch Bartholomew who, coming into conflict with the Russian church, recognized the autonomy of the Ukrainian church. Archbishop Chrysostom's silence on such a serious issue, which provoked a strong reaction from even President Anastasiadis, was considered to be due to his difficult position, as his "allies" seemed to betray him with their close relations with the Turkish leadership. .
So instead of commenting on the action of Elpidoforos, the Archbishop preferred to comment on the metropolitan of Kykkos Nikiforos for his stance on the Ukrainian. In an interview with "Kathimerini", the Archbishop stated referring to Nikiforos:
"This man, even though he is educated, his environment deceives him and exposes him. I will ask for a meeting, if he wants the good relations we will have them if he wants us not to have relations it depends on him. I want to serve the Church, I do not want anyone to clap my hands, bow to me, or tell me that I am beautiful. I want to work for the Church and all the brothers I want to work for the Church, for Orthodoxy and to respect and love the Synod. I have been accused many times of not respecting the Synod. I respected the Summit and my demand is that they respect it too. But I do not want to say anything other than that: to learn to respect the Synod and the leader of the Church and nothing more. "
Asked if behind the noise about the attitude of hierarchs on the issue of the pandemic are hidden creepy ambitions of some for the leadership of the church, the Archbishop said:
"I do not rule out anything. But, if they exist, it is to their detriment. It means that they do not love the Church and when they do not love it, they deserve neither promotion nor anything. We owe it to all of us, lay people and clergy, to love the Church, so I do not think we should have this attitude towards it. "If we do not love her, we have become bad clergymen."