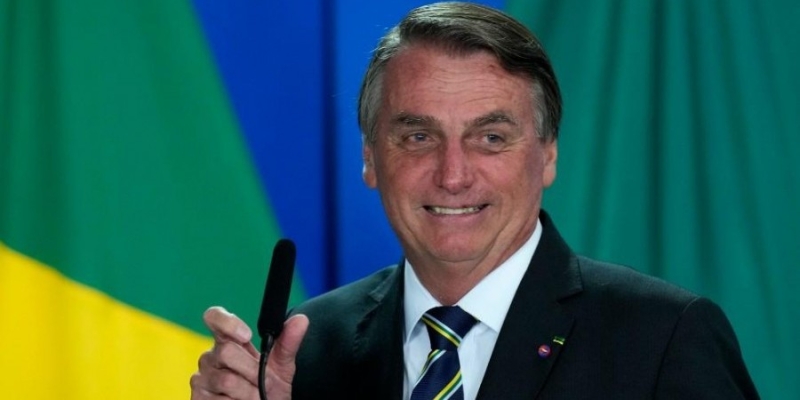 Brazilian police raided the residence of former President Jair Bolsonaro today and arrested two of his personal assistants as part of an investigation into fake Covid-19 vaccination certificates, local media reported.
The inquiry, one of several facing the far-right politician, aims to answer the question of whether Bolsonaro, a coronavirus skeptic who has vowed not to get vaccinated against the virus, was recorded as having been vaccinated in public health records in February.
Bolsonaro has denied any wrongdoing. Today, he said he was "surprised" from the police raid on his home, saying again that he has not been vaccinated. "From my side, there was nothing falsified. I didn't get the vaccine. Full stop&raquo?, he told reporters outside his home after the police raid, saying the police confiscated his mobile phone.
The Federal Police (PF) said in a statement that it carried out a total of 16 investigations and issued six preventive arrest warrants in Brasilia and Rio de Janeiro as part of the operation, which targeted "a criminal network" which is suspected of "introducing false Covid vaccination data into public health systems", but did not name Bolsonaro.
Two sources, who spoke to Reuters on condition of anonymity, said the Mauro Cid and Max Guillermo, Bolsonaro's personal aides since he was president and remained his aides after his defeat in last year's presidential election, were arrested in the operation.
The police stressed that they were investigating "false data" which were allegedly entered into a national Covid-19 database between November 2021 and December 2022, when Bolsonaro was president.
The fake vaccination certificates were "used to circumvent the health restrictions that had been imposed by public authorities in Brazil and the United States», the police underlined.
The investigation shows »ideological» reasons for circumventing vaccination rules, police said, "in order to continue an aggressive rhetoric about vaccination against Covid-19".
An AFP photographer saw a federal police car leaving the gated residential complex where the far-right ex-president lives in Brasilia, without being able to identify the vehicle's occupants.
During the throughout his term, Bolsonaro has continued to criticize Covid vaccines, asserting several times that he had no intention of getting vaccinated, while the pandemic has left more than 700,000 dead in Brazil.
After losing the October presidential election – a defeat he never acknowledged – he then spent three months in the US, leaving Brazil just two days before the inauguration of his leftist successor Luiz Inacio Lula da Silva.
A vaccination certificate was still required to enter the US when Bolsonaro went.
After returning to Brazil in late March, Bolsonaro was questioned twice by federal police.
< p> The first questioning took place on April 5 in a case of jewelry that was offered to the wife of the former president in Saudi Arabia and which entered Brazil illegally. Bolsonaro was questioned again last week as part of another investigation into his alleged role in the Jan. 8 riots in Brasilia, when government buildings and places of power were looted by people who refused to accept Lula's election.
Source: APE-MPE-AFP-Reuters