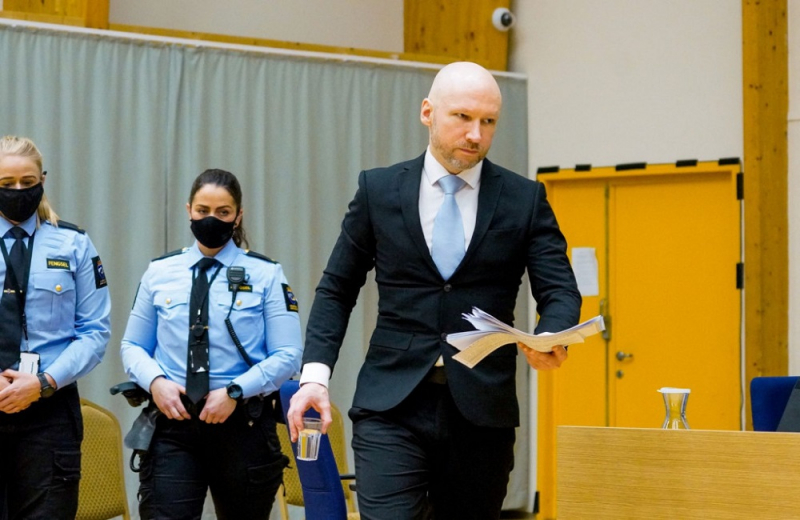 Norwegian neo-Nazi Anders Behring Breivik, who is seeking parole ten years after killing 77 people, is still as dangerous as he was a decade ago, a psychiatrist monitoring him in prison said today.
Breivik, 42, who in 2012 was sentenced to 21 years in prison with a minimum sentence of ten years and the possibility of extending his detention, has asked to be released, assuring that he has denied the violence.
"I believe Breivik's diagnosis is the same as the one I made," psychiatrist Randy Roshenkvist told Telemark's court on the second day of the trial, who was taken to the Skien prison high school, where the extremist is being held, for security reasons.
"Anti-socialist, narcissist and hypocrite"
"The risk of committing violent acts in the future has not changed compared to 2012 and 2013, when I made my first assessment," she added.
According to the psychiatrist, Breivik suffers from personality problems, and she has described him as "anti-social, narcissistic and hypocritical".
On July 22, 2011, Breivik detonated a bomb near the government headquarters in Oslo, killing eight people. He then killed 69 other people, most of them teenagers, and opened fire on a Labor party youth camp on the island of Uteja. A year later he was sentenced to 21 years in prison, with a minimum sentence of ten years and the possibility of extending his detention – the maximum sentence that could then be imposed by Norwegian justice.
The testimony of Roshenquist, the only psychiatrist to testify during the trial, is crucial for judges to decide whether to allow him to be released.
Breivik, who generally follows the process apathetically, simply shook his head a few times as he listened to the psychiatrist's testimony.
He complains about the conditions of his detention, saying that he is treated "like an animal", as he does not have enough contact with the outside world.
What he has in his cell
In 2016, Breivik, who has three cells at his disposal in prison, a DVD TV and video game console, as well as a typewriter, was acquitted when he accused the state of "inhuman" and "humiliating" treatment because he was not allowed to come. in contact with other detainees. This decision was appealed in the Court of Appeal.
From the first moment, Breivik justified the fears of many: with a shaved skull, he entered the room yesterday, Tuesday, holding a briefcase with the words "Stop the genocide of our white nations" written in English, and greeted the three judges in a Nazi manner.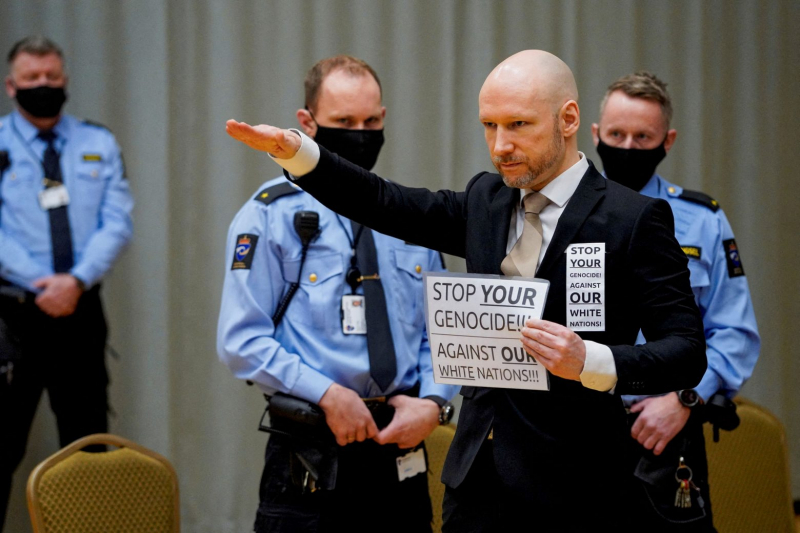 He wants to continue… by peaceful means
In his long speech he then claimed that he was just a simple "soldier" of the neo-Nazi movement "Blood and Honor", in which he blamed the attacks. His only responsibility, he says, is that he was allowed to radicalize. Giving "the word of his honor" that violence, as far as he is concerned, belongs to the past, he said that he wants to continue his fight for National Socialism but by peaceful means. He even added that he is ready to renounce any political commitment, if requested by the court.
"Someone who has been convicted of such a crime can never guarantee that he will not repeat it, because it is up to society to decide whether or not to give it a chance," Breivik said yesterday when asked if he could prove that he is no longer, as he claims, a violent fighter.
"I can give you my word of honor that I will leave the kingdom of Norway if I am released," he added.
Breivik's request for release is, admittedly, unlikely to be accepted. But it is seen as a crucial test for the rule of law – which Breivik himself sought to dismantle – as he should be treated like any other prisoner.