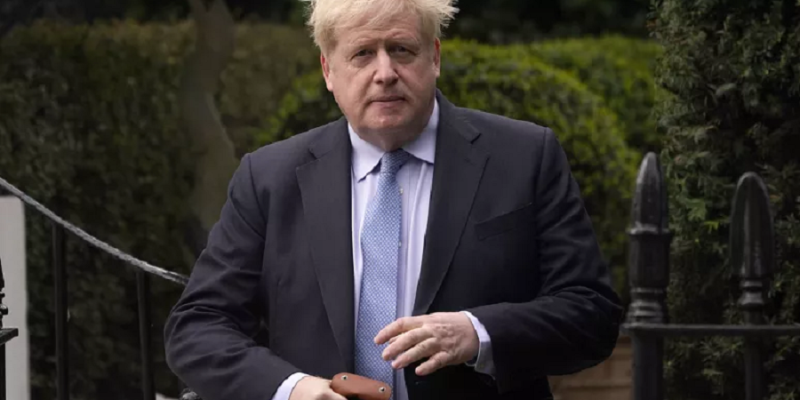 Former British Prime Minister Boris Johnson is stepping down as an MP, with immediate effect, meaning an election will be held to fill the vacant seat.
Johnson was fighting for his political future as a parliamentary inquiry is underway into whether he misled the House of Commons when he declared that all the rules had been followed during the Covid-19 pandemic.
"It is very sad that I am leaving the parliament – at least for now. I am being forced by a handful of people, who have no evidence to back up their claims and without the approval of even members of the Conservative party and, much less, the electorate.'' he said in his announcement.
Earlier today the list of people who Johnson, as a former prime minister, proposed to be given honours, titles of nobility or seats in the House of Lords was made public. This list is drawn up by former prime ministers and reviewed by a government committee and Downing Street.
The list includes his Brexit campaign allies, former government colleagues, a hairdresser, but not his father, Stanley Johnson. The Times newspaper reported in March that Boris Johnson would ask for a knighthood for his father, but his name is not on the list. But there are the names of former Home Secretary Priti Patel (she takes the title "Dame") and Eurosceptic MP Jacob Rees-Mogg (becomes "Sir").
In the list of advisers, editors of of speeches and personal assistants recommended there is also the name of Kelly Dodge, a hairdresser in Parliament.
In the House of Lords, whose members are not elected but appointed, Sean Bailey, a former candidate for the London mayor, who was accused of breaking the rules during the pandemic, enters. By contrast, despite speculation, Nadine Dorries, Johnson's former culture secretary, and Alok Sharma, the president of COP26, the United Nations climate change summit, in 2021 are not being rewarded. If they were appointed to the House of Lords they would have to to resign as MPs and to call elections in their districts. Dorries, however, said she was resigning with immediate effect, putting Prime Minister Rishi Sunak in a difficult position at a time when the Conservatives' poll numbers are at record lows after 13 years in power.
The list of Johnson provoked reactions in both major parties. Labor deputy leader Angela Rayner called the list a "sickening insult". A Conservative MP, who asked not to be named, said the list was "deeply embarrassing" and it shows that Johnson has not repented of anything.
Source: APE-MPE