Bruce Willis's time to close his circle as an actor
Willis himself, however, was extremely active as an actor until the last moment of his career. From the beginning of 2021 onwards, he has appeared in ten films./p>
The 67-year-old is retiring, as, as it became known, he was diagnosed with aphasia. The announcement was made today, through social media, by his family: his 59-year-old ex-wife, Demi Moore, his 43-year-old current wife, Emma Hemming, and his children.
"Our beloved Bruce has some health problems and was recently diagnosed with aphasia, which affects his cognitive abilities. "As a result, and after much thought, Bruce is moving away from a career that meant so much to him," the 67-year-old American actor's family said in a statement.
"This is a really difficult time for our family and we are so grateful for your continued love, compassion and support. As Bruce always says, "Live it" and together we intend to do just that ", the announcement concludes.
"Our beloved Bruce … has recently been diagnosed with aphasia, which is impacting his cognitive abilities," read the statement. "As a result of this and with much consideration Bruce is stepping away from the career that has meant so much to him" https://t.co/eRcg7RRQ7X

– The Hollywood Reporter (@THR) March 30, 2022
Aphasia is usually accompanied by speech difficulties. It is most often seen in people over the age of 65.
Willis himself was extremely active as an actor until the last moment of his career. From the beginning of 2021 onwards, he has appeared in ten films, while there are, as the Guardian notes, eight more films with him that have been completed and are expected to start showing this year and next.
The multi-year cycle that is closing now for Bruce Willis is big and impressive, as he can boast that he has starred not in a few but in a few films that were not only commercial but also exciting at the same time.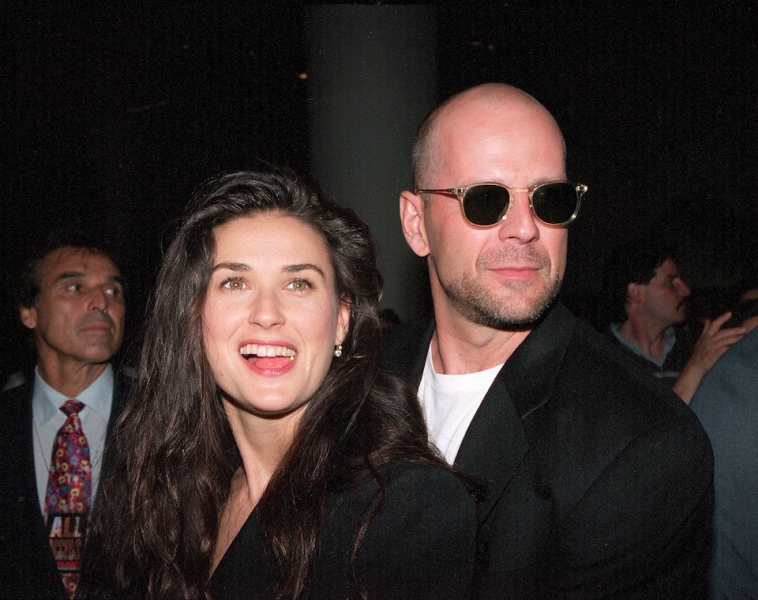 With his (now ex) wife, Demi Moore, in 1995 (AP Photo/Clark Jones)
Most people remember him, of course, as John McClain in the series Too Hard to Die (the reason for a total of five films: 1988, 1990, 1995, 2007 and 2013). His roles in Armageddon 1998 and Consumables 2012 rank him among the actors who tend to shine in action movies.
Bruce Willis, however, had another, more "atmospheric" side, the which has even remained in the history of cinema and as an extremely successful.
The Twelve Monkeys (1995), The Fifth Element (1997), The Sixth Sense (1999), The Sinful City (2005) are some of the films in which Bruce Willis shone in a very different way. He is also remembered for his role in the 1980s television series Moonlighting./p>