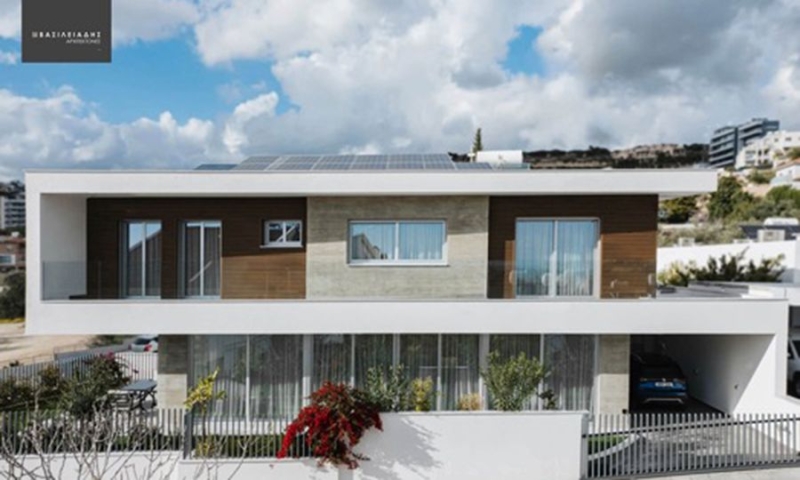 A new ground-breaking study reveals the interdependent relationship between renewable energy sources, energy efficiency measures and the purchase value of sustainable or "green" buildings in Paphos, Cyprus1.
The challenges we face, such as climate change, depletion of natural resources and pollution, require the adoption of practices and technologies that will minimize energy consumption, greenhouse gas emissions and the adverse effect on human health. Green building offers an integrated approach combining the design and construction of environmentally friendly buildings, the use of renewable energy sources, efficient waste management and the use of sustainable materials. Green buildings provide a high quality indoor environment, with improved air quality, minimal exposure to toxic substances and improved sound insulation. At the same time, green building contributes to reducing energy costs, reducing the cost of energy bills and improving the economic viability of residents. Through this approach, it is possible to minimize the impact on the environment and create healthy, sustainable and energy efficient buildings.

In an effort to highlight the importance of "green" building and energy efficiency in the wider Mediterranean region, the study focuses on identifying the benefits of "green" buildings for residents and the community, such as energy efficiency, improving the quality of air and the creation of a healthy living environment, etc.
As shown by the empirical results, the owners understand the value of "green" constructions, and in addition to pursuing sustainable and resilient urban development for the well-being of people and the protection of the planet, they wish to invest in "green" constructions, as they also offer long-term financial benefits, while their purchase value also increases.
At the same time, of course, the research highlights that although "green" constructions offer many benefits, there are still significant limitations in their application and implementation in the wider real estate market. To mitigate these limitations, the importance of policies and regulatory measures that will regulate "green" construction and sustainable development is highlighted, and concerns are raised towards the search for new and innovative approaches both to the construction and to the use of buildings. . The creation of a favorable environment for the implementation of "green" constructions, the provision of financial incentives and subsidies, as well as the education of industry professionals and the public are some of the proposals that the study concludes. Enhancing research and development of new technologies and materials that enhance green building, as well as encouraging collaboration between stakeholders and scientific institutions, are also critical to promoting green building.
< p>Based on the analysis and findings of this study, which clearly does not only concern the city of Paphos, but can be used as a model for other areas and communities seeking to invest in green building and energy efficiency, it becomes clear that "green" building is a development perspective with multiple benefits for society, the environment and the economy. Adopting this philosophy in the construction sector can lead to a more sustainable and prosperous society by creating construction projects that are environmentally friendly, promote health and improve people's quality of life. The research team consisting of Messrs. Ioannis Vardopoulos, Ioannis Vanna and Konstantinos Vassiliadis from Neapolis University of Paphos in Cyprus, and George Xydis from Aarhus University in Denmark, hopes that this study will encourage further research and initiatives to the promotion of green building and energy efficiency in the construction sector.
1. Vardopoulos I, Vannas I, Xydis G, Vassiliades C. Homeowners' perceptions of renewable energy and market value of sustainable buildings. Energies. 2023? 16(10):4178. https://doi.org/10.3390/en16104178. 
O Ioannis Vardopoulos studied civil engineering, he undertook postgraduate studies in environmental protection and management and sustainable development, and completed doctoral studies in applied urban sustainability. Today, he teaches, conducts research and prepares studies on topics related to a wide range of aspects of urban and regional sustainability.
Ioannis Vannaswith studies in economics from the University of Macedonia and many years of experience in all sectors of the banking system, he has been working for a number of years as a financial consultant and analyst. He recently successfully completed postgraduate studies in Business Administration (MBA), as well as Real Estate Appraisal and Analysis (MRE) from Neapolis Paphos University.
Georgios Xydis, a doctorate from the National Technical University of Athens and a degree in Mechanical Engineering from the Aristotle University of Thessaloniki, is currently a Professor at the Energy Technologies Center of Aarhus University (Aarhus University) and Visiting Professor at Johns Hopkins University (Johns Hopkins University) with research interests in energy resource assessment and optimization, energy planning and policy, as well as demand response in electricity markets. He has written more than 150 publications in international scientific journals, conference proceedings, books and book chapters, while maintaining an active editorial activity in scientific journals of international impact.
O< em> Konstantinos Vasiliadisis an Engineer Architect (Aristotle University of Thessaloniki), PhD from the University of Cyprus and deals extensively with technology, sustainability and energy efficiency of buildings from the architectural side. Today he serves as an Assistant Professor at the Neapolis University of Paphos, as a Research Associate at the Cyprus University of Technology, while he was a Visiting Researcher at the Department of Industrial Engineering at the University of Naples (Università degli Studi di Napoli "Federico II", Italy) and Visiting Lecturer at the Technological University of Lulew (Lule
< iframe width='300px' height='500px' src='https://www.adstorebluebird.cy/api/banner/ServeBanner?zoneId=2734' frameborder='0' scrolling='no'>