"When you meet a new person, treat him as a friend. Assume he is a winner and will become a positive force in your life – The hard way is always the right way."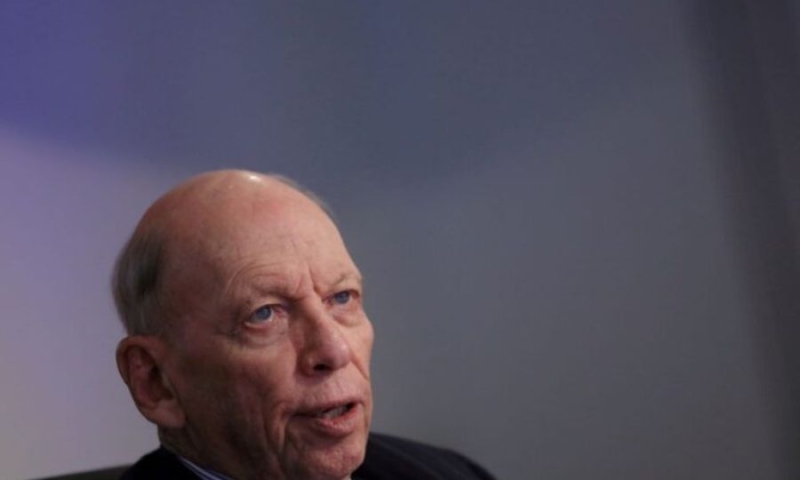 Photo: Reuters/BRENDAN MCDERMID
Byron Wien, who was described as the "dean of Wall Street analysts", died at the age of 90. Known for his list of "10 Surprises" he expected in the economy, politics and markets for the coming year, he worked until the end at Blackstone. In January, it published the 38th edition of the list, which was essential reading for those working on Wall Street.
Byron Wien was born in Chicago in 1933. His father was a doctor, but by the age of 15 he was orphaned and raised with an aunt.
The public school he attended nominated him for the Harvard University, which accepted him and changed his life, he had said in an interview.
In 1984 he was hired by Morgan Stanley, where he remained for 21 years. He began publishing his annual list of surprises—events the average investor gave only a 1 in 3 chance of happening—in 1986. Along the way, he became head of investment strategy at hedge fund Pequot Capital Management, and in September 2009 he moved to Blackstone .
Wien tried to live by his "20 Life Lessons," which said one should focus on finding a big idea, getting to know as many people as possible, reading, learns and evolves.
The analyst used to host large meetings at his home and elsewhere on Long Island, bringing political figures and billionaire stockbrokers into the same room. He himself asked a question and then moderated the discussion between them.
These meetings were a way for him to get ideas and form opinions about the next year's surprises.
Although those meetings continued into last summer, Blackstone hired Joe Zidle in 2018 to work alongside Wien and gradually take over his duties as a strategic investment analyst.
Wien himself stayed on. active at Blackstone until the end. Just last month he warned in an interview with economist David Rosenberg of Rosenberg Research that the market was overheating. Among the things that worried him were high interest rates, a very expensive labor market, declining employment and the prospect of a 2024 US recession.
Last week he participated in Blackstone's quarterly meeting of partners. "He worked until the end. He shared what he learned to make the world around him smarter and better," said company co-founder and CEO Stephen Schwarzman.
After all, the last of Wien's life lessons was: "Never retire. If you work forever, you can live forever. I know there is abundant biological evidence against this theory, but I'll go with it anyway."
Byron Wien's 20 Life Lessons
1. Focus on finding a big idea that will have an impact on the people you want to influence. If you want to be successful and live a long, exciting life, keep yourself mentally alert all the time.
2. Network intensively. Luck plays a big role in life and there is no better way to increase your luck than to meet as many people as possible. Cultivate your network by sending articles, books, and emails to people to show you're thinking of them.
3. When you meet a new person, treat them like a friend. Assume he is a winner and he will become a positive force in your life. Sometimes you will be disappointed, but your network will expand quickly if you follow this path.
4. Read all the time. Have an opinion before starting a book or article and then see if what you believed was confirmed or refuted by the author.
5. Get enough sleep. Up to 60 you need 7 hours, from 60 to 70 you need 8 hours and then 9 hours.
6. To evolve.
7. Travel a lot. Try to go everywhere before you get tired.
8. When you meet someone for the first time, try to find out what defining experience they had in their life before the age of 17. I believe that a major event in each of our youth affects what happens afterwards.
9. In charity, my approach is to try to ease pain rather than share joy.
10. Young people are insecure by nature and tend to overemphasize their achievements. Most people don't feel comfortable with who they are until they're in their 40s. From that moment on, they may downplay their achievements and become a nicer, more likable person. Try to reach this point as fast as you can.
11. Take the time to give your co-workers a friendly pat on the back when they do a good job.
12. When someone does something kind for you, send them a handwritten note, not an e-mail. Handwritten notes make an impression and are not quickly forgotten.
13. At the beginning of each year, think of ways you can do your job better. Write them down and see what you did when the year is over.
14. The hard way is always the right way.
15. Don't try to be better than your competitors, try to be different.
16. When looking for a career right out of college or making a job change, always choose the job that looks like it will be the most enjoyable. If it pays better, you're in luck. If not, accept it anyway.
17. There is a perfect job out there for everyone. Most people never find it. Keep looking.
18. When your children grow up or if you don't have children, always find someone younger to guide. It's very rewarding to help someone overcome life's obstacles, and you'll be surprised how much you learn in the process.
19. Every year, try to do something you've never done before that's outside of the things you're comfortable with.
20. Never retire. If you work forever, you can live forever. I know there is abundant biological evidence against this theory, but I'll go with it anyway.