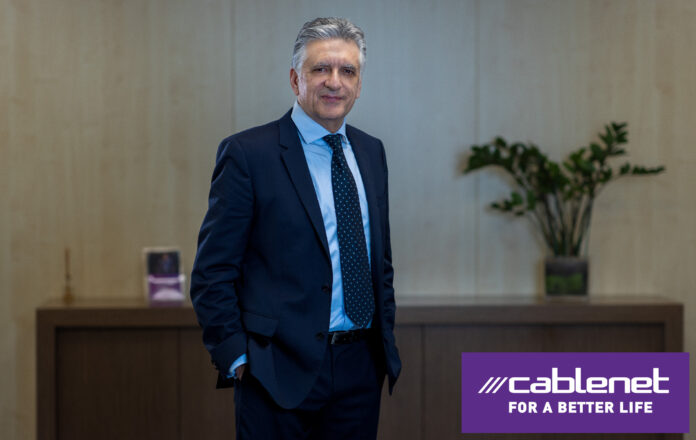 *Text in English below
Results 2022:
40% increase in Subscriber base
102% increase in Mobile Subscribers
4% increase in revenue
First in customer satisfaction
18% increase in employee satisfaction
Cablenetcontinues its upward trajectory for another year with a significant increase in revenue. Specifically, in 2022 it reached 63.9 million euros compared to revenues of 53.5 million euros in 2021, which translates into an increase of 19.4%. This double-digit increase in revenue is largely due to the outstanding growth of the Subscriber base, which saw an increase of 40% compared to the previous year.
Cablenet CEO Mr. Giannos Michaelidis , as part of its Annual Review, stated: "We are extremely honored that the market continues to trust Cablenetand to give us such a significant growth rate, among the industry leaders globally. It is all the more significant because this growth rate was achieved in a macroeconomic environment that continued to present enormous challenges for all businesses. While at the beginning of 2022 there were signs of stabilization of the basic parameters of the economy, the war in Ukraine but also the long-term effects of the COVIDpandemic-19 required constant adjustments to the company's operating model. 2022 was thus, the 3rd year in a row of challenges, during which Cablenet had to meet its long-term evolutionary path."
Cablenet continuing its establishment in the mobile telephony space, it has seen an increase of approximately 102% in its subscriber base, exceeding 93,000 contract and prepaid Subscribers by the end of 2022. This makes Cablenet the fastest growing mobile network (Fastest Growing Mobile Network) and accompanied by a 134% increase in its revenue in 2022 compared to 2021.
The revolution brought to the market by the innovative product Purple Max Mobile demonstrated that it met an important consumer need as evidenced by the continued support of a large portion of the population.
In internet services, Cablenet has made yet another breakthrough with the launch of an innovative product, Purple Max Internet. Purple Max Internet is the new internet service, offering a speed of 250Mbps with automatic ability to achieve the maximum available network speed in the subscriber's area. This means that Cablenet subscribers never have to worry about Internet speed again and never need to switch packages. Additionally, it includes the revolutionary Plume HomePass® service, providing experiences that elevate the online experience at home. Cablenet furthermore, leveraging the strategic partnership with Plume, the pioneer Company in personalized communication solutions, made a big leap in the development of "smart » home.
The expansion of our network to new areas of Cyprus continued to meet the demand from both residential customers and businesses. Now, Cablenetcovers approximately 205,000 homes, remaining true to its commitment to continuous expansion of its network, in order to reach the goal of covering approximately 80% of the country's households. The above expansion was accompanied by our continued commitment to offer higher speeds to our Subscribers and to enhance the reliability and performance of our network, aiming for an unparalleledcustomer experience. This commitment is also intertwined with increasing our actions and investments for a green future.
A milestone for Cablenet in 2022, was its retention in ranking as the top brand in Total Customer Satisfaction (CSAT), as well as achieving the highest Net Promoter Score (NPS)< /strong>in the Cypriot telecommunications market, both in fixed and mobile services, according to market research conducted on behalf of Cablenet by the independent market research company CYMAR. This ranking makes the future highly optimistic for Cablenet's future trajectory, considering the importance of these progress indicators for any company. In an open and free market, the customer has the final say on which organizations will survive and thrive over time.
During 2022, Cablenet also increased its television customer base, both in sports and entertainment. From September 2022, Cablenet acquired the rights to broadcast and distribute Eurobasket, as well as the leading team of the Greek Super League, Olympiakos Piraeus, which proved to be very popular with the general public.
The commitment of Cablenet to its customers but also to the wider society through the tag line 'For a Better Life',it is also a commitment to its staff. This motto seems to be confirmed by all staff satisfaction indicators, where in 2022 they had a significant improvement. We set the bar high on internal quality, developing a strong corporate culture based on our values ​​and transferring our vision and customer-centric philosophy to our people. In a challenging and changing environment for our people, our eNPS (Employee Net Promoter Score) increased by 18%. All this was a key component of our success.
Furthermore, in his statements, the CEO of Cablenet, mr. Michaelidis said: "I would like to close by saying that, the ongoing evolution of Cablenet, at a time when the company is growing at an industry-leading rate, no easy feat. I am incredibly proud of the way the people at Cablenet have performed to make this feat a reality in 2022, as well as their commitment and hard work. The increase we have seen in our employee satisfaction indicators is both a reward and a fulfillment of the promise we make to our human resources that at Cablenet, they can grow, develop and build a solid foundation for their future".
The President of Cablenet, Nikhil Patil said: "Cablenet continued its upward trajectory with a truly outstanding performance in 2022. establishment of the company in the field of mobile and its continuous development is an important milestone. We are particularly encouraged by the company's emergence as the leading brandin customer satisfaction indicators but also in increasing the satisfaction indicators of the human potential. These are a testament to a strategy developed and implemented by the Company's management team that combines revenue growth while investing in growth fundamentals. In this context, Cablenet will continue and further accelerate its investment program in all areas with the ultimate goal of attracting a greater number of Subscribers to have access to the philosophy of «For aBetter Life».< /em>
Cablenet confirmed as fastest growing telco provider in Cyprus
Record performance in 2022 reaching 40% increase in overall subscriber base and 19.4 % increase in revenue.
Highlights of 2022 performance:
40% increase in subscriber base
102% increase in Mobile Telephony Subscribers
4% increase in revenue
Market leaders in customer satisfaction
18% increase in employee satisfaction
Cablenethas once again proven its resiliency and adaptability with a record performance during 2022 despite the post-pandemic challenges. It has established itself as the fastest growing communications provider in Cyprus, delivering on customer demands and exceeding expectations.
This is confirmed by a record 40% growth in overall subscriber base, a 102% in mobile subscriptions, which has translated into a significant 19.4% growth in revenues, reaching €63.9 million by the end of 2022.
Cablenet's innovative Purple Max Mobileproduct concept, which offers unlimited data allowances at prices affordable to the entire market, is the main driver behind such growth. This value proposition has led to a 134% increase in mobile revenues when compared to 2021.
Commenting on this performance, Yiannos Michaelides, Cablenet CEO stated, 'Such growth is nothing short of remarkable when one considers the economic climate in which we are operating. We are in the aftermath of a global pandemic that took the world by storm and are now facing the economic implications of the disruption brought about by the war in Ukraine. This notwithstanding, the market continued to trust us with their communications needs, during a time when demand for connectivity was ever-more critical for continued social and economic development. I am truly humbled and committed to deliver on our long-term evolutionary path towards establishing Cablenet as a national full-service, quad‑play, telecom operator by building up a mobile services business of scale, alongside our leading fixed services.'
Recognizing the need for fast speed broadband, and in line with its growth plans, Cablenet expanded its fixed services network into new areas of Cyprus. It now has an estimated aggregate coverage of 205,000 Homes passed. However, network expansion is not enough unless customers enjoy the full internet experience both inside and outside their home. Consequently, Cablenet renewed its partnership with Plume, a world leader in innovative, cloud-driven smart home and business services. As a result, Cablenet launched 'Purple Max Internet', a perfect complement to its mobile offering, bringing increased value in addition to the fastest, and most secure Internet service experience.
Customers are recognizing Cablenet's efforts as it retained top spot in overall Customer Satisfaction Survey (CSAT) as well as the highest Net Promoter Score (NPS) for both fixed and mobile services.
While we continue to invest in our technology and networks, our people remain our biggest asset and its thanks to their dedication and commitment that we can achieve such results. We take their happiness and well-being very seriously and it gives me great pride that we also registered and 18% improvement in our employee net promoter score. Our renewed set of values, our reinvigorated culture, and our absolute focus on our employee well-being and development are providing a key component for our long-term sustainability,' explained Yiannos.
Cablenet Chairman , Nikhil Patil's, expressed his satisfaction at Cablenet's 2022 performance: "We are very excited at the progress Cablenet has made and what the future holds for this growing company. It has continued to prove its determination to bring added value to its customers and returns to its shareholders. The ongoing transformation of Cablenet, at a time when it's growing at an industry‑leading rate, is no easy feat. The Board and I are incredibly proud of how Cablenet's Management and people have performed to make this feat a reality in 2022. We remain committed towards Cablenet and shall continue to support its expansion in the various areas," said Nikhil.
< p>Cablenet remains committed to its promise of 'Cablenet for a better life', offering practical and simple solutions to customers to improve their everyday lives. Doing things better, greener and thinking and acting in a socially mindful context, are directions it plans to explore to increase its value‑added and contribution to the Cypriot consumers and businesses.