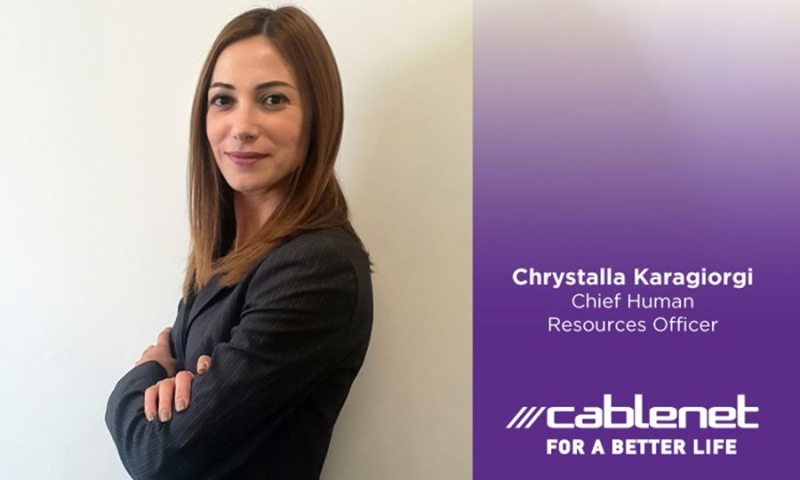 "In the last year, we have managed to double our staff satisfaction index. By setting the bar high on internal quality, developing a strong corporate culture based on our values ​​and conveying our vision and customer-centric philosophy to our people, we simultaneously achieved a significant increase in the level of satisfaction of our subscribers", states Chief HR Officer of Cablenet,Chrystalla Karagiorgis.
The commitment of Cablenet «For a Better L ife» begins and ends with the company's staff, its own people. In her statements, Mrs. Karagiorgi emphasizes the importance of providing a unique work environment.
"We stand out for the high quality of services and the unique service experience we offer through our experienced and trained staff. Our people define the company's success and add value to our business strategy, which is why the satisfaction of our people is an extremely important aspect of our business activity".
The world of Cablenet experiences a work environment that promotes initiative, trust, professionalism and recognition. "Friendliness and simplicity are components of our growth and success. Away from complex processes and adopting effective and modern methods, our people can communicate easily, work efficiently and successfully face challenges", added Mrs. Karagiorgi.
Providing opportunities for advancement and professional development, Cablenetoffers its people the opportunity to take on a variety of roles throughout their careers and gain broad experience, knowledge and skills. Many people in the company have been promoted internally to other positions and have continued to develop achieving an interesting career path. Specifically, in the last 12 months, approximately 20% of the company's staff had been promoted to new positions.
Ms. Karagiorgi emphasizes in this regard:It's very important to us to see our world evolve, and we've never stopped giving everyone the opportunity to do so. We invest significantly and systematically in the training of our team, with the aim of developing their skills and knowledge, both at a professional and personal level, combining different forms of training and using the most sophisticated methods and practices, such as the use of asynchronous media. At the same time, we provide the possibility of obtaining certifications mainly in the Technology sector, which we consider necessary resources for the development of our people. It is worth noting that Cablenet offers scholarships or tuition discounts for selected study programs at University Institutions, investing in this way in the staff us. Thus, we grow and develop together!"
In addition, Cablenet attaches great importance to the recognition and appreciation of its staff and this is demonstrated in practice by creating an alternative and simple Professional Recognition, Appreciation and Reward Plan. Explaining the "Kudos" Plan, Mrs. Karagiorgis mentions "Each colleague has the possibility to send kudos, congratulations, to colleagues as a sign of recognition and appreciation of their contribution. Through the Kudos Schemewe aim to share and recognize unknown, important, everyday incidents, because some admirable acts of professionalism and camaraderie are easy to recognize and reward, but there are also those that are not easily highlighted. At Cablenet, our goal is to reward all actions, because for us they are important as are our people! These unknown deeds, ideas, daily efforts, big and small achievements of our own people at Cablenet, who make us proud, we want to reward and give them the recognition they deserve! Because every good idea, act and behavior must be highlighted and rewarded immediately and systematically!"
Priority is the Person and their support, both on a professional and personal level. "At the top of our priorities is HEALTH, physical and mental. Through various initiatives and actions we ensure the creation of a suitable working environment, within which our staff will be able to ensure professional and personal well-being, i.e. improving the quality of life on a professional and personal level, recognizing that the two sectors are interconnected with pressing requirements . In particular, in recent years with the aim of satisfying different but at the same time important needs of our people and their families, we started organizing a series of lectures by scientists and experts on medical issues, proper nutrition and physical and mental health. Particularly important were the lectures by a distinguished assistant professor on Financial Literacy (Financial Literacy) whose aim, among other things, was to help our world, to make correct financial decisions such as a loan, investments or savings".
Privileges and benefits are therefore provided that aim to combine work with family life and free time at the same time. Specific practices have been adopted to ensure this combination, such as working hours, working from home, provision of marriage license, possibility of reduced working hours in certain cases, family-oriented activities and events and various other facilities. 'At Cablenet, we not only support the role of the working mother but also the working father, aiming for gender equality without prejudices and stereotypes".
Also, great importance is given to the medical care of the staff and the his family and in other savings and insurance benefits. The benefits are not limited here, as Cablenet offers gifts for the important moments of its people, as well as free services and discounts in collaboration with shops, restaurants, gyms, etc. In addition, the teamCablenethas the ability to participate and contribute in practice to society through charity events that are organized.
"At Cablenet we know how to enjoy every moment! The various corporate events, such as the annual and summer party, events for the whole family, team building activitieswhich are often organized, enhance social interaction, cooperation and communication".
Finally, Mrs. Karagiorgi states "We believe that the image we have managed to create as a company and as employer attracts talented and active people who want to be part of a dynamic and evolving team'.
Telecommunications is a modern and constantly developing environment, where new employment opportunities constantly arise. Cablenet, following the ever-changing pace of the times, creates competitive jobs. For more information on Employment Opportunities – Cablenet Communication Systems PLC.
Cablenet For a Better Life!
< iframe width='300px' height='500px' src='https://www.adstorebluebird.cy/api/banner/ServeBanner?zoneId=2734' frameborder='0' scrolling='no'>