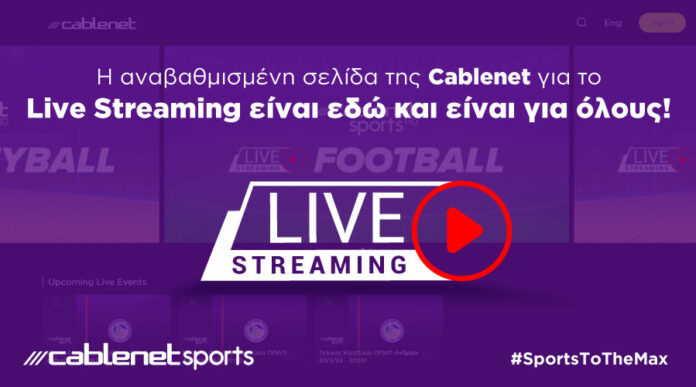 Cablenet, the company that constantly evolves and adapts to the needs of its customers, changes the data again and offers you an upgraded Live Streaming experience >! It enriches its already existing services with even more sports content, while giving you the opportunity to watch all the Cypriot sports spectacle from anywhere on the planet and wherever you are!
Now, you have the possibility to you can watch individually the matches of your favorite team and more specifically the home matches of APOEL, Anorthosis, Pafos FC /strong>, and of Karmiotissa, in league and cup as well as league and cup matches in the U19 category!
You can also watch live matches of all sports broadcast on Cablenet sports channels Sports such as Football Championship and Cup, Handball, Athletics, Swimming/Water Polo, Instrumental and Rhythmic Gymnastics, Judo and Karate as well as Motor Sports! >
The service is offered to the public and in special monthly packages depending on the category and content that each user wants to access >special prices.
Once again Cablenet leads the way and offers you rich sports content through packages that make the difference!
Discover them too at http://cablenet.com.cy/livestreaming/ and register today!