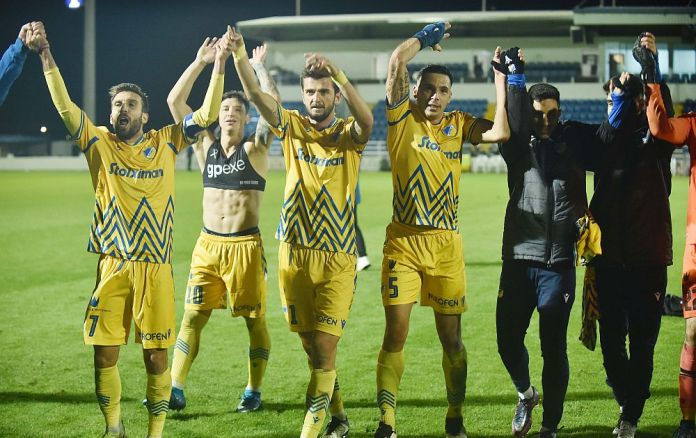 APOEL completed 2021 with gas and entered 2022 with gas.
Sofronis Augustis's team was (finally) unaffected by the 20-day absence and on the contrary made a very good appearance (especially in the first half), passing… air through Dasaki and beating Ethnikos 3-0 (after the 4-2 win over Omonia in last year's last match) and looking determined to play her leftovers (even) for the title.
It does not say much that the opponent of the blue and yellows was the tail team in a championship in which everyone loses points… by everyone, just that in APOEL they feel great satisfaction for the fact that their players took this game very seriously and they had the necessary mood and energy to lay the foundations for the three-pointer from the first half.
And it is a three-pointer that creates even better conditions for APOEL which for the first time since the start of the season has reduced to -10 from the top having less game than the champions, something that allows him to hope that on the one hand after the of the postponed matches the distance will be further reduced and on the other hand that winning the champions (has to play with Aris and AEK in GSP) will throw it even more until the playoffs.
Of course, APOEL has not even sealed its place in the top six, as it does have less games than Paphos and Omonia which is at +2 and +1 respectively but at the same time it has more games than the seventh Anorthosis which is at -1. The blue and yellows will have to let go of two of these three teams in order to achieve their primary goal.
However, the image of the last period creates in the leaders of the team but also the world the optimism that not only will it "lock" the six but in addition the score will continue and APOEL will even claim the championship, a goal that for many seemed already… lost case.
Besides, the quality of APOEL started to appear more and more on the field, the crowd on the stands is gradually increasing and gives a lot of help to the players and the team is gaining more and more confidence and dynamics, with the blue and yellows hoping that there will be a similar continuation and that will be confirmed by their coach who stated that the team will fight it to the end.