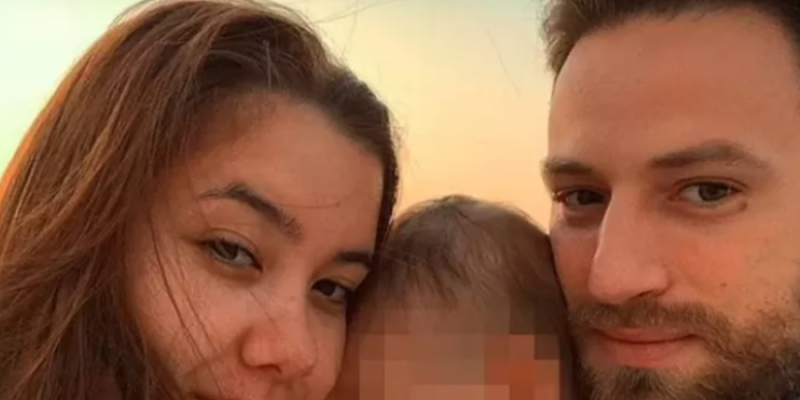 The parents of Babis Anagnostopoulos, who murdered his wife Caroline Krauss in front of their daughter in Sweet Waters, have failed in their attempt to get custody of their granddaughter, Lydia, who will live in the Philippines.
Babis Anagnostopoulos, 35, was sentenced to life in prison last year for choking 20-year-old Caroline Crouchs, in front of the couple's nine-month-old daughter Lydia, in May 2021.
According to the Daily Mail newspaper , almost two years after the murder, Anagnostopoulos' parents' request for custody of the couple's daughter Lydia was rejected by an Athens court.
Now, the Greek grandparents of the little girl will have just one hour of communication a week with little Lydia "via Skype or other electronic means", as the court decision states.
Caroline Crouch's family lawyer, Thanasis Harmanis, said: "It is what we wanted from every point of view. The baby girl will now live peacefully with Caroline's sister and mother Susan in the Philippines. Lydia couldn't be happier than that.
The court decision ends the efforts of the Anagnostopoulos family to bring Lydia back to Greece. And it comes after Anagnostopoulos appealed last month to have his sentence reduced.
Speaking as his appeal began in Athens, Caroline's father David launched a scathing attack on Anagnostopoulos, saying: "It is absolutely despicable that my daughter's killer is trying to reduce his prison sentence because of his "good behaviour" of. The crime committed by the murderer, that of femicide, is a heinous crime that should deserve particularly severe punishment. In my opinion, men who kill their wives, for whatever reason, are the lowest of the low, and rank in the same category as pedophiles.
"I think it will be a sad day. for women when the killer of a defenseless woman who slept with her child will serve less than his full prison sentence. This man is beyond contempt.
Anagnostopoulos' legal team argues that no mitigating circumstances were considered in the original trial, and that Anagnostopoulos had simply reacted violently because 'Caroline had pushed Lydia away.' ; and was "worried" for their daughter.
Read also: Members of "Rubicon" they threw tricycles outside the house of the former Minister of Transport
Source: skai.gr