POWERED BY:
13:26 Tuesday
29 March 2022 INSIDER • GOAL • IN-CYPRUS • PROPERTY • CYPRUS -IS • CAREER LIKE • GOING OUT • XRYSES SYNTAGES • ACTIVE • PHILGROUP NEWS & nbsp; SOCIETY & nbsp; INSIDER & nbsp; OPINIONS & nbsp; GOING OUT & nbsp; CULTURE & nbsp; SPORTS & nbsp; AUTO & nbsp; GOOD LIFE & nbsp; USEFUL & nbsp; PRINTED EDITION & nbsp;
ARCHIKIEIDISEISPOLITIKITOPIKAPARASKINIOMEDIAELLADAKOSMOSEPISTIMIPERIVALLONTECHNOLOGIASYNENTEFXEISCHRYSES ETAIREIESKOINONIAEIDISEISKYPROS OF CHTHESANAGNOSTI HAVE LOGOEPISTOLESSYNENTEFXEISDIMOFILI IN INTERNETVIDEOSAFIEROMATAADVERTORIALINSIDEREPICHEIRISEISKYPROSBRAND VOICECAPITALFORBESBLOOMBERG OPINIONPROTAGONISTESKAFTI GRAMMICHRYSES ETAIREIESKARIERAAPOPSEISARTHRA IN "F" INTERVENTION IN "F" MESSAGE YOUR SKITSAO WORLD TWITTERGOING OUTTHINGS TO DOCINEMAMOUSIKIESTIATORIABAR/CAFETV ODIGOSTILEORASIPOLITISMOSKYPROSKOSMOSKRITIKESEKDILOSEISPROSOPAATHLITIKAPODOSFAIROMPASKETPARASKINIAELLADADIETHNIALLA SPORAPOPSEISSKITSOVIDEOSAUTONEAPAROUSIASIAPOSTOLESAGONESKALI ZOIFGEIADIATROFIEF ZINASTRACHRYSES SYNTAGESSYNTAGES SEFVIMA VIMACHRISIMAFARMAKEIAGIATROIAERODROMIALIMANIATILEFONAOPAPKAIROSSYNALLAGMALACHEIAAPPSPROSFORESENTYPI EDITION POLITIKITOPIKAPARASKINIOMEDIAELLADAKOSMOSEPISTIMIPERIVALLONTECHNOLOGIASYNENTEFXEISCHRYSES COMPANIES EIDISEISKYPROS OF CHTHESANAGNOSTI HAVE LOGOEPISTOLESSYNENTEFXEISDIMOFILI THE INTERN ETVIDEOSAFIEROMATAADVERTORIAL EPICHEIRISEISKYPROSBRAND VOICECAPITALFORBESBLOOMBERG OPINIONPROTAGONISTESKAFTI GRAMMICHRYSES ETAIREIESKARIERA ARTICLES IN "F" INTERVENTION IN "F" MESSAGE YOUR SKITSAO WORLD OF TWITTER THINGS TO DOCINEMAMOUSIKIESTIATORIABAR/CAFETV ODIGOSTILEORASI KYPROSKOSMOSKRITIKESEKDILOSEISPROSOPA PODOSFAIROMPASKETPARASKINIAELLADADIETHNIALLA SPORAPOPSEISSKITSOVIDEOS NEAPAROUSIASIAPOSTOLESAGONES YGEIADIATROFIEF ZINASTRACHRYSES SYNTAGESSYNTAGES SEFVIMA STEP FARMAKEIAGIATROIAERODROMIALIMANIATILEFONAOPAPKAIROSSYNALLAGMALACHEIAAPPSPROSFORES ENTERPRISES LTD BRAND VOICE CAPITAL FORBES BLOOMBERG OPINION PROTAGONISTS HOT LINE GOLDEN CAREER COMPANIES
EXCLUSIVE COOPERATION
TOGETHER WITH
Powered by
Next Previous CCCI: Aim to further strengthen Cyprus-Egypt relations the further strengthening of the Cyprus-Egypt relations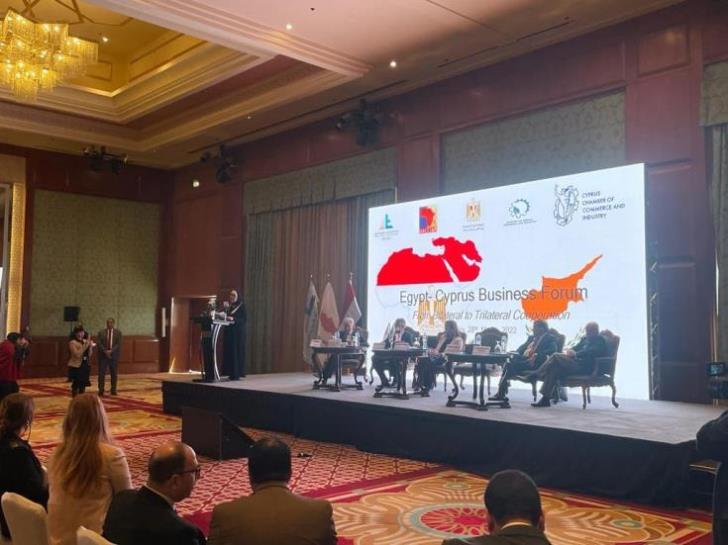 With the aim of promoting the relations between the business communities of Cyprus and Egypt, the CCCI in collaboration with the Ministry of Energy, Trade and Industry and the Cyprus-Egypt Business Association, organized a Business Mission and Forum in Cairo from March 28 to 31.
During the Forum, the opportunities offered by Cyprus as an investment destination and as a regional and international base for business, as well as the real estate sector were presented.
In addition, issues of mutual interest were discussed, as well as the strategic advantages of the two countries, followed by presentations of Cypriot and Egyptian development projects, as well as investment opportunities.
He described the meetings in Cairo with the Egyptian Ministers as particularly productive. The Minister of Energy, Commerce and Industry, Natasa Pileidou, during the address of the Forum, while as she added, the contacts of the companies from Cyprus and Egypt, are encouraging. & Nbsp;
In his greeting, the Vice President of the CCCI Andreas Dimitriadis, said that the time is now ideal to intensify efforts to further strengthen economic, trade and business relations between Cyprus and Egypt, assuring that the Cypriot business community is fully committed to to achieve this goal.
After the end of the Business Forum, more than 80 private business meetings (B2B meetings) were held between Cypriot and Egyptian companies.
This Business Mission is part of the wider effort made by the CCCI in cooperation with the Ministry of Energy, Trade and Industry, as well as the local Embassies and Shopping Centers of the Republic, with the ultimate goal of promoting Cyprus and its competitive advantages in important foreign markets./p>
13 Cypriot companies participated in the Mission, and 60 Egyptian gentlemen as in the professional services and construction industries.