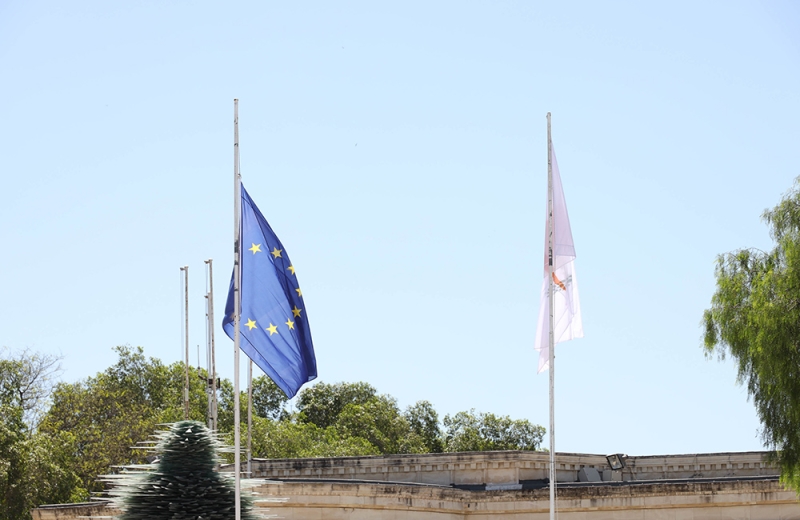 Peace prevails on the European continent and cooperation between Member States for a better future were the main points of the main messages of the Europe Day celebrations, which took place on Sunday, 8 May, in Eleftherias Square, Nicosia.
In his introductory speech, the Mayor of Nicosia, Konstantinos Giorkatzis, stated that Cyprus, as an EU member state, has managed to face and manage many crises for the benefit of its citizens.
"We have benefited significantly as a state and as societies from the benefits of the Union's regional policy, which is a true example of European solidarity. "The contribution of these European resources for Nicosia is reflected primarily here with the renovation of Freedom Square, but also of the center of the capital in general", he added.
"Today, more than ever, there is a need for Europe to stand united and in solidarity with Ukraine. "In such moments we owe it to our common history to remember that we are both Europeans and patriots because that is Europe, united in its diversity," he added.
Foreign Minister Ioannis Kasoulides said that today the peoples of Europe need a united Europe more than ever, as the continent faces internal and external challenges and threats.
"We We Cypriots recognize that our participation in the EU is extremely important for our security, stability and prosperity. It's our duty to work with our partners to ensure peace, stability and prosperity in Europe and the world, "he added.
"The Russian invasion of Ukraine forces us to remain united. We need a new security architecture, we need a new concept of European design and that is what we are going to do. The Ambassador of Ukraine is present today, we applauded him not only as a gesture of solidarity, but also for the heroism of the Ukrainian people. "These people are being subjected to a barbaric attack and yet they are resilient, they are resisting and we admire them", added Mr. Kasoulidis on the occasion of the developments in Ukraine.
Andreas Kettis, Head of the European Parliament's Office in Cyprus, stated that the building of joint supranational institutions, such as the European Parliament and the European Commission, established the European Union and guaranteed the continuation of the many benefits currently enjoyed by citizens in all 27 Member States. of the Union.
"The European Union stands with one voice on the side of Ukraine and the European Parliament is doing everything it can to support the Ukrainian people in defending their national sovereignty and integrity. This year's Europe Day is therefore even more important as an opportunity to reaffirm our commitment to peace, to show our solidarity with Ukraine and the Ukrainian people, and to uphold universal values ​​such as freedom and democracy in a world order based on in rules "he said.
French Ambassador Salina Grenet-Catalano, on behalf of the country holding the Presidency of the Council of the European Union for the current six months, said that the war waged by Russia against Ukraine shows us that Europe still needs to fully protect the values ​​and that the Union has demonstrated its strength in the face of this challenge in recent weeks. "We have been able to respond immediately and unanimously to this war by implementing an unprecedented sanctions regime to pressure Russia to agree to a ceasefire. "While this war is affecting our economies, we must be united if we want Europe to be stronger," he said.
"We need to move towards a greener, more independent and more efficient Europe. We must also move towards a more humane and democratic Europe, a Europe that truly listens to its citizens. "Tomorrow, Europe Day, we will learn the conclusions of the Conference on the Future of Europe, and I hope that this unprecedented democratic exercise will enable us to build a stronger Union for decades to come." p class = "text-paragraph">The Head of the European Commission Delegation to Cyprus, Myrto Zambarta, stressed that the focus should now be on the Europe of the future, "a Europe that protects, encourages, reflects the wants and capabilities of our citizens, especially the young people who are dedicated to this year. The European Youth Year 2022 aims to involve young people in key consultation processes and focuses on restoring a positive outlook for Europe 's youth. "
"The time has come to make the EU a social union with strong rights for all workers, with equality between men and women, with quality and safe work, taking effective measures to tackle youth unemployment, income inequality and huge differences in living conditions and social security ", he emphasized characteristically.
Citizen's Commissioner Panagiotis Sentonas said that democracy and peace are not given and that the war in Ukraine is a painful reminder, adding that "what keeps Europe united and makes it strong is its democratic vitality, which is based on democratic principles and that at its core is the rule of law. "
Mr Sentonas also welcomed the recognition of 2022 as the European Year of Youth and related actions in Cyprus issued a general invitation to participate in this effort, inviting young men and women to submit their proposals for a better Europe.
Finally, the Rector of the University of Cyprus Tassos Christofidis stated in his speech that the European family is called to make the necessary transitions to ensure peace, to translate political developments to safeguard the interests of its member states and to protect its citizens. in their entirety.
"The EU offers a lot to the European citizen. As Rector of the University of Cyprus, as an academic, I experience Europe's contribution to the development, research and promotion of enhanced synergies. "Europe is many things, as long as we look around our country carefully how many infrastructure projects have received EU funding," he added.
positions of principle, but positions of interests. But those who have positions of principle are the citizens, who consider the principles of freedom, equality, justice, social justice as fundamental. "The EU edifice must be based on these principles", concluded Mr. Christofidis.