A first read of Apollo's new acquisition's bio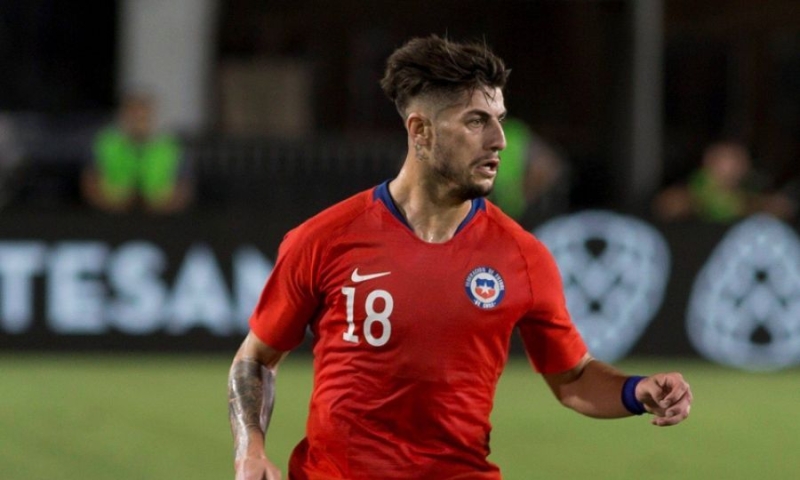 Apollo's tenth acquisition is Angel Sagal, with whom the Limassol team informed that they have reached an agreement in principle until 2025. He is a 30-year-old left-footed Chilean footballer, who, at least based on his CV, is enough to untie Bogdan Antone's hands in attack. According to "transfermarkt" he counts over 80 appearances as a left winger, close to 40 as a right winger and another 70 (approx) at the top of the attack! However, it should be noted that his best performances were on the left, where, as already mentioned, he played most of the time.
Beyond that, it is worth noting that he started his career in his hometown Rangers Talca, from where he was taken by Huachipato in 2013. In that team he played for four years, leaving a very good impression and thus earning his transfer to the seven times champion of Mexico, Patchuca, for 1,880,000 euros. His first year there was quite good, as he had 43 appearances, ten goals and eight assists. In fact, he had counted minutes of participation in the Club World Cup, where his now former team competed at the time. For the record, they took third place, beating Al Jazira in the minor final. They previously beat Uidat and lost in the semi-finals to Gremio.
Nevertheless, the continuation was not similar, since in 2019 he moved on loan to Juarez (Mexico), to leave in September 2020 for the Turkish Demilispor, where he had a "full" year. Although his team was relegated, he stood out with 36 appearances, one goal and six assists, earning him a transfer to Gaziantepspor the following summer. At the club in question he established himself in the starting line-up from the beginning to count a total of 51 appearances, six goals and three assists.
He left the Gaziantep team as a free agent a few weeks ago, however the decision to leave was made much earlier and this is how the loan to Ferentsvaros came about last March. Specifically, this is an area that was seriously affected by the earthquakes that occurred last February in Turkey. The situation was very bad for him and his family and so he decided to leave.
"We tried to help the people we knew a little in the days after the earthquake. Then we left in a van which was the fastest we could find as there was a lot of demand on the flights. We were in Antalya for almost the whole of February and then the choice of Hungary came up".
"My family was terrified. It was a difficult time, especially for my children. My wife was very worried. Emotionally it was difficult, but my family didn't want to live in uncertainty anymore and that's why it was better to go to a country where we will have more security", some of Sanga's statements after he left Turkey.
In Ferentzvaros, he made seven appearances and one assist… and although he could not establish himself in the starting lineup at the end of the season, he celebrated the first first division championship in his career!
Add to all the above also that he is 18 times international with the National team of Chile, with which he scored two goals and among other things he had the opportunity to represent at the Confederations Cup 2017. He counted a few minutes of participation in the final with Germany, which they won by 1 -0. His last participation was in 2019 in a friendly against Argentina, however his last call was in 2021.
In conclusion, Apollo acquired a footballer who has a lot of experience, comes from three full years and who is in his 30s shows that he still has a lot to offer. But we've been there many times and we'll say it again… that the stadium is a mirror for everyone and that's where Chagall will be judged… too.