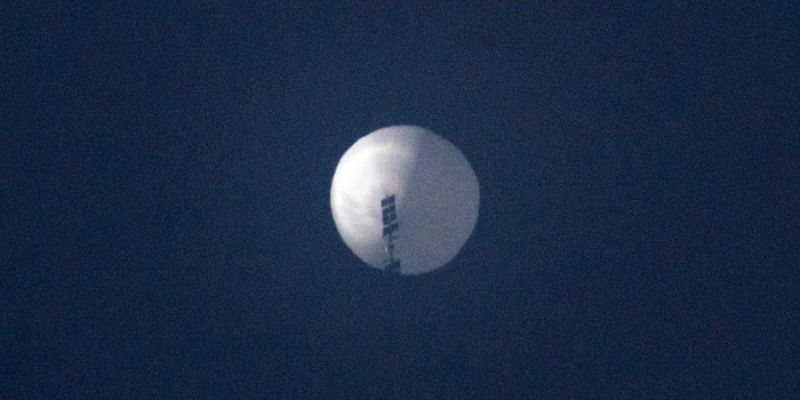 The Chinese "spy" balloon that flew over US soil this week, prompting the postponement of the US Secretary of State's visit to China, is a tool guided by artificial intelligence, according to a US expert.
< p> For William Kim, an expert on surveillance balloons at the Marathon Initiative think tank in Washington, these airships are powerful surveillance tools that are difficult to shoot down.
A 'spy' balloon? driven by artificial intelligence?
Although the appearance of the Chinese balloon resembles that of an ordinary meteorological balloon, some elements differ, Kim points out.
Its imposing payload, which is visible, consists of electronic instruments for guidance and monitoring , as well as solar panels to power the whole thing.
According to him, this balloon may have guidance technologies that the US military does not yet have.
The expert explains that with advances in artificial intelligence (IA), a balloon can now be steered by simply changing altitude to reach a suitable point to find a wind that will push it in the desired direction.
Previously it had to either be guided from the ground with a cable "or you left it and it went where the wind pushed it," explains William Kim.
"What has happened very recently with advances in artificial intelligence is that we can now have a balloon (…) that doesn't even need to have its own means of propulsion. "By simply controlling the height, it can control its direction," he summarizes.
Such technology may, however, include communications with its base.
What are the advantages in relation to satellites?
According to Kim, satellites are increasingly vulnerable to attacks from Earth and space.
Balloons, on the other hand, have multiple advantages, starting with their ability to evade radar.
«They are made of materials that do not reflect light, they are not metal. So even though they can be rather large (…) they are difficult to track».
If they are small enough, the espionage mechanisms and payload of these airships can even go unnoticed.
>
Balloons also have the advantage of being able to remain in a fixed position over the tracked target, unlike spy satellites which must remain in orbit.
"They can fly for months over the same location" ?, the expert assures.
Could the balloon have reached the US due to an accident?
For William Kim, this is a "real possibility". The Chinese balloon may indeed have originally been sent to collect data outside the US border or much higher and suffered some damage. it was flying at about 46,000 feet above the ground, instead of the 65,000 or 100,000 feet at which instruments of this type usually fly.
«It's definitely a little low (…) If the target was to make it harder to detect, harder to shoot down, it would make sense to send it higher».
Why can't the US shoot it down?
Taking down the balloon is not as easy as it looks, warns Kim.
«These balloons work with helium (…) you can't just shoot it and make it catch fire» like a remote control, the expert explains.
"They are not things that explode or pop", he continues. "If you poke a hole in it, it will just deflate very slowly".
William Kim recalls that in 1998 the Canadian Air Force sent an F-18 fighter to attempt to shoot down an out-of-control weather balloon.< /p>
«They gassed it with 20mm ammunition. And yet it took six days to come down.
For Kim, it is not clear whether surface-to-air missiles work against this type of balloon, as their guidance systems are indeed designed to hit fast targets. .
Source: RES-MPE