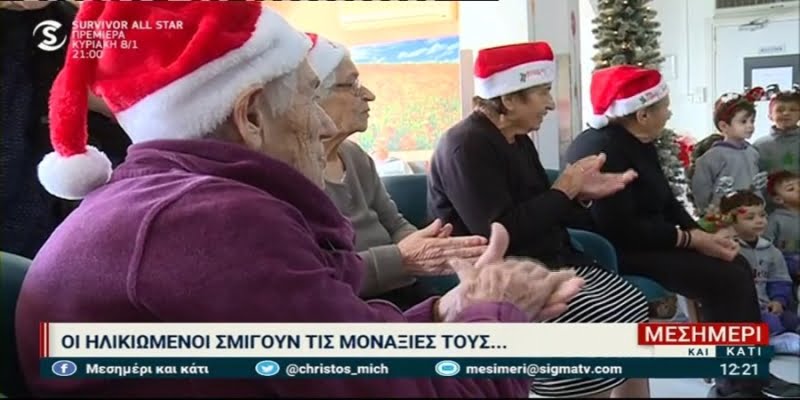 Many elderly people in nursing homes will spend Christmas alone.
The preparations for the Christmas table are in full swing, the shopping streets are full of people rushing to do the last shopping and life goes on at the fast pace of everyday life.
However, for the elderly things are different, very different. different. The lanterns, the ornaments, the Christian icons and the rich decorations bring to their memory the Christmas revues with family and friends, when everything was different.
Sigma's camera entered a nursing home in Nicosia, where he met elderly people who, despite their loneliness, were singing and dancing in the Christmas mood.
«We have some programs with music, karaoke where some elderly people try to sing Christmas carols. they really like that. OK, we have done our decorations so that the elderly who are inside the structures understand the spirit of Christmas", said the President of the Association of Retirement Home Owners, Loizos Grigoriadis.
Some will spend the holidays alone Christmas
Some will they have the opportunity to spend Christmas for a few hours at the table with their family and some others will spend it in the nursing home with their only company being loneliness.
Mr. Grigoriadis emphasized that "many of the children are planning to take a few people to their homes on Christmas Day for a few hours to see each other" in their houses. OK, we always have the risk of the corona virus but we try to tell the children to do a self test beforehand to reduce our risk»
«My children are in Strovolos and they will come maybe take me for some hours. We will have a great time as we spend every day, we will also spend Christmas», declared an elderly woman.
At the same time, a second elderly woman told us that they will not come because they have another table and will take her another day.
The elderly combine their loneliness
The old people in the old people's homes unite their loneliness and embrace each other.
«Wonderful, wonderful, no one complains, we are blessed, we have a good time as if we were at home. "Everything is fine, our food is full, it's quiet, we can talk, we have questions to answer," said an elderly woman to Sigma's camera.
very nice, like brothers all».
Great cost of the pandemic for the elderly
The cost of the pandemic proved to be great for the elderly. There is also a portion that is still afraid to go home for fear of contracting the coronavirus.
"He has people who are concerned about going home because of this, some say I don't want to go in case something happens, but most of them have overcome it, it is now, it has entered our lives, things are better, it is almost all vaccinated. It's a big burden that we've gone through in the last two years, and we and our staff as well as the elderly who are inside,'' emphasized the President of the Association of Retirement Home Owners.
The elderly sent us their own wishes. . Wishes filled with the love and warmth of grandma and grandpa.
The wishes of the elderly:
"Let them spend Christmas well with their family, if they want to go somewhere to have a good time, go and have a better time than any other".
"Let everyone have a good time with their theirs».
«May the world pass peacefully with health».
We must never forget our elderly&hellip? Those who raised us, those who supported us, those who taught us from the beginning what Christmas and holidays mean. All such days need from us is our love, our attention and some meaningful time with them. After all, the magic of Christmas is hidden in these small but so important moments.
Also read: Urgent needs for blood met – Thanks to the Blood Center