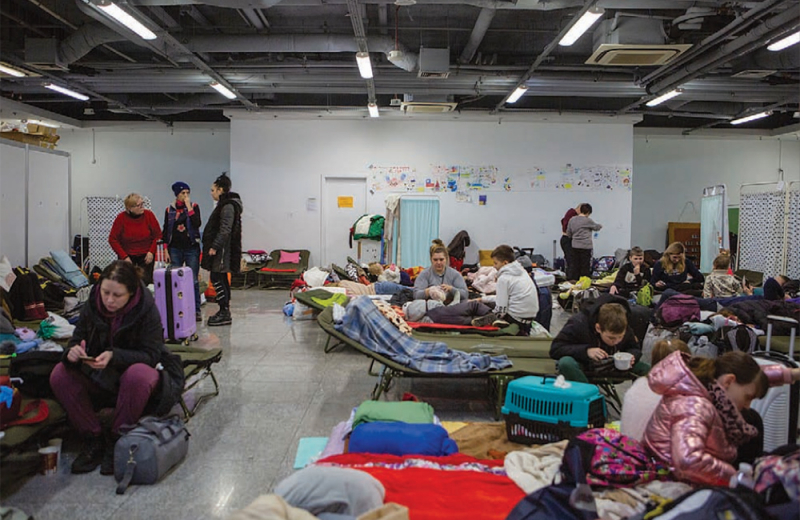 Mission: Costas Konstantinou, Eleni Papadopoulou
It is almost half past five in the morning. The streets of Krakow are still deserted, but in the basement of the main train station the picture is completely different. People of all ages, women and children only and the elderly, are crowded. Some carry their suitcases, others their children, others their pets and some others all this together. There are some who just crawl carrying the weight of a great and difficult life full of deprivation and hardship which, you see in their face, they never imagined and can not accept that it will end like this, with such an unjust overthrow. If anything unites them, beyond their common origin, it is dignity and stoicism. No one is shouting, no one is complaining about anything, nor do you see any of these children crying. Even those who slept on the floor, finding no space or could not stay in the makeshift "rooms" with dozens of ranches for the most vulnerable groups, made sure to do it in corners, discreetly, so as not to obstruct travelers. The organization of the Polish authorities and volunteers is impressive, especially considering that every day, in this station and in every station in Poland, refugees arrive en masse who from here should be promoted to places of accommodation or hospitality by locals as soon as possible. possible. And that can take some 24 hours. In one of these places for the most vulnerable groups we ask to enter and if possible to take some photos without faces. The people in charge kindly ask us to find out details, to see IDs, to ask us questions and to explain that there are young women, some with children, the main target of traffickers whose circuits have already spread everywhere. The instructions of the Polish government and the EU, which finance these places and the care of refugees, they explain to us, are clear and strict. The same goes for the terms of our agreement: from afar, very discreetly, not persons, nor anything that could reveal identity. After all, the time we have here is not much. We have to get on the train to the Ukrainian border, where more and more refugees are arriving, after the bombings, and to western Ukraine, to Lutsk and Ivano-Frankivsk, very close to Lviv. Where we will go the next day, again, with the same train, at the same time.
More on the subject in the printed version of "P" and for the subscribers of CITIZEN PREMIUM edition of the newspaper in PDF at the same time as its daily circulation from 05:00 in the morning.