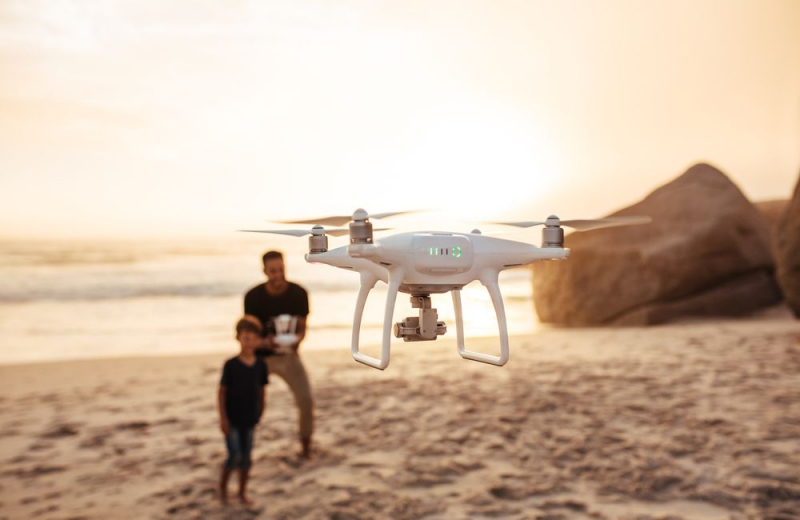 The technological development of drones has been rapid in recent years, a fact which expands their fields of application. In Cyprus, five private companies and organizations, including TEPAK, have received approval from the Department of Civil Aviation to offer professional services using special category drones (over 3 kg), while a school in our country offers training to pilots. drones of the special category. According to the regulations, drones of this class must have a flight license, just like airplanes!
In addition to photographing and videotaping weddings, which has become a must, professional drones are used for research and rescue, for aerial scientific observation of the natural or structured environment with high definition space images, for surveillance of the operation e.g. of a photovoltaic park. Abroad they are also used for war espionage, while we read that drones make coffee delivery and are used as couriers to send postal packages to remote areas, something we have not had in Cyprus yet. The Department of Postal Services is investigating, as it recently announced, the possibility of using drones to transport parcels.
Many hobbyists
But apart from the professional use, the so-called unmanned aerial vehicle systems are for many simply the evolution of modeling. Many hobbyists have found great interest in drones under three kilograms which they can use in various ways for their entertainment: For aerial photography or aerial video, many fly drones just to feel like they are "piloting" normal planes, while others take part in speed races for drones. The interest of Cypriots for drones is increasing and this is reflected in the number of drones registered in the Department of Civil Aviation. At the moment, more than 500 local drone users (open category, ie under three kilos) have entered the TPA website and have secured through their registration the permission to fly in the airspace of Cyprus.
It is also obligatory for those who fly drones to declare it for non-professional purposes. The same was done by 1300 tourists who have also followed the legal process that requires online registration in the TPA register. All these tourists obviously come to Cyprus on vacation and bring with them their drone to see our island from above. If one considers that in 2017 only 300 drone pilots, including Cypriots and tourists, were registered in this register, one realizes the leap in two years as today they are registered over 1800. It is obvious that this hobby is gaining more friends πάει
Drone use only by sober people
The reason why national regulations have been enacted around drones is to avoid endangering either flight safety, national security or human safety. As we have been informed by the Department of Civil Aviation (TAA), although there are regulations prohibiting the use of drones in an area of 8 km from the airports, incidents have occurred, which fortunately did not endanger flight safety. In Larnaca the TPA is in contact with the municipality of the city for the placement of prohibition signs for drone flights.
The website www.drones.gov.cy has all the information about the no-fly zones for drones, as well as the altitudes at which they can fly. In the small category, less than three kilos, which do not conduct commercial activities, their flight altitude should not exceed 50 meters (170 feet) from the ground or water. Also flights are allowed only where the pilot has direct visual contact with the drone at a distance not exceeding 500 meters. Photographing specific infrastructure is also prohibited. Also, the pilot does not fly under the influence of alcohol and other psychotropic substances, which can affect his judgment and perception.
Furthermore, it is not allowed to operate flights with the simultaneous use of more than one unmanned aircraft. Photographing facilities, projects and infrastructure of the National Guard and other national security infrastructure is strictly prohibited.