POWERED BY:
08:55 Sunday
29 May 2022 INSIDER • GOAL • IN-CYPRUS • PROPERTY • CYPRUS-IS • CAREER LIKE • GOING OUT • XRYSES SYNTAGES • ACTIVE • PHILGROUP NEWS & nbsp; SOCIETY & nbsp; INSIDER & nbsp; OPINIONS & nbsp; GOING OUT & nbsp; CULTURE & nbsp; SPORTS & nbsp; AUTO & nbsp; GOOD LIFE & nbsp; USEFUL & nbsp; PRINTED EDITION & nbsp;
ΑΡΧΙΚΗΕΙΔΗΣΕΙΣΠΟΛΙΤΙΚΗΤΟΠΙΚΑΠΑΡΑΣΚΗΝΙΟMEDIAΕΛΛΑΔΑΚΟΣΜΟΣΕΠΙΣΤΗΜΗΠΡΟΕΔΡΙΚΕΣ 2023ΤΕΧΝΟΛΟΓΙΑΣΥΝΕΝΤΕΥΞΕΙΣΧΡΥΣΕΣ ΕΤΑΙΡΕΙΕΣΚΟΙΝΩΝΙΑΕΙΔΗΣΕΙΣΚΥΠΡΟΣ ΤΟΥ ΧΘΕΣΑΝΑΓΝΩΣΤΗ ΕΧΕΙΣ ΛΟΓΟΕΠΙΣΤΟΛΕΣΣΥΝΕΝΤΕΥΞΕΙΣΔΗΜΟΦΙΛΗ ΣΤΟ INTERNETVIDEOSΑΦΙΕΡΩΜΑΤΑADVERTORIALINSIDERΕΠΙΧΕΙΡΗΣΕΙΣΚΥΠΡΟΣBRAND VOICECAPITALFORBESBLOOMBERG OPINIONΠΡΩΤΑΓΩΝΙΣΤΕΣΚΑΥΤΗ ΓΡΑΜΜΗΧΡΥΣΕΣ ΕΤΑΙΡΕΙΕΣΚΑΡΙΕΡΑΑΠΟΨΕΙΣΑΡΘΡΑ ΣΤΟΝ "Φ"ΠΑΡΕΜΒΑΣΕΙΣ ΣΤΟΝ "Φ"ΤΟ ΜΗΝΥΜΑ ΣΟΥ ΣΚΙΤΣΑΟ ΚΟΣΜΟΣ ΤΟΥ TWITTERGOING OUTTHINGS TO DOCINEMAΜΟΥΣΙΚΗΕΣΤΙΑΤΟΡΙΑBAR/CAFETV ΟΔΗΓΟΣΤΗΛΕΟΡΑΣΗΠΟΛΙΤΙΣΜΟΣΚΥΠΡΟΣΚΟΣΜΟΣΚΡΙΤΙΚΕΣΕΚΔΗΛΩΣΕΙΣΠΡΟΣΩΠΑΑΘΛΗΤΙΚΑΠΟΔΟΣΦΑΙΡΟΜΠΑΣΚΕΤΠΑΡΑΣΚΗΝΙΑΕΛΛΑΔΑΔΙΕΘΝΗΑΛΛΑ ΣΠΟΡΑΠΟΨΕΙΣΣΚΙΤΣΟVIDEOSAUTOΝΕΑΠΑΡΟΥΣΙΑΣΗΑΠΟΣΤΟΛΕΣΑΓΩΝΕΣΚΑΛΗ ΖΩΗΥΓΕΙΑΔΙΑΤΡΟΦΗΕΥ ΖΗΝΑΣΤΡΑΧΡΥΣΕΣ ΣΥΝΤΑΓΕΣΣΥΝΤΑΓΕΣ ΣΕΦΒΗΜΑ ΒΗΜΑΧΡΗΣΙΜΑΦΑΡΜΑΚΕΙΑΓΙΑΤΡΟΙΑΕΡΟΔΡΟΜΙΑΛΙΜΑΝΙΑΤΗΛΕΦΩΝΑΟΠΑΠΚΑΙΡΟΣΣΥΝΑΛΛΑΓΜΑΛΑΧΕΙΑAPPSΠΡΟΣΦΟΡΕΣΕΝΤΥΠΗ ΕΚΔΟΣΗ ΠΟΛΙΤΙΚΗΤΟΠΙΚΑΠΑΡΑΣΚΗΝΙΟMEDIAΕΛΛΑΔΑΚΟΣΜΟΣΕΠΙΣΤΗΜΗΠΡΟΕΔΡΙΚΕΣ 2023ΤΕΧΝΟΛΟΓΙΑΣΥΝΕΝΤΕΥΞΕΙΣΧΡΥΣΕΣ ΕΤΑΙΡΕΙΕΣ ΕΙΔΗΣΕΙΣΚΥΠΡΟΣ ΤΟΥ ΧΘΕΣΑΝΑΓΝΩΣΤΗ ΕΧΕΙΣ ΛΟΓΟΕΠΙΣΤΟΛΕΣΣΥΝΕΝΤΕΥΞΕΙΣΔΗΜΟΦΙΛΗΣΤΟ INTERNETVIDEOSΑΦΙΕΡΩΜΑΤΑADVERTORIAL ΕΠΙΧΕΙΡΗΣΕΙΣΚΥΠΡΟΣBRAND VOICECAPITALFORBESBLOOMBERG OPINIONΠΡΩΤΑΓΩΝΙΣΤΕΣΚΑΥΤΗ ΓΡΑΜΜΗΧΡΥΣΕΣ ΕΤΑΙΡΕΙΕΣΚΑΡΙΕΡΑ ΑΡΘΡΑ ΣΤΟΝ "Φ"ΠΑΡΕΜΒΑΣΕΙΣ ΣΤΟΝ "Φ"ΤΟ ΜΗΝΥΜΑ ΣΟΥ ΣΚΙΤΣΑΟ ΚΟΣΜΟΣ ΤΟΥ TWITTER THINGS TO DOCINEMAΜΟΥΣΙΚΗΕΣΤΙΑΤΟΡΙΑBAR/CAFETV ΟΔΗΓΟΣΤΗΛΕΟΡΑΣΗ ΚΥΠΡΟΣΚΟΣΜΟΣΚΡΙΤΙΚΕΣΕΚΔΗΛΩΣΕΙΣΠΡΟΣΩΠΑ ΠΟΔΟΣΦΑΙΡΟΜΠΑΣΚΕΤΠΑΡΑΣΚΗΝΙΑΕΛΛΑΔΑΔΙΕΘΝΗΑΛΛΑ ΣΠΟΡΑΠΟΨΕΙΣΣΚΙΤΣΟVIDEOS ΝΕΑΠΑΡΟΥΣΙΑΣΗΑΠΟΣΤΟΛΕΣΑΓΩΝΕΣ ΥΓΕΙΑΔΙΑΤΡΟΦΗΕΥ ΖΗΝΑΣΤΡΑΧΡΥΣΕΣ ΣΥΝΤΑΓΕΣΣΥΝΤΑΓΕΣ ΣΕΦΒΗΜΑ ΒΗΜΑ ΦΑΡΜΑΚΕΙΑΓΙΑΤΡΟΙΑΕΡΟΔΡΟΜΙΑΛΙΜΑΝΙΑΤΗΛΕΦΩΝΑΟΠΑΠΚΑΙΡΟΣΣΥΝΑΛΛΑΓΜΑΛΑΧΕΙΑAPPSΠΡΟΣΦΟΡΕΣ ΕΠΙΧΕΙΡΗΣΕΙΣ ΚΥΠΡΟΣ BRAND VOICE CAPITAL FORBES BLOOMBERG OPINION ΠΡΩΤΑΓΩΝΙΣΤΕΣ ΚΑΥΤΗ LINE GOLDEN COMPANIES CAREER
EXCLUSIVE COOPERATION
TOGETHER WITH
Powered by
Next Coffee for all tastes – In Cyprus with a turnover of millions HOME • INSIDER • CYPRUS • Coffee for all tastes – In Cyprus with a turnover of millions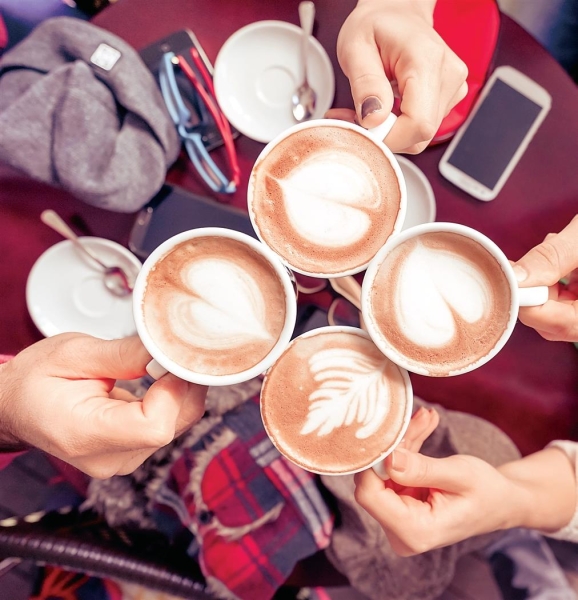 & nbsp & nbspΕυαγόρας Prokopiou & nbsp; & nbsp;
Coffee is completely identified with the & nbsp; social life of Cyprus, professional and social everyday life and concerns all age groups. At the same time, it is an industry in Cyprus with a turnover of tens of millions of euros. & Nbsp;
In Greece they have Frappe, in Italy Espresso, in Spain Cafe bombon, in Ireland Irish coffee, in Vietnam Egg Coffee, in Australia flat white, in South India Kaapi, in Turkey, they have Turkish coffee, which as the Greek and the Cypriot are roasted on embers, in Sweden and Finland they have kaffeost, in Mexico they have Café de olla, in Brazil they have Cafezinho, in Austria they have Melange and we have Cypriot coffee.
Each country has its own coffee or better yet the way it enjoys this famous drink. After all, there are many types of coffee for all tastes. Impossible, even for those who are not coffee lovers, not to find their own kind. & Nbsp;
In Cyprus, coffee has been established since the time of Ottoman rule and its continuous consumption over time, even when adulterated in times of poverty or commercial control by the conquerors, testifies to its impact on the conscience and daily life of Cypriots. As a cultural element, it goes hand in hand with the history of the place, is integrated into ideologies, is part of the everyday language with various expressions, is targeted for social, religious or political reasons, functions as an identity, pretext, occasion, promise or consolation and finally prevails as cultural practice to date.
From the male-dominated cafes of the neighborhoods and the villages to the modern domestic and imported cafes, the coffee culture is a synthetic element in the DNA of the Cypriot. The choices and qualities are there to satisfy everyone. Coffee in all its versions is sold or served almost everywhere. From the kiosks, in the street canteens, in the restaurants in the bars, in the specialized coffee chains with the professional bartenders, but also in the traditional cafes. Questions such as cold or hot, traditional or not are a thing of the past. Coffee specialization is gaining ground and is slowly entering our lives. New trends in the field are increasingly based on the new generation that the coffee industry is trying to win with modern techniques and ideas.
Characteristic that a country that does not exceed one million and virtually without tourists in 2019 to 2021 during the period December 2019 to November 2020 in Cyprus were imported 105 thousand bags of 60 kg coffee, which is the way to measure the coffee trade according to the organization & nbsp ; & nbsp; International Coffee Organization. In the period December 2020-November 2021, a little more than 100 thousand bags of coffee were imported. Even with these quantities we did not enter the top twenty countries in the world with the most coffee consumption per capita. According to statistics, the Scandinavians are presented as the beasts of coffee.
THE FIRST AND "CYPRIOT" TO RESIST
G. Charalambous Coffee Grinder was founded in 1943 as a company under the name George Charalambous Ltd and is the first organized coffee grinder in Cyprus with Cypriot activity. It is a family business, which specializes in the production and distribution of the eponymous coffee Charalambous in the local market and abroad, with a long and important history in the production of authentic Cypriot coffee. A name associated with the modern history of coffee in Cyprus is & nbsp; Laikon Kafekopteio, which supplies the Cypriot market with the traditional Cafe Laikou since 1948. It was founded by a group of professional coffee makers, equipped with a used manual grinder and grinder, a bicycle for distribution and initial staff of 6 people.
WHAT DETERMINES THE PRICE OF COFFEE
In general, coffee prices are shaped and calculated based on many different factors. Some types of coffee have a higher price due to the process they take to make it. The blend also plays a role in the price, of course… Depending on the quality, origin and rarity of each blend, coffee may differ in price.
THE TWO BASIC ITEMS
There are over 50 types of coffee but there are two predominant ones, which are cultivated systematically and eventually used all over the world. Coffea arabica and Coffea canephora, more commonly known as Coffea robusta.
The arabica variety is the oldest of the two varieties. It is believed to have originated in Ethiopia but, as its name implies, was first cultivated in the Arabian Peninsula. 78% of world coffee production is of the arabica variety. It thrives better at high altitudes, has a very refined taste compared to other types of coffee and contains 1% caffeine. The arabica variety is now produced mainly in Central and South American countries and is known for its strong aromatic taste that gives coffee. The various types of light coffee (mild coffees) are made from a high quality variety of arabica.
The robusta (robust) variety is more resistant to plant diseases than arabica, due to the almost double amount of caffeine it contains, as caffeine can paralyze and kill some of the insects that threaten the coffee tree. As its name implies, it is a "robust" species with high production per plant. It thrives at lower altitudes and has a harsher, harder taste. The robusta variety, which accounts for the remaining 22% of world production, has the ability to adapt to warm-humid climates, in which arabica does not thrive. Despite its more neutral taste compared to arabica, the robusta variety is increasingly popular, especially in the form of instant coffee. Most coffee products on the market today are packaged in various combinations of the two varieties with different characteristics in order to satisfy the desired taste and aroma of the consumer public.
THE 10 MOST EXPENSIVE COFFEE MIXTURES IN THE WORLD
1/Black Ivory Coffee – Price: $ 1,000 + per pound
2/Finca El Injerto – Price: $ 500 + per pound
3/Hacienda La Esmeralda – Price: $ 350 per pound
4/Kopi Luwak – Price: $ 160 per pound
5/St. Helena – Price: $ 79 per pound
6/Molokai – Price: $ 51 per pound
7/Jamaican Blue – Price: $ 50 per pound
8/Fazenda Santa Ines – Price: & nbsp; $ 50 per pound
9/Los Planes – Price: $ 40 per pound
10/Hawaiian Kona – Price: $ 35 per pound
From the magazine Insider (May)