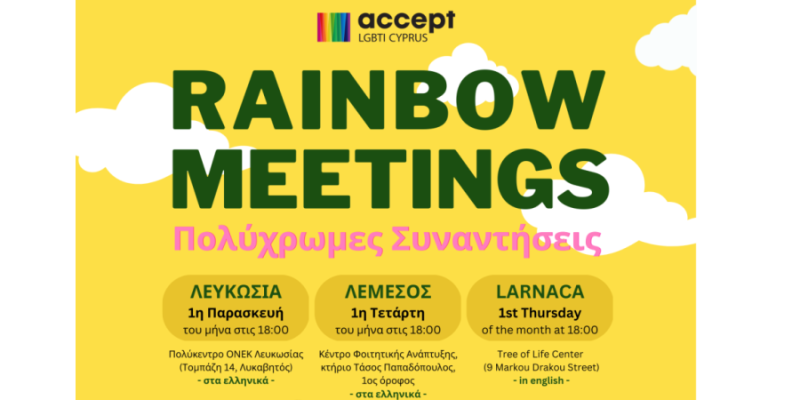 The Cyprus Youth Organization, in the context of its long-term support for actions that promote diversity and equality among all social groups, is supporting the "Colorful Meetings" action. organized by Accept-LGBT Cyprus.
The aim of the meetings is to hold a dialogue around issues that concern society, in order to make possible the elimination of incidents of discrimination and intimidation. At the same time, families, friends and other interested parties are given the opportunity to openly express their concerns and discuss issues concerning the LGBTI community.
Starting from March 1st, meetings will be held every first Friday of the month in Nicosia at the ONEK Polycentre, every first Wednesday of the month in Limassol at the TEPAK Student Development Center, in the "Tassos Papadopoulos" building, as well as every first Thursday of the month in Larnaca, at the Tree of Life Centre.
The meetings in Larnaca will be held in English, while in the other provinces in Greek. The meetings will start at 18:00 and will end at 19:30, while they will be coordinated by members and volunteers of Accept-LGBT Cyprus.