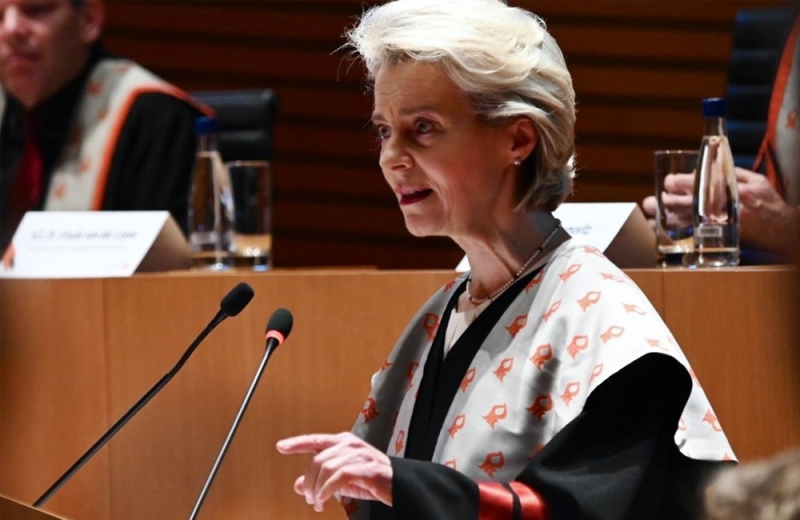 Utilizing Israel's vast renewable energy sources will help reduce the EU's dependence on Russia, European Commission President Ursula von der Leyen said during a visit to Israel.
According to a statement from the EuroAsia InterConnector, stressing the importance of Cyprus and Greece in securing energy supply, he said this would be achieved through the EU-co-financed EuroAsia Interconnector, and an east-east hydrogen gas pipeline. Mediterranean.
During the Honorary Doctorate ceremony at Ben Gurion University in the Negev on Tuesday, the President of the European Commission said: "We are now exploring ways to strengthen our energy cooperation with Israel ".
"We have two major projects under preparation: the longest and deepest submarine power cable in the world, which connects Israel with Cyprus and Greece. Over time, the power supply through the cable will be from renewable energy sources. That's where the investment should focus. "
In January, the European Union approved a € 657 million grant to build a 2,000-megawatt EuroAsia Interconnector submarine cable to connect the electricity grids of Israel, Greece, Cyprus and The "Connecting Europe" Mechanism.
The EuroAsia Interconnector is a Project of Common Interest and has been on the Union's CSR infrastructure list since 2013.
The President of the Commission said that Israel has" abundant natural resources for the production of renewable energy sources.
And the second project is a gas and clean hydrogen pipeline in the Eastern Mediterranean, he said, adding that it is an investment in the energy security of both Europe and Israel. He said that this infrastructure will also help to rid our energy mix of carbon emissions.
and to fight this huge enemy called climate change. This is the great crisis that lurks "he said according to the announcement.
He noted that" we need to mobilize all our knowledge, our expertise and our entrepreneurial spirit to bring innovative technologies, to work to combat climate change. To make this world better and to give our children a planet where there will still be seasons, a spring, a summer, an autumn and a winter ".