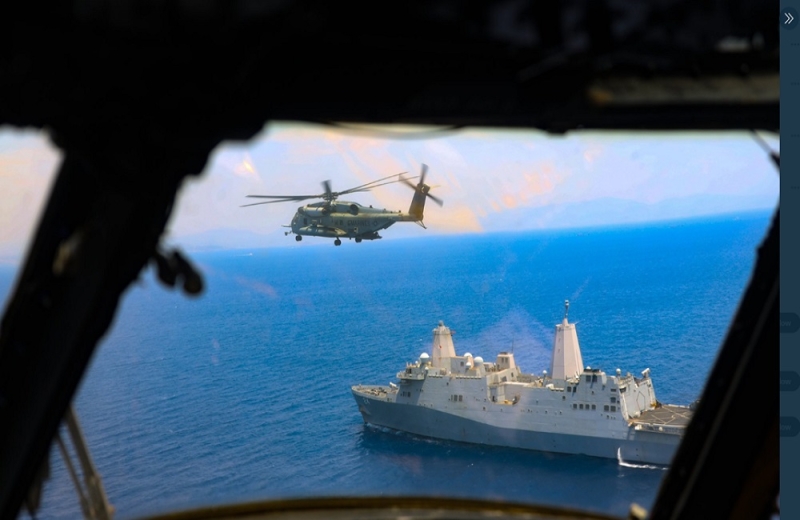 Turkey should respect the integrity of all its member states on land, sea and air, said European Commission Representative Peter Stano.
< p>Responding to a question from ERT regarding the recent threats and inflammatory statements made by Turkish President Tayyip Erdogan against Greece, the Commission's Representative stated:
"Regarding EU-EU relations EU member states with Turkey, the EU has been and is clear that we expect Turkey to behave constructively, to refrain from escalating steps, from rhetoric or actions, and to commit itself to building good neighborly relations, not the other way around. ».
"We have repeatedly stated that any open issue must be dealt with peacefully, through dialogue, good faith, full respect for international law and in accordance with the principle of good neighborly relations."
"Athens: Nothing can hurt our sovereign rights "
The Prime Minister of Greece Kyriakos Mitsotakis, speaking at an event of the Chamber of Commerce and Industry, called for a" national rally against an unpredictable neighbor ".
>
Arriving at the Thessaloniki Summit, Foreign Minister Nikos Dendias reiterated that Greece is not going to follow Turkey on the path of challenges. "We are not going to contribute with insulting statements, with irregular, illegal, irrational claims with claims beyond the limits of international law to a permanent escalation with the neighbor Turkey", stressed Mr. Dendias.
Γ. Economou: Absolutely nothing can hurt our sovereign rights
"It is noteworthy that President Erdogan chose to express himself in Greek. It is known that Greek is the language of logic, freedom and law. Its native users and the western world know this very well. "The tactics chosen by Turkey do not fall into any of these versions," the government spokesman said.
The leader of the official opposition responded to Recep Tayyip Erdogan's statements in Greek and Turkish. Alexis Tsipras under Twitter underlined:
"Greece will protect its sovereignty against any threat. So let the challenges stop and let us return to dialogue on the basis of international law. The answer to the economic crisis we all face together is not nationalism. "
Nikos Androulakis speaks endlessly about Erdogan's delusion, calling for a halt to Turkey's armaments: "It is time for our partners to stop falling asleep in the face of this revisionist strategy. "Under these circumstances, the only clear answer must be the arms embargo," he said. Mediterranean, in Cyprus. "Those who do not recognize sovereign rights and borders, but only say 'NATO territory', 'NATO seas' and are now pushing for dangerous settlements in the Aegean and elsewhere," Dimitris Koutsoumbas said yesterday from Veria.
" "As the problems inside the country increase, insecurity and instability intensify, Turkey will invest in increasing tensions in the region," Mera25 reported.
On the other side of the Atlantic, it was approved by The US Senate Foreign Relations Committee passed the resolution on Greek-American friendship, with Commission Chairman Bob Menendez stressing that Washington will continue to be a steadfast friend and ally of Greece.