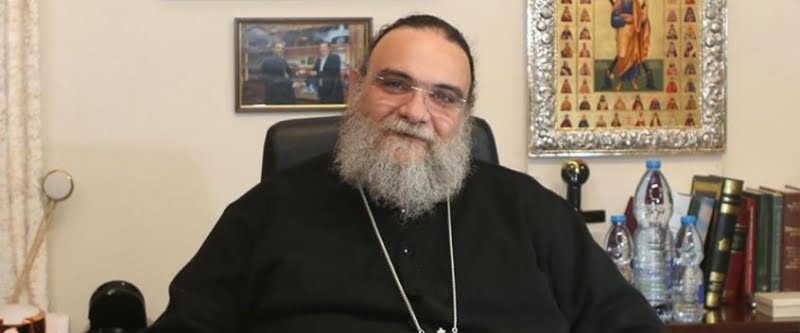 On Wednesday, all the Clergy of the Metropolitan region of Tamasos and Orinis, presidents of community councils and others expressed their support for the candidacy of Metropolitan Isaias of Tamasos and Orinis for his election to the Archbishop's Throne, noting that "he has an appetite for work and specific vision for the Church".
In a statement signed by 424 people, the signatories' "unreserved" support for the candidacy of Metropolitan Tamasos and Orinis Isaias for the upcoming archdiocesan elections is stated, based, among other things, on the fact that "he is a young, highly educated and charismatic man , with deep faith and morals".
It is also mentioned that he "loves the Church and the faithful and takes care of their spiritual strengthening", while he is also characterized as "methodical and efficient, since from scratch he built, within 15 years, the largest and most efficient, in terms of offering and activities, Metropolis in Cyprus and Europe".
The statement mentions the work of the Metropolitan, among other things, that he built 28 churches, ordained 52 new clergy, rebuilt three monasteries and three retreats, organized camps, leads 33 Christian Associations of Women and reinforced the catecheticals, "in a modern way", through sports and cultural Clubs.
It is also noted that, since he took over as the new President of KENTHEA, within a decade, he "modernized and rebuilt it from the ground up", and, after upgrading all its services, built, with new and specialized partners, six new stations throughout Cyprus .
Supporters of the Metropolitan also state that he understands the value of culture, sports, art, music and social welfare and has already built infrastructure and programs in all these themes, "effectively helping to improve the quality of life of people".
They also note that he is "the only Metropolitan" who had a direct dialogue with the LGBTI community in the Administrative Commissioner, but also that he has to his credit 34 "difficult and dangerous" humanitarian missions around the world, a fact, as stated, "that proves the his extensive experience in crisis management and his multi-disciplinary administrative ability, necessary qualities for a leader". to develop in a safe and healthy environment.
There is also mention of the opening in two months of the Planetarium and the Observatory, an event which, as noted, "will give a great boost to Education and Science in Cyprus , opening up the horizons of many children and young people, to deal with new technologies and actions, so that develop their creative thinking".
In closing, supporters of Metropolitan Tamasos state that he is "eloquent and communicative with all ages", "modern, genuine and authentic in behavior and thought", "has captured the message of the times" and, recognizing today's problems both inside and outside the Church, proposes new practical solutions, "so that the Church can once again become beneficial and supportive to the whole world, regardless of religious affiliation".