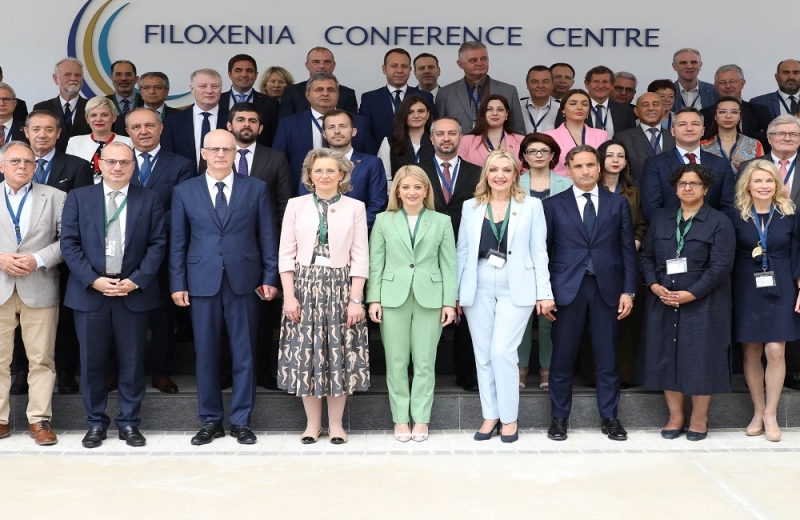 Protecting independent institutions and the media is the key to fighting corruption. This was the conclusion of the second day of the International Conference entitled "Fighting Corruption, Defending Democracy: The Role of National Parliaments", organized by the Parliamentary Assembly of the Organization for Security and Co-operation in Europe (OSCE PA), Saturday.
The third and final session of the Conference focused on the contribution of independent institutions and the media to preventing and combating corruption.
The conference was opened on Saturday by the former Attorney General of the Republic of Cyprus, Costas Clerides. In his remarks he focused on the importance of the independence of institutions. He said that the Attorney General has been accused from time to time of excessive zeal in the performance of his duties and has been directly or indirectly threatened with dismissal for this.
He stressed the need for close co-operation between truly independent and strengthened audit and prosecutorial authorities, as their effectiveness is at stake due to a lack of know-how in investigating and prosecuting financial crimes, a lack of sufficient staff to prosecute, and a lack of experienced judges for such cases. .
References by K. Clerides for non-independent media
Regarding the media, Mr. Clerides noted that their role in the fight against corruption is very essential. Unfortunately, he said, some media outlets do not enjoy the necessary independence to take a firm stand against corruption because they are controlled by political parties. This makes them tend to be selective about which cases they publish.
He also stressed that there are no effective procedures for identifying the persons hiding behind the declared owners and shareholders of the media. Finally, he referred to the interconnection of SMEs with the banking sector, due to the annual revenues that SMEs receive from banks in the form of advertising, which leads most SMEs to spend less time on cases involving irregularities in the banking sector. >
Mr. Clerides noted that special attention should be paid to the appointment of qualified and honest people to key positions.
He concluded that the above difficulties should not be cheap excuses not to fight corruption, but to strengthen our determination to fight it.
Drew Sullivan, author and co-founder of the Organized Crime and Corruption Reporting Program (OCCRP), noted that the job of journalism is to tell the truth, to understand and explain the problem, and to hold those responsible accountable for their actions.
"A free and independent press is the cornerstone of any democracy," he said, adding that journalists serve as canaries in a coal mine. "If we die, democracy is likely to die in your country," he said, referring to the attacks on journalists in their fight against corruption.
He said that & # 8220; the criminal services industry & # 8221 ;, as he called it, has dominated: it is banks, law firms, off-shore company registration agencies, hedge funds, etc. They have globalized organized crime and corruption in a way we have never seen before, and many of them are politically powerful. He noted that they are responsible for things like Brexit and the rise of extremist parties.
Individual governments often do not have the consensus or the tools to tackle global problems, and international co-operation is not what it should be, he said. For & # 8217; this press is "the only natural predator that has global crime and corruption".
OCCRP sued three times in Cyprus
The OCCRP is responsible for uncovering Panama papers, Pandora papers and other important investigative journalism stories that led to $ 7.7 billion in seizures and fines, more than 600 arrests, charges and convictions, 370 investigations, legislative changes, corporate and civil society actions, and the overthrow of five governments, he said.
"Instead of flooding us with money, they often attack us," Sullivan said, as many journalists have been killed, harassed, slandered and prosecuted. He noted that his organization has been sued 3 times in Cyprus. When asked by the coordinator Irini Charalambidou to name the people from Cyprus who sued the OCCRP, he said that they are law firms, mentioning only the late lawyer Neokleous.
Mr. Sullivan stressed the importance of regulating the "Strategic Lawsuits Against Public Participation (SLAPP)", encouraging parliaments to enact strong laws restricting SLAPPs, so that journalists are protected from multiple lawsuits to help fight corruption.
"There were no real consequences for the passport scandal"
Franz Wild, author of the Enablers Program at the Bureau of Investigative Journalism, said that investigative journalism brings results. He collaborates with a non-profit organization that publishes with partners such as the NYT, the Guardian, the BBC, etc. Wild noted that the business model for journalism is unsustainable and is forced to rely on non-profit organizations.
He also said that journalists are being killed, arrested, harassed, have little support. "Last week I received a letter from a major American law firm threatening to sue me for an article I published," he said, "and it costs a lot.
"Today, we often think we have bigger problems, such as the Russian attack on Ukraine. You can not understand totalitarianism without understanding corruption. "It's a matter of national security," he said, adding that it was important for states to fund law enforcement efforts, as global organized crime has a lot at its disposal.
There is a link between corruption and all other issues, and EU sanctions on Russian oligarchs in response to the Russian invasion of Ukraine are an admission.
Finally, referring to the scandal of the Cypriot "Golden Passports", he noted that while the Speaker of Parliament involved resigned, there were no real consequences, no individual responsibility. "And you do not hear any politician demanding more," he said.
Auditor General Odysseas Michailidis, referring to corruption in Cyprus, stressed that the fight against corruption requires the effective exercise of the supervisory role of audit authorities, parliaments and the media, as well as cooperation between them.
p class = "text-paragraph">He noted that his office tried to investigate the Cypriot passport program. However, it was faced with delays and limited access to the data it requested, as the government refused to provide access to information. Their findings were confirmed by Aljazeera's documentary.
Following his report, there were threats of his dismissal, accusing him of misconduct, while the media reported that he He was prosecuted.
He noted that the prevention of corruption is not the duty of the Auditor. The Auditor detects a fraud and is called upon to report it to parliament, through the executive.
He also stressed the important role of the media in being able to convey the message of control well.
In the final comments of the Conference, Ambassador Igli Hasani, Coordinator of the Office of Finance and Environmental Activities, said lawmakers are 10 years behind the regulation of organized crime, as the latter constantly has new means to act, such as cryptocurrencies, etc.
In her closing remarks, Coordinator Irini Charalambidou, Vice-President of the OSCE Parliamentary Assembly and Special Representative for the Fight against Corruption, said that independent institutions are very important and we must safeguard them. In particular, he pointed out the need to change the way independent officials are appointed, in order to ensure their independence and to avoid external interference in the performance of their duties. "People can not be appointed by one person, because they will feel obligated to him," he said. He also said that "we need to safeguard the media with legislation that will prohibit interference in their work", adding that a change in culture, education and justice is necessary. Margareta Cederfelt, President of the OSCE Parliamentary Assembly, said that since corruption is globalized, multilateral co-operation in the fight against it is very important.