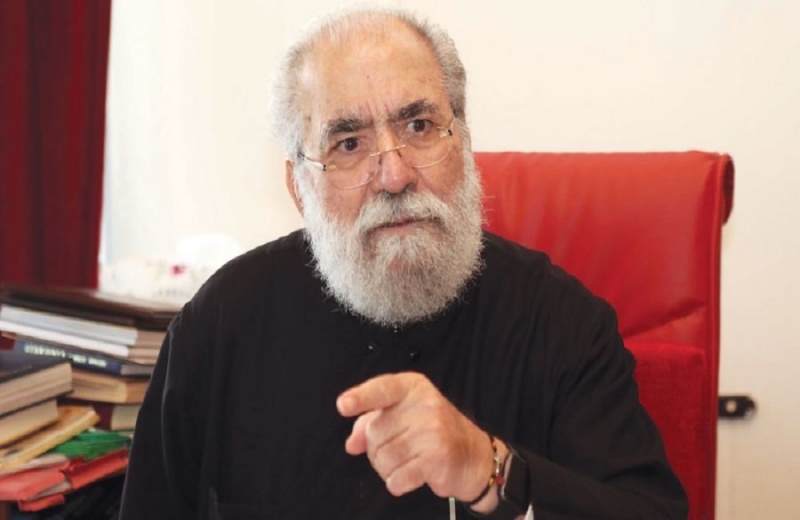 The 57-year-old woman who complained to the former Metropolitan of Kiti, Chrysostomos, that she was indecently attacked in his office 41 years ago, broke out yesterday during her re-examination process by the defense lawyer Michalis Pikis, before the Larnaca District Court. "I give this man (meaning the former Kiti) an opportunity to atone and ask for forgiveness from his victims," ​​she said at one point in her testimony, answering a question from the defense attorney. The examination of the main witness, who was orphaned by her father and only a 16-year-old student at the time in question, took many hours, with Mr. Pikis attempting, through the many questions he asked, to question its credibility. Sometimes, in fact, the former Metropolitan of Kiti, who was sitting inside the courtroom and not in the dock, asked to speak (in a whisper) with his lawyer about some clarifications about what the complainant was saying in court. "I wish I did not experience what I have experienced. I came here to undress my soul, I did not come here to play theater. Why should I lie? Why didn't I blame another hierarch? I hope, if you have children, that they will never experience what I have experienced ", said the complainant, responding to the submission of lawyer Piki that what she said in court has not happened.
Elsewhere during her interrogation, the 57-year-old woman said that during her meetings with the then Metropolitan of Kiti, which always took place in his office, he sat next to her, touched her arms and hugged her. She told her mother that she did not want to go to this man, but she replied that "he is a man of God". In the submission of the defense lawyer that no mother would send her child if she heard that such things were happening, the complainant answered. "My mother was uneducated. He may not have realized what exactly was going on. When she comes here to testify you condemn her. I did not want to go to this man, but I was sent. I was a baby then. I went to his office like a lamb for slaughter. This man knew where he was hitting & # 8230; ». Referring to her third meeting with the metropolitan, the complainant said that he hugged her and showed her photos in which he was on a cable car in Switzerland, wearing political clothes, hugging other women. "He told me he would take me on trips and we would have a good time," the witness added.
Saturday Afternoon
The complainant also said that the former Kiti informed her mother by phone that the money she would receive as help from the Diocese was not ready, under the pretext of visiting him at his office other times. The meetings took place on Saturday afternoons and according to the complainant at that time there were no other staff in the Diocese. "Even today there are people who do not believe what was happening in the Diocese. "No one can imagine what was happening in this Diocese," said the 57-year-old. According to the complainant, the obscene attack took place during the fifth meeting he had with the metropolitan in his office. As she mentioned, the hierarch had previously called her mother to find the money (200 200) she was going to take as a minor orphan in anticipation of Christmas. The disputed meeting took place in November 1981. "When he attacked me indecently on the couch of his office, falling on me, I started shouting very loudly, like hysteria. I shouted for him to let me go. He closed my mouth with his hand and while I was trying to kick him, he grabbed my leg. Then he unlocked the office door and I left. If I had then the mind I have now I would have judged this man myself. Only I know Golgotha ​​that I went through, without the help of a psychologist. After this incident I was forced to take pills at the age of 16. "One day the truth must come out," he added. Elsewhere in her testimony, the complainant said that her sister and son-in-law then went to a well-known lawyer in Larnaca to "open" a case against the Metropolitan, but the lawyer advised them not to deal with the church, because, like them he said, the only thing they could do was get the name of the minor out & # 8230; The witness was also asked about an interview she had given to "P" in February 2021, to her colleague Katerina Iliadou. The trial will continue on June 21, 22 and 23 with the testimony of other witnesses.