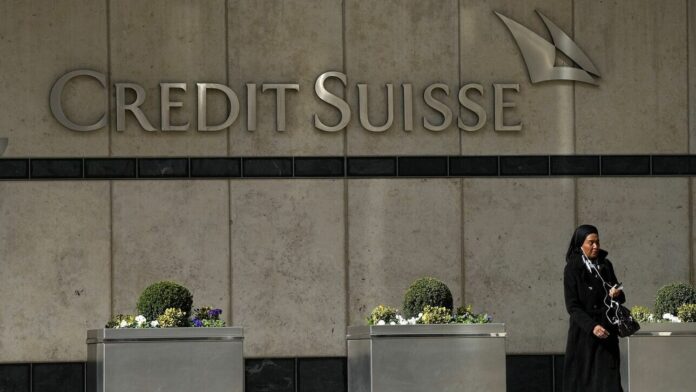 The first reactions of the markets to the news that UBS will acquire Credit Suisse for 3.25 billion dollars were negative, although the news of the attempt to save the Swiss bank and to control the panic of the markets and the banking industry, initially received positive comments from both sides of the Atlantic.
The "thriller" ended on Sunday night (19/3), with the official announcement by the Swiss Central Bank of the emergency rescue agreement, to the relief of the markets.
However, the nervousness of investors has not calm down and this can be seen from the first reaction of the Asian markets deal Credit Suisse – UBS, which moved lower in the first session of the week.
The Hang Seng index led the losses in the region, falling more than 2.7% and being dragged down by healthcare stocks. In mainland China, Shanghai Compositefell 0.46%, while the Shenzhen Component slipped 0.27%.
In Australia, the S&P/ASX 200 lost 1.38%, while the Japanese Nikkei 225 weakened by 1.42%.
"Series" immediately followed by the European markets which opened with losses, amounting to 5.3% for its shares banking sector and to 1.70% for the pan-European Stoxx 600 index.
At 10:35 a.m. Credit Suisse's stock plunged by 62% and UBS's respectively lost 12%. Trading started with a negative sign and in domestic market, with the Athens Stock Exchange down close to one point shortly before 11:00 am and "struggling" to hold 1,000 points.
News that the valuation of Credit Suisse's $17 billion "Additional Tier-1" bonds with a nominal value of $17 billion will be reduced to zero has also sparked fears among investors, angering some of the bondholders who thought they would be better protected against shareholders.< /p>
Bound for bondholders
Specifically, Credit Suisse bonds worth a total of 16 billion Swiss francs became worthless after rival UBS bought the bank for 3 billion. francs.
The deal will trigger a "full impairment"of the bank's AT1 bonds in order to raise core capital, Swiss financial regulator FINMA said in a statement.
According to Bloomberg, this bond write-off is the biggest loss the bank has suffered to date. European AT1 market –$275 billion-far eclipsing the roughly €1.35 billion in losses suffered by subordinated bondholders of Spanish bank Banco Popular in 2017 when it was absorbed by Banco Santander SA to avoid collapse.
The deal by acquisition
"UBS today announced the acquisition of Credit Suisse," Swiss National Bank said in a statement.
"This acquisition was made possible with the support< /strong> of the Swiss federal government, the Swiss Financial Market Supervisory Authority and the Swiss National Bank," the central bank added.
The takeover agreement includes the liquidity provisionby the Central Bank of Swiss 100 billion to Credit Suisse and UBS and is about 60% less than what the bank was worth when markets closed on Friday.
UBS chairman Colm Kelleher said:
"This acquisition is attractive to UBS shareholders but, let's be honest, as it's about Credit Suisse, this is anemergency bailout. We have structured a transaction that will preserve the remaining value in the business while limiting our downside exposure. The acquisition of Credit Suisse's wealth, asset management and Swiss banking capabilities will strengthen UBS's strategy to grow its capital businesses. The transaction will bring benefits to customers and create long-term sustainable value for our investors."
source: CNN Greece