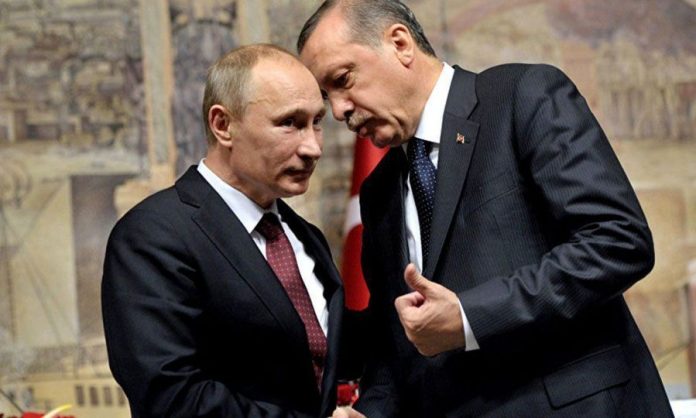 Difficult negotiations expected in Sochi, where Russian president welcomes Turkish counterpart
Difficult negotiations are expected in Sochi, where Russian President Vladimir Putin is welcoming his Turkish counterpart Recep Tayyip Erdogan. The agenda of the meeting is suffocatingly full: civil war in Libya, conflict in the Syrian province of Idlib and conflict of interest after the war between Armenia and Azerbaijan over control of Nagorno-Karabakh.
The Kremlin appears determined to provide an armed solution in northwestern Syria. There are indications that a joint large-scale military operation with Russian and Syrian troops is just around the corner. To prevent unpleasant developments, President Erdogan stepped up Turkish forces in northern Syria to prevent a mass movement of Syrian refugees to the Turkish border.
The match between Ankara and Damascus will remain
Emer Enhon, who served as Turkey's ambassador to Damascus in 2011, estimates that the cost of a joint Russian-Turkish military operation will be high: "The population of Idlib has more than doubled since the beginning of the civil war in Syria from one to 4.5 million. "As a result, a military intervention will be bloody and will trigger new waves of refugees to Turkey." The Turkish diplomat expects that the meeting in Sochi will not soften the confrontation between Ankara and Damascus. Recently, President Bashar al-Assad traveled to Moscow to ask President Putin to withdraw all foreign forces from Syria. Ankara, however, considers its military presence in northern Syria legal to deal with Kurdish YPG paramilitary forces, which it considers a long arm of the banned Kurdish PKK.
Russian expert Kerim Has believes that due to the trajectory of conflict with the West that Ankara has chosen, Turkey has never had such a bad negotiating position. President Erdogan himself admitted in New York last week that "we did not get off to a good start with President Biden."
Turkey is adamant on the issue of S-400s
The reason for the open confrontation between Ankara and Washington is the purchase of the Russian S-400 missile defense system by President Erdogan in May 2019. The supply is seen as an insult not only by the US, but also by the NATO alliance, of which Turkey is a member. Let us not forget that Russia is considered a geostrategic adversary by NATO.
The apparent impact on US-Turkish relations over the controversial supply of S-400s does not seem to concern Ankara. And as if that were not enough, Turkey intends, according to President Erdogan, to buy additional missile systems from Moscow. In an interview with CBS last Sunday, the Turkish president made it clear that no one will impose on his country which defense systems to buy.
Kerim Has believes that Erdogan's intention to buy other Russian weapons, as well as his uncompromising stance on the S-400 issue, will have a positive effect on the Sochi negotiations. "Erdogan will ask Putin to postpone the military operation in Idlib. In return, it is possible to commit to the purchase of a second S-400 battery "
Source: DW