At record highs sales volume and prices, market shortages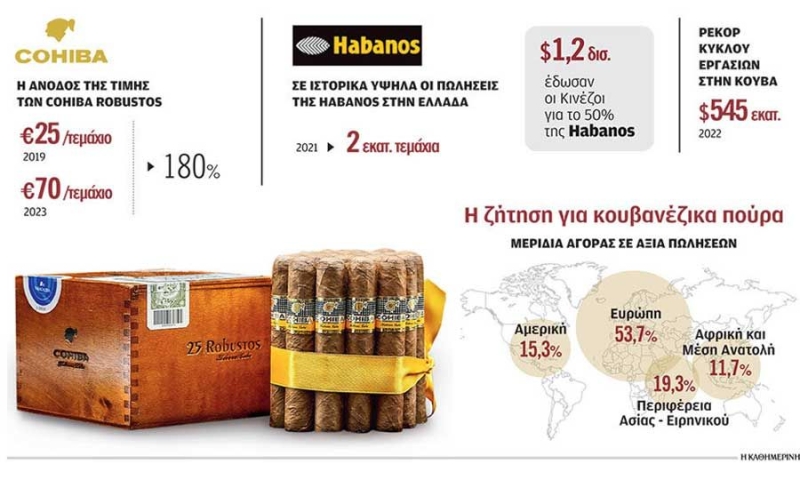 Ilias Bellos
Even the occasional cigar smoker, i.e. those who smoke one or two a year, will have understood that the market is in great turmoil: major shortages of Cuban cigars, in particular, and price increases of close to 200% in two years.
The most distinctive of Cuban cigars, Cohiba Robustos, one of the most popular and sought-after vitolas on the market, has become hard to find. And where it is available it currently costs around 70 euros a piece from 25 euros in the period 2019-2020. Famous Cuban brands such as Cohiba, Romeo y Julieta and Montecristo, all owned by Cuban tobacco company Habanos S.A., 50% of which was sold to Chinese interests in February for $1.2 billion, have seen the prices of their cigars to double or even triple. Some of the largest cigars such as Churchill are now more than 120 euros a piece. But even at these prices there are major shortcomings. Thus, the classic box of 25 Cohiba Robustos cigars on the market today costs 1,768.75 euros, i.e. more expensive than most Apple iPhone models.
A look at the most authoritative Greek websites selling cigars online immediately lands on the "out of stock" label. In fact the vast majority of Cuban cigars are now a hidden treasure of the market. As Nikos Miamis, an expert on Cuban cigars at Habanos, which has a physical store in the center of Athens but also one of the largest on the Internet, explains in "Kathimerini", these price increases and shortages have led to an increase in prices and cigars from other countries of origin such as Saint Dominic and Nicaragua, while they have led to the Greek market for the first time cigars from third countries such as Honduras. Some of them are really very good, but they are not Cuban. And Cuba was and remains the undisputed king in these fine tobacco products.
In the last few weeks, however, he sees an attempt to normalize the smooth supply of the market. In the meantime, vigilantes here and there on the Greek border are channeling into the Greek market, as in other countries, monkey-cigars, of inferior quality, i.e. tobacco – which, according to experts, sometimes even includes banana leaves – wrapped and packaged with forged labels.
Despite the fact that the use of tobacco products and especially cigarettes is on the decline worldwide and thus also in Greece, it is significantly reduced while increasingly larger shares are conquered by alternative products such as heated tobacco and vaping, the demand for cigars as well as cigarillos is at the highest levels of the last decade. According to sources from the management of Phenicia Fereos Hellas S.A., the official importer of Habanos cigars in Greece, the only authorized wholesaler, in 2021 sales of classic cigars reached 2 million sticks, a level that is also the highest since beginning of the Greek debt crisis 15 years ago. Among them are cigars that the Cuban company made especially for the Greek market under the name "Omiros".
"I estimate that the demand at the moment for Cuban cigars amounts to two and a half million pieces, quantities which, however, will take some time before we can have them available to the Greek public given the great shortages observed worldwide", explains a top executive of Phenicia Fereos Hellas. However, as he assures, the worst is behind us. In 2021 Phenicia Fereos recorded a historical record not only in volume but also in sales value and profitability. And in 2022 the demand was even stronger. In Greece but also abroad.
Havana-based Corporacion Habanos S.A., which markets 27 top Cuban PDO brands, all hand-crafted, announced in late February that it recorded revenue of $545 million in 2022, up from 2021 despite production difficulties related to with a reduced harvest due to hurricanes, inability to find packing materials, labels and delays in the international supply chain.
Chinese, hurricanes and Havana policies drive up prices
The large shortages and rising prices of Cuban cigars are due to the perfect storm that has hit this market: international demand is increasing as emerging economies such as China's with hundreds of millions of people see their incomes improve and thus develop socially in the middle class, they seek expensive pleasures like those of authentic Cuban cigars. But demand is also strong in mature markets such as Europe despite the decline of traditional cigarettes, as more and more people choose to selectively smoke a few good cigars a week over anything else. At the same time, supply collapsed with the pandemic.
Cuba used its own vaccine, not as effective as it turned out, leaving about 50% of workers in the handmade cigar-wrapping industry behind two years almost out of work. But that was not enough. Particularly bad weather conditions with hurricanes that destroyed much of the tobacco production prevailed in the last three years.
However, even when the tobacco was collected and the workers were ready to wrap it, the wooden boxes in which they are packed as well as the paper labels that wrap each stick were not available due to the known problems caused in the international supply chain by the pandemic . It should be noted that the majority of boxes and labels are produced outside of Cuba, as the experts explain. But beyond the imbalance between supply and demand, the state Cuban company Corporacion Habanos, S.A. itself. has adopted and has been implementing for some years now two policies that lead to increases: in principle for some years cigar prices have been rising by 3% to 5% per year horizontally.
Second, it decided to try to equalize worldwide the prices of its best cigars, that is, those it included in the so-called Luxury Line series which are the best lines from the Cohiba, Romeo y Julieta and Montecristo brands. This policy is attributed to increases that reached before production problems even arose in some countries of more than 100% depending on how burdensome the tax regime is for cigars in each region.
But concern among traders and smokers, especially in Europe and the United States, that the situation could worsen further, escalated earlier this year when it emerged that Hong Kong-based Chinese-owned Allied Cigar Corp had acquired 50 % of Habanos S.A. paying a price that exceeded $1.2 billion. The development was read as proof that from now on China will absorb a much larger part of Cuba's production, perpetuating the scarcity of its coveted brands in the West.
The markets that generated the highest sales for Habanos in 2022 were Spain, France, Germany, China and Switzerland. By region, Europe remains Habanos' main market, with 53.7% of sales value, followed by the Asia-Pacific region (19.3%), the Americas (15.3%) and Africa and the Middle East ( 11.7%).
And as if all this were not enough, at the beginning of April it became known from a publication of Granma, the Cuban state newspaper, that Pinar del Rio, the region in western Cuba where it is cultivated most of the premium tobacco, is facing perhaps the worst tobacco harvest in history. The lingering effects of Hurricane Jan, which destroyed most of Pinar del Rio's tobacco growers in late September, are largely to blame.