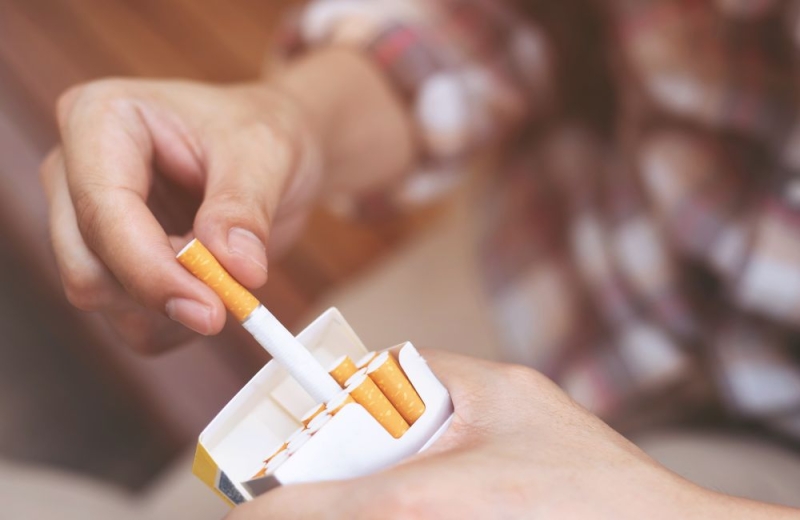 "Chimneys", alcohol, obese people from the cradle with a lousy diet and limited physical exercise. These are the Cypriots who – otherwise – declare that they feel good about their health! The X-ray of the health profile of the Cypriots, as described in a relevant EU report for 2019 which was published on Thursday, is a matter of concern. On the one hand, about 8 out of ten Cypriots say they are well and healthy. On the other hand, research shows that "bad habits" that seriously damage health are not easily broken…
Income and health
The Commission report typically states that the vast majority of Cypriots describe their health as good. Overall, 78% of the Cypriot population reports that their health is good compared to about 70% in the EU. However, as in other countries, people with lower incomes are less likely to report that their health is good. In our country only 65% ​​of people from low-income groups reported that their health was good in 2017 compared to 86% of people from high-income groups. The main causes of death in Cyprus are ischemic heart disease, stroke and diabetes, with the highest mortality rate from diabetes in the EU. Nevertheless, since 2004 the death rate from ischemic heart disease has decreased (by 31 %), stroke (31%) and diabetes (36%). Lung cancer death rates are on the rise in our country, reflecting the effects of high smoking rates, while dementia mortality rates have risen in part due to changes in diagnostic and coding practices, as well as due to an aging population. p>
Country of the Elderly
Cyprus is aging, with scientists' forecasts being even more ominous for the future. According to the EU report, due to the increase in life expectancy (in Cyprus it reaches 82.2 years) and the decrease in fertility rates, the proportion of people aged 65 and over has been steadily increasing in recent decades: One in six Cypriots in 2017 was over 65 years old, and this ratio is expected to reach one in four by 2050. The life expectancy of people aged 65 is almost 20 years in Cyprus, and less than half of these 20 years are spent without disability, slightly lower than the EU average. Healthy years at age 65 are 9.5 for men and 8.5 for women – and therefore, while Cypriots aged 65 have life expectancy about three years longer than men, a much larger proportion of these years is spent with chronic diseases and disabilities. Almost half (47%) of people aged 65 and over in Cyprus state that they do not suffer from chronic diseases. Of those who state the opposite, about one third (33%) report that they suffer from a chronic condition and 19% state that they suffer from at least two. These percentages are equivalent to the averages of all EU countries. In contrast, fewer Cypriots over the age of 65 report experiencing limitations in basic daily activities (12% compared to the EU average of 18). >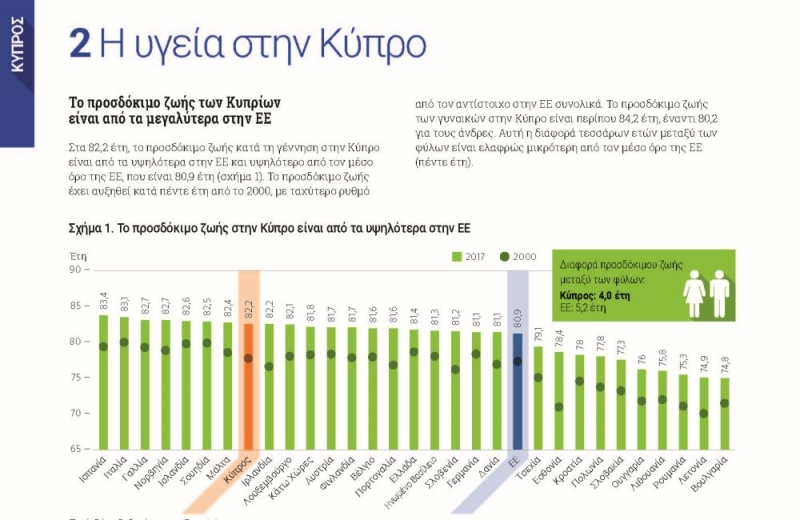 Risk factors
Of interest, but mainly concern, are the conclusions of the report in relation to the habits of the Cypriots which have a serious impact on their health. The authors of the report, evaluating all available data, estimate that two out of five deaths in Cyprus can be attributed to behavioral risk factors, including smoking, diet, alcohol consumption and low physical activity. This figure is comparable to the EU average (39%). More than one-fifth of all deaths in 2017 were due to smoking (both assets and liabilities), a rate significantly higher than the EU equivalent (17%). Eating hazards (including low intake of fruits and vegetables, as well as high consumption of sugar and salt) are estimated to be responsible for about 20% of all deaths in Cyprus, compared to the EU average (18%). About 3% of deaths can be attributed to alcohol consumption, which is half the proportion in the EU, while 3% can also be attributed to low physical activity. Mortality due to behavioral risk factors has not changed significantly since 2000, according to the report.
The report finds, however, that behavioral risk factors in Cyprus are more common among people with low educational level or income. In 2014, more than a quarter of adults (27%) in the lower income quintile smoked on a daily basis, compared to 22% of adults in the upper income quintile. Similarly, in 2017 the rate of obesity among those who had not completed secondary education (19%) was significantly higher compared to those with higher education (9%). "This higher prevalence of risk factors in socially disadvantaged groups contributes to inequalities in health and life expectancy," reports Chimney
The authors of the report also express particular concern regarding the percentages of smokers. Smoking, they say, "remains a major public health problem, especially for men." Indicatively, they refer to the studies conducted in our country according to which the percentage of adults who reported smoking on a daily basis was 26% in 2014, one of the highest among EU countries and much higher than the EU average (19 %). This large percentage is mainly due to the high smoking rates of men, of which 38% reported that they smoked daily, compared to only 14% of women. The rate has remained stable at least since 2008 for both men and women. EU experts assess smoking control policies as "weak" and implementation "inadequate".
One in seven adults is obese
Obesity is also a public health problem in Cyprus, with the EU report making particular reference to this problem. It is specifically reported that one in seven adults (approximately 14%) was obese in 2017 – a rate similar to the EU average. The majority of adults report eating fruits and vegetables on a daily basis in Cyprus, while more than 30% % point out that they do not follow this healthy habit. Regarding physical activity, less than half of Cypriot adults (47%) report that they engage in some physical activity for 60 minutes or more per week, a rate lower than that of most EU countries and below the EU average (62%). ). The very high levels of overweight and obese children in Cyprus are much more worrying, with data showing that about two in ten children aged six to nine were obese during the period 2015-2017 and 43% were obese or overweight (specifically figures for both boys and girls and included in a study by the World Health Organization in 2018).