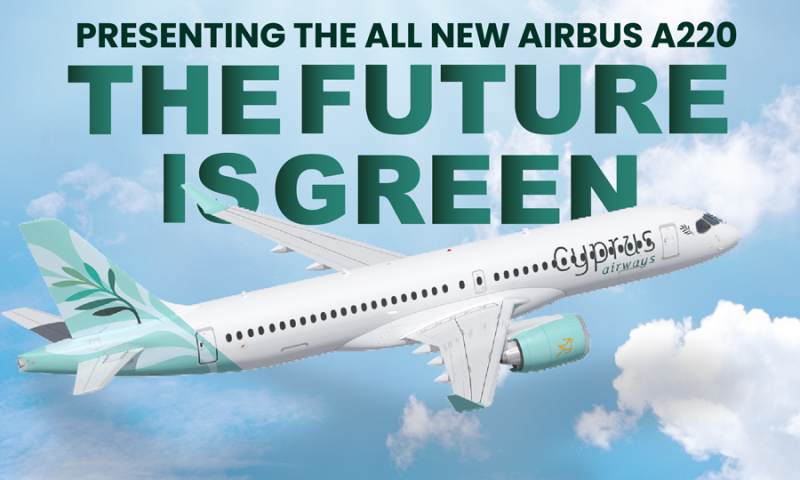 Presenting joint conference with Airbus at Paris Air Show 2023
Cyprus Airways takes a path to the future with the upgrade of the A220 fleet, which will be presented at the Paris Air Show 2023
Cyprus Airways partners with Airbus to improve passenger experience through A220 fleet upgrade
Cyprus Airways boosts sustainability and efficiency with A220 fleet upgrade, unveiled at Paris Air Show 2023< /li>
21 June 2023 – Paris, France– Cyprus Airways, the carrier of Cyprus, is pleased to announce the upgrade of its fleet from A320 aircraft to the advanced A220 aircraft. This important development was revealed during a joint conference with Airbus in the context of the famous Paris Air Show 2023, held on June 20, at 4:00 p.m. in the press conference room of the Airbus Chalet.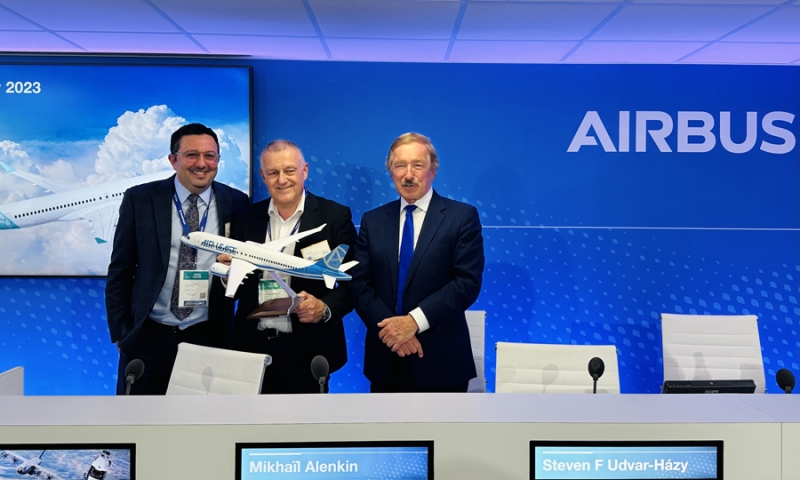 The transition to the A220 marks a notable milestone for Cyprus Airways as it reinforces its position as a leading airline committed to providing an unparalleled travel experience. With the invaluable support of Air Lease Corporation (ALC), Cyprus Airways embarks on this transformational journey to enhance operational efficiency and meet the evolving demands of modern air travel.
The A220-300, known for its outstanding features and capabilities, is perfectly aligned with Cyprus Airways' vision of achieving the ideal balance between passenger comfort and operational efficiency. This next-generation aircraft offers unparalleled global support through Airbus' unique expertise and extensive supply chain network.
#
"With the upgrade of our fleet to the A220, Cyprus Airways is entering a new era in aviation," says Paul Sies, CEO of Cyprus Airways. "We are excited to introduce this state-of-the-art aircraft, which provides our passengers with unmatched comfort, unmatched fuel efficiency and a sustainable travel experience."
The A220-300 has notable features such as unrivaled fuel efficiency with a 25% reduction in fuel burn per seat, a clean design incorporating the latest technologies and powerful systems, as well as a strong market potential to streamline the 100-150 seat class. In addition, the A220-300's advanced features, such as the PW1500G Geared Turbofan engine and aerodynamic optimization, contribute to a 50% smaller noise footprint and superior single-aisle comfort, offering wider seats, larger windows and increased baggage space above the aircraft.
Cyprus Airways' commitment to sustainability is demonstrated by the significant environmental benefits of the A220-300. With 25% lower fuel burn and CO2 emissions compared to previous generation aircraft, as well as approximately 50% less NOx emissions, the A220-300 plays a key role in realizing a greener and more sustainable aviation industry.
Today marks the beginning and the airline's unwavering commitment to a greener future while providing excellence, sustainability and an elevated travel experience for its passengers.
About Cyprus Airways
Cyprus Airways, the airline of Cyprus, relaunched in 2016 and now flies to 19 destinations. Winter destinations include flights to and from Athens, Beirut, Tel Aviv, Yerevan, Paris, Rome, Dubai, Milan-Bergamo, Prague and Zurich, while summer destinations also include Basel, Santorini, Skiathos, Rhodes, Heraklion and Cairo.
For more information visit the website: www.cyprusairways.com
Facebook: facebook.com/cyprusairways
Instagram: instagram.com /cyprusairways
LinkedIn: linkedin.com/company/cyprusairways
< iframe width='300px' height='500px' src='https://www.adstorebluebird.cy/api/banner/ServeBanner?zoneId=2734' frameborder='0' scrolling='no'>