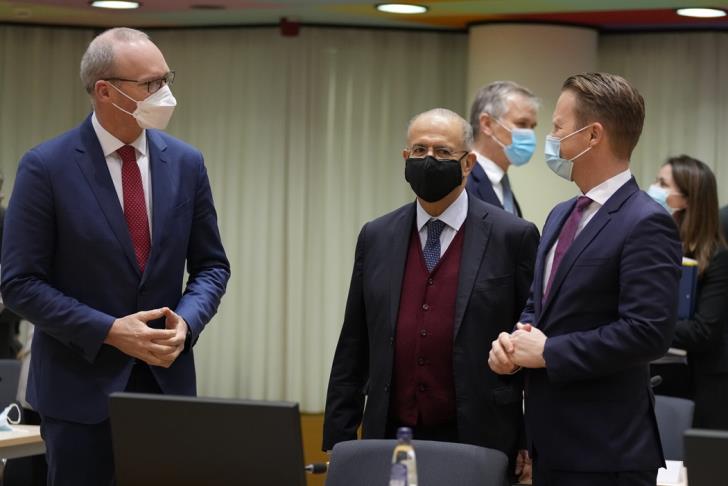 & nbsp & nbspAndreas Pimpisis & nbsp; & nbsp;
Explosions on the Russian-Ukrainian border are not heard in either Nicosia or Athens, but the shockwave of side effects from the events in Donetsk and Luhansk are certain to affect Cyprus, Greece and the wider region, including Turkey. The three countries' special relations with Russia (political, economic and even defense) are expected to have a similar impact. & Nbsp;
Common concerns in Nicosia and Athens are mainly the economic consequences that will arise from the crisis between Ukraine and Russia. In addition to the problems (eg tourism) that will arise due to the direct relations that the countries have with each other, the issues that will arise due to the increases that will occur in the field of energy will also be important. & Nbsp;
At the political level, both Cyprus and Greece are trying to approach things as gently as possible, avoiding strong rhetoric that could annoy the Russian side. They stand on the issue of the principle of international law and territorial integrity, and at the same time propose joint decisions taken at European level. & Nbsp;
Foreign Minister Ioannis Kasoulides, in a statement on Monday, had stressed Cyprus' support for Ukraine's sovereignty and territorial integrity. Yesterday, the Cypriot Ministry of Foreign Affairs in a statement regarding the recognition of the unilateral declaration of independence of the separatist regions of Donetsk and Luhansk & nbsp; Ukraine stated the following: "In the light of the developments in Ukraine, the Ministry of Foreign Affairs of the Republic of Cyprus its support for Ukraine's sovereignty, independence and territorial integrity within its internationally recognized borders. Any action that violates the country's territorial integrity is contrary to basic principles of international law and violates the Minsk Agreements, which are the only way to resolve the crisis. We are against any secession, recognition, secession support and any form of annexation ". of the country Nicosia demands respect for the Ukrainian sovereignty Signing of memoranda for cooperation between Cyprus and the UAE
The positions of Cyprus and Greece are also determined by the decisions taken at European Union level. In addition, Athens will have to coordinate its own steps with those of NATO. & Nbsp;
The Greek Foreign Ministry said in a statement that "Russia 's recognition of the illegal and unilateral declaration of" independence "of the separatist territories of Donetsk and Luhansk in Ukraine is a clear violation of the fundamental principles of international law, international law and Minsk agreements ". At the same time, it is noted that Greece has repeatedly stressed that it is in favor of respect for the territorial integrity, sovereignty and independence of all states and condemns any decision that contradicts these fundamental principles of international law. "As part of its commitments to the European Union and NATO, Greece will consult and coordinate with its European partners and allies regarding the response to this decision," the statement concluded. & nbsp;
< p>Although looking at Russia's actions from a distance, one can see several similarities with similar actions of Turkey in Cyprus, but this does not prevent Ankara from accusing Moscow of violating international law! Turkish President Recep Tayyip Erdogan, in a statement on a flight from the Congo to Senegal, said: "We consider this decision by Russia unacceptable. We reiterate our call on the parties to use common sense and to comply with international law. "
The Turkish Foreign Ministry described as unacceptable Russia's decision to recognize Donetsk and Luhansk as independent, and called on Turkish citizens to leave the eastern parts of Ukraine.
"The decision of the Russian Federation to recognize the so-called Donetsk and Luhansk Republics violates the Minsk Agreements, and is a clear violation of the political unity, sovereignty and territorial integrity of Ukraine."
We consider, he states, "this decision of Russia unacceptable and we reject it. On this occasion, we reaffirm our commitment to maintaining the political unity and territorial integrity of Ukraine and call on all parties to use common sense and to respect international law. "
Alone The path of diplomacy & nbsp;
The Minister of Foreign Affairs, Ioannis Kasoulidis, in his statements from Paris stressed that the position of Cyprus is that in this case "there is a question of secession. We are opposed to secession and the recognition of secession ".
He stressed that Cyprus supports" the sovereignty, independence and territorial integrity of Ukraine ". Cyprus, he said, is in favor of diplomacy "which is the only way to resolve the crisis".
there may be a continuation in case there is further deterioration with invasion of the country ". & nbsp;