POWERED BY:
03:26 Monday
23 May 2022 INSIDER • GOAL • IN-CYPRUS • PROPERTY • CYPRUS-IS • CAREER LIKE • GOING OUT • XRYSES SYNTAGES • ACTIVE • PHILGROUP NEWS & nbsp; SOCIETY & nbsp; INSIDER & nbsp; OPINIONS & nbsp; GOING OUT & nbsp; CULTURE & nbsp; SPORTS & nbsp; AUTO & nbsp; GOOD LIFE & nbsp; USEFUL & nbsp; PRINTED EDITION & nbsp;
ΑΡΧΙΚΗΕΙΔΗΣΕΙΣΠΟΛΙΤΙΚΗΤΟΠΙΚΑΠΑΡΑΣΚΗΝΙΟMEDIAΕΛΛΑΔΑΚΟΣΜΟΣΕΠΙΣΤΗΜΗΠΕΡΙΒΑΛΛΟΝΤΕΧΝΟΛΟΓΙΑΣΥΝΕΝΤΕΥΞΕΙΣΧΡΥΣΕΣ ΕΤΑΙΡΕΙΕΣΚΟΙΝΩΝΙΑΕΙΔΗΣΕΙΣΚΥΠΡΟΣ ΤΟΥ ΧΘΕΣΑΝΑΓΝΩΣΤΗ ΕΧΕΙΣ ΛΟΓΟΕΠΙΣΤΟΛΕΣΣΥΝΕΝΤΕΥΞΕΙΣΔΗΜΟΦΙΛΗ ΣΤΟ INTERNETVIDEOSΑΦΙΕΡΩΜΑΤΑADVERTORIALINSIDERΕΠΙΧΕΙΡΗΣΕΙΣΚΥΠΡΟΣBRAND VOICECAPITALFORBESBLOOMBERG OPINIONΠΡΩΤΑΓΩΝΙΣΤΕΣΚΑΥΤΗ ΓΡΑΜΜΗΧΡΥΣΕΣ ΕΤΑΙΡΕΙΕΣΚΑΡΙΕΡΑΑΠΟΨΕΙΣΑΡΘΡΑ ΣΤΟΝ "Φ"ΠΑΡΕΜΒΑΣΕΙΣ ΣΤΟΝ "Φ"ΤΟ ΜΗΝΥΜΑ ΣΟΥ ΣΚΙΤΣΑΟ ΚΟΣΜΟΣ ΤΟΥ TWITTERGOING OUTTHINGS TO DOCINEMAΜΟΥΣΙΚΗΕΣΤΙΑΤΟΡΙΑBAR/CAFETV ΟΔΗΓΟΣΤΗΛΕΟΡΑΣΗΠΟΛΙΤΙΣΜΟΣΚΥΠΡΟΣΚΟΣΜΟΣΚΡΙΤΙΚΕΣΕΚΔΗΛΩΣΕΙΣΠΡΟΣΩΠΑΑΘΛΗΤΙΚΑΠΟΔΟΣΦΑΙΡΟΜΠΑΣΚΕΤΠΑΡΑΣΚΗΝΙΑΕΛΛΑΔΑΔΙΕΘΝΗΑΛΛΑ ΣΠΟΡΑΠΟΨΕΙΣΣΚΙΤΣΟVIDEOSAUTOΝΕΑΠΑΡΟΥΣΙΑΣΗΑΠΟΣΤΟΛΕΣΑΓΩΝΕΣΚΑΛΗ ΖΩΗΥΓΕΙΑΔΙΑΤΡΟΦΗΕΥ ΖΗΝΑΣΤΡΑΧΡΥΣΕΣ ΣΥΝΤΑΓΕΣΣΥΝΤΑΓΕΣ ΣΕΦΒΗΜΑ ΒΗΜΑΧΡΗΣΙΜΑΦΑΡΜΑΚΕΙΑΓΙΑΤΡΟΙΑΕΡΟΔΡΟΜΙΑΛΙΜΑΝΙΑΤΗΛΕΦΩΝΑΟΠΑΠΚΑΙΡΟΣΣΥΝΑΛΛΑΓΜΑΛΑΧΕΙΑAPPSΠΡΟΣΦΟΡΕΣΕΝΤΥΠΗ ΕΚΔΟΣΗ ΠΟΛΙΤΙΚΗΤΟΠΙΚΑΠΑΡΑΣΚΗΝΙΟMEDIAΕΛΛΑΔΑΚΟΣΜΟΣΕΠΙΣΤΗΜΗΠΕΡΙΒΑΛΛΟΝΤΕΧΝΟΛΟΓΙΑΣΥΝΕΝΤΕΥΞΕΙΣΧΡΥΣΕΣ ΕΤΑΙΡΕΙΕΣ ΕΙΔΗΣΕΙΣΚΥΠΡΟΣ ΤΟΥ ΧΘΕΣΑΝΑΓΝΩΣΤΗ ΕΧΕΙΣ ΛΟΓΟΕΠΙΣΤΟΛΕΣΣΥΝΕΝΤΕΥΞΕΙΣΔΗΜΟΦΙΛΗ ΣΤΟ INTERN ETVIDEOSΑΦΙΕΡΩΜΑΤΑADVERTORIAL ΕΠΙΧΕΙΡΗΣΕΙΣΚΥΠΡΟΣBRAND VOICECAPITALFORBESBLOOMBERG OPINIONΠΡΩΤΑΓΩΝΙΣΤΕΣΚΑΥΤΗ ΓΡΑΜΜΗΧΡΥΣΕΣ ΕΤΑΙΡΕΙΕΣΚΑΡΙΕΡΑ ΑΡΘΡΑ ΣΤΟΝ "Φ"ΠΑΡΕΜΒΑΣΕΙΣ ΣΤΟΝ "Φ"ΤΟ ΜΗΝΥΜΑ ΣΟΥ ΣΚΙΤΣΑΟ ΚΟΣΜΟΣ ΤΟΥ TWITTER THINGS TO DOCINEMAΜΟΥΣΙΚΗΕΣΤΙΑΤΟΡΙΑBAR/CAFETV ΟΔΗΓΟΣΤΗΛΕΟΡΑΣΗ ΚΥΠΡΟΣΚΟΣΜΟΣΚΡΙΤΙΚΕΣΕΚΔΗΛΩΣΕΙΣΠΡΟΣΩΠΑ ΠΟΔΟΣΦΑΙΡΟΜΠΑΣΚΕΤΠΑΡΑΣΚΗΝΙΑΕΛΛΑΔΑΔΙΕΘΝΗΑΛΛΑ ΣΠΟΡΑΠΟΨΕΙΣΣΚΙΤΣΟVIDEOS ΝΕΑΠΑΡΟΥΣΙΑΣΗΑΠΟΣΤΟΛΕΣΑΓΩΝΕΣ ΥΓΕΙΑΔΙΑΤΡΟΦΗΕΥ ΖΗΝΑΣΤΡΑΧΡΥΣΕΣ ΣΥΝΤΑΓΕΣΣΥΝΤΑΓΕΣ ΣΕΦΒΗΜΑ ΒΗΜΑ ΦΑΡΜΑΚΕΙΑΓΙΑΤΡΟΙΑΕΡΟΔΡΟΜΙΑΛΙΜΑΝΙΑΤΗΛΕΦΩΝΑΟΠΑΠΚΑΙΡΟΣΣΥΝΑΛΛΑΓΜΑΛΑΧΕΙΑAPPSΠΡΟΣΦΟΡΕΣ ΕΠΙΧΕΙΡΗΣΕΙΣ ΚΥΠΡΟΣ BRAND VOICE CAPITAL FORBES BLOOMBERG OPINION ΠΡΩΤΑΓΩΝΙΣΤΕΣ ΚΑΥΤΗ ΓΡΑΜΜΗ GOLDEN CAREER COMPANIES
EXCLUSIVE COOPERATION
TOGETHER
Powered by
Next Previous Cyprus in the cloud with the help of Amazon Web Services HOME • INSIDER • CYPRUS • Cyprus in the cloud with the help of Amazon Web Services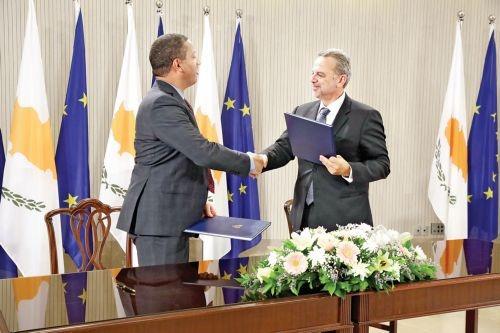 & nbsp & nbspO Φιλελεύθερος & nbsp; & nbsp;
Undersecretary of Research, Innovation and Digital Policy Kyriakos Kokkinos signed a memorandum with Amazon Web Services (AWS) on Tuesday, with the aim of accelerating the adoption of cloud services in the public and private sectors, while modernizing the IT infrastructure of the public administration. b>
On behalf of Amazon Web Services the memorandum was signed by Cameron Brooks, Director of Europe Public Sector at AWS.
The cooperation with AWS, a global giant in the provision of cloud services, provides, as officially mentioned, a unique opportunity to push Cyprus's transition to the cloud, an integral part of the national digital agenda and a catalytic factor in strengthening the position of Cyprus as technology and data peripheral node. The Memorandum facilitates and supports the development and adoption of a holistic cloud-first policy, both in terms of the relevant strategy, the supply of products and services and the modernization of information systems and services, as well as the development of capabilities and the adoption of the appropriate business model and security policies, open data and other technical aspects.
In the following interview, Cameron Brooks answers through "Phileleftheros" questions about the importance of the memorandum and what Cyprus can expect through its implementation.
The benefits of the cooperation
On what pillars is the Memorandum of Cooperation signed between the Republic of Cyprus and A mazon Web Services?
This Memorandum of Cooperation marks a great milestone in the journey of digital transformation in Cyprus. With this agreement, we aim to support the modernization of the infrastructure of the Ministry of Research, Innovation and Digital Policy and to accelerate the adoption of cloud services, both in the private and public sector. The country's national digital agenda sets a bold vision for a digital society and honors us for participating in realizing that vision.
We understand that the cloud is an integral part of the national digital agenda of the country and will be a key lever to promote its position as a technological and business hub. We look forward to working with both the public and private sectors in Cyprus to promote innovation and economic growth, through initiatives that support cloud readiness, digital skills training for future generations, encouraging cloud-enabled businesses in the country and modernizing public services.
What are the main benefits of working with AWS for Cyprus?
The benefits of adopting cloud services are manifold. AWS provides the most comprehensive cloud service offering worldwide and has helped public and private sector organizations drive transformational innovation through broader and more substantial services and capabilities. With this in mind, we believe that AWS is uniquely committed to providing scalable, cost-effective solutions in Cyprus and working together to find ways in which cloud services can be used to reduce costs, increase efficiency and promoting innovation.
Against the background of our history, we enable our customers, private and public, to achieve their goals, while keeping costs low. Customers choose AWS & nbsp; because of their enhanced functionality, proven operational and security expertise, and strong, extensive global infrastructure networks. We have invested substantially in supporting economies such as Cyprus, & nbsp; to unlock their potential by focusing on the needs of citizens, helping to modernize old infrastructure, enhancing security and improving operational productivity.
AWS offers the same solutions to small and start-ups as & nbsp; to our corporate clients. Solutions already used by many companies in Cyprus, such as the University of Nicosia, the provider of global trading platforms Trading Point and the platform of original applications Proto.io. We believe that close cooperation with the Cypriot Government will enhance innovation and enable growth.
What are the benefits of a cloud-first policy b>and how can Cyprus benefit from it?
Cloud-first policy, such as the one recently implemented in Greece and in other countries across the EU, defines the transition of public sector IT systems to the cloud and places the cloud as the default model in case of a new workload. It allows significant cost savings, increases security, innovation, flexibility and scalability. It can modernize many government agencies in the country and create more employment opportunities for a highly trained, cloud-ready workforce. & Nbsp;
AWS will support the Department in its broader efforts to develop related policies with the cloud, launching pilots in areas such as government modernization, smart citizen services, big data and artificial intelligence, and we will share best practices across a range of solutions. & nbsp;
The progress of Cyprus
Are there obstacles in Cyprus to achieve the goals concerning the cloud ? How can they be treated?
As a country, Cyprus has already made significant progress in its efforts towards digital transformation. Ministries have been activated, developing numerous measures to enhance economic competitiveness today and in the future. The establishment of the Ministry of Research, Innovation and Digital Policy in 2020 was the key to the creation of the National Digital Strategy, which will contribute to the establishment of Cyprus as a hub of sustainable business and international trade.
Utilizing experience and AWS know-how, Cyprus will be able to continue and accelerate its transition to the cloud, improving the IT infrastructure, thus enabling companies and organizations of all sizes to develop solutions and services that will be the foundation for a future digital society.
Many countries face a lack of digital skills. In fact, the World Economic Forum predicts that by 2025, more than half of the workforce will require significant skills upgrades or upgrades to get the job done. AWS encourages lifelong learning, which will ensure that digital innovations do not take precedence over human resources. This will include upgrading students' skills as well as retraining existing staff.
Another issue we hear from our customers is the concerns related to sustainability and energy consumption. AWS supports the sustainable use of technology and we are committed to running our business in the most efficient way to reduce environmental impact. AWS cloud and our digital technologies are actively enabling key sectors to release carbon and become more sustainable. Independent studies show that businesses in Europe can reduce their energy usage by almost 80% when running their AWS cloud applications instead of running their own data centers. Our renewable energy teams are making significant progress towards achieving our goal of using 100% renewable energy and we are well on our way to achieving this by 2025, ie 5 years ahead of our original target. .
Lifelong learning potential
How can Amazon Web Services expand its knowledge b> cloud in Cyprus? Is there a lack of knowledge about what cloud is in Cyprus? What can Amazon Web Services do to raise awareness and know-how in the cloud in Cyprus?/b>
AWS creates a lifelong learning culture for the workforce by partnering with educational institutions, providing access to all for cloud development and technical skills. We offer a huge portfolio of educational programs to reach our students wherever they are, using various methods corresponding to cloud skills and technical careers. Through this Collaboration Memorandum, we aim to provide a range of skills upgrade initiatives to accelerate cloud-related learning and promote the creation of a potential that is ready to work with the cloud. This is part of our commitment to invest hundreds of millions of dollars to provide free cloud computing training to 29 million people worldwide by 2025.
In addition, AWS will provide support services to enable and facilitate cloud adoption in small and medium-sized enterprises and start-ups in Cyprus, through a series of programs provided by AWS, such as "AWSome Days", aimed at cloud adoption for companies, in collaboration with the global AWS business community, financiers and experts.
Support & nbsp;
How to AWS can support Cyprus in the digital transformation, as the EU seeks to transform the Member States?
AWS is a trusted technology and innovation partner, providing unique reliability, security and data privacy. In an environment of rapidly changing policy and regulatory frameworks, AWS encourages its public sector clients to focus on innovations that streamline citizen services for the benefit of the people. Cloud computing offers flexibility and flexibility while maintaining the highest levels of durability, security and compliance.
The future & nbsp;
It's technologies cloud the future for countries and their services?
AWS is the most evolving and cost-effective way for governments to target to offer goods and services to citizens through the cloud. At the same time it has the potential to provide solutions to problems that governments may not have anticipated. By using AWS services, governments can be more efficient, save money, and use AWS data and tools to improve the quality of life of citizens.