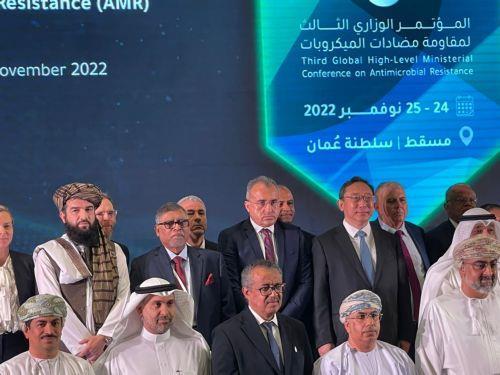 The participation of Cyprus in the international effort to combat antimicrobial resistance was confirmed by the Minister of Health, Michalis Hatzipantela, during his participation in the 3rd Global High-Level Meeting on Antimicrobial Resistance, held in Oman on November 24-25.
As stated in an announcement by the Ministry of Health, Cyprus supports the Muscat Declaration to combat antimicrobial resistance, implementing the "One Health" health plan of the World Health Organization (WHO), together with other countries and international organizations.
< p>It is noted that in his intervention during the Meeting, Mr. Hatzipantela mentioned that surveillance of antibiotic consumption should be implemented, with the implementation of effective national and international systems, alongside the development of new antibiotics and diagnostic methods, to achieve this goal. Furthermore, he expressed the wish that the commitments made in the framework of the conference would be a basis for further discussion at the United Nations General Assembly on antimicrobial resistance, which will take place in 2024.
Also, the Minister of Health stated that Cyprus recognizes antimicrobial resistance as a major public health issue, threatening recent advances in human and animal health, the environment, food safety, and economic development. He added that solutions should come from multiple areas of human, animal, and environmental health.
"Without drastic change in existing medical practices to reduce infection and antibiotic use, along with investment in behavioral change, antimicrobial resistance will increase," he said.
Mr Hadjipandela congratulated the Sultanate of Oman for organization of the conference and added that the Ministry of Health is in line with the efforts to strengthen national, regional and international surveillance systems, with the support of the quadripartite Organizations, in the framework of the agenda for sustainable development until 2030.
According to the announcement of the Ministry, during the work of the Synod, Mr. Hadjipantela met with the Minister of Health of the Sultanate of Oman, Hilal Al Sabti, with the Director General of the Food and Agriculture Organization of the United Nations, QU Dongyu, as well as with the Minister of Health, Welfare and Sports of the Netherlands, Ernst Kuiper. The Minister of Health was accompanied by the Pathologist – Infectious Disease Specialist of the OKYpY, Dr. Linos Hatzihannas.