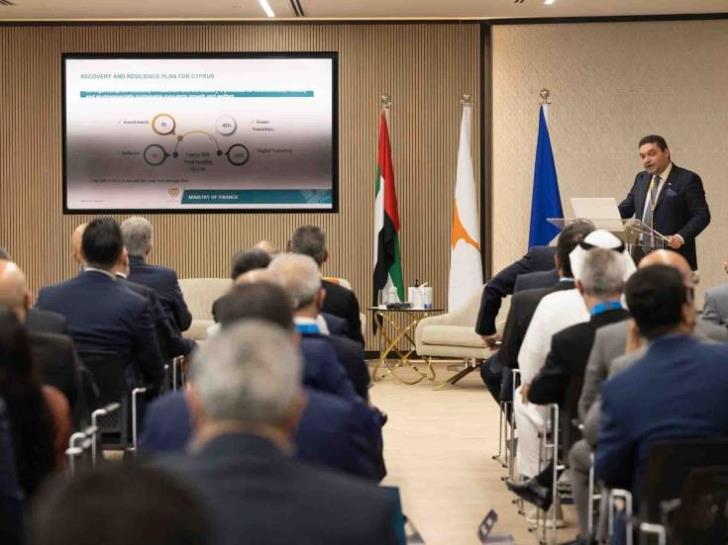 The vision of the Cypriot Government is for Cyprus to be transformed into a model of a resilient state, through a plan of holistic development, said the President of the Republic, Nikos Anastasiadis, in his greeting at the Business Forum, entitled "Cyprus: A Gateway to the EU" , which was organized today at the EXPO 2020, in Dubai .
In his greeting, which was read by the Minister of Finance, Konstantinos Petridis, the President of the Republic also pointed out that the UAE is an important political and economic partner for Cyprus.
He also referred extensively to the Government's reform program in various areas that contribute to the development of the economy and the strengthening of investments.
He added that over the years Cyprus has developed into a regional center for international business activities and "Making Cyprus the next European business and trade hub is at the heart of our efforts," he said, noting that to achieve this a comprehensive investment facilitation strategy must be implemented./p>
In this context, he added, we are implementing a new government strategy to attract international companies and talent to Cyprus, which consists of a series of incentives.
He also stressed that the United Arab Emirates is an important political and economic partner for Cyprus, which has many opportunities to offer to the UAE in the investment sector, while assuring the Government of its will to provide facilities for this purpose.
During the Forum, the Minister of Finance, Konstantinos Petridis, presented during his speech the data of the Cypriot economy, noting its resilience, and how it is based on a balanced development model.
Mr. Petridis said, among other things, that the development of the Cypriot economy is based not only on tourism but also on sectors such as shipping, education, health, research and innovation, finance, services and He stressed that "above all we have a vision that is included in our long-term strategy", while referring to the benefits of the EU Recovery and Sustainability Plan for Cyprus, as well as the tax regime in Cyprus.
A discussion followed with the participation of the Minister of Finance, the Minister of Energy, Trade and Industry, Natasa Pileidou, the Chairman of the Hellenic Capital Market Commission, George Theocharidis, and the Chairman of Invest Cyprus, Giannis Matsis.
There was also a discussion on digitization and innovation with the participation of the Deputy Minister of Research, Innovation and Digital Policy, Kyriakos Kokkinos, the Chief Scientist, Nikolas Mastrogiannopoulos, and the President of the National Research and Innovation Council, Filippos Patsalis.
In the context of the Business Forum, a discussion was also held with foreign investors.
Wasl at the exhibition & nbsp; EXPO 2020