POWERED BY:
15:56 Wednesday
March 30, 2022 INSIDER • GOAL • IN-CYPRUS • PROPERTY • CYPRUS-IS • CAREER LIKE • GOING OUT • XRYSES SYNTAGES • ACTIVE • PHILGROUP NEWS & nbsp; SOCIETY & nbsp; INSIDER & nbsp; OPINIONS & nbsp; GOING OUT & nbsp; CULTURE & nbsp; SPORTS & nbsp; AUTO & nbsp; GOOD LIFE & nbsp; USEFUL & nbsp; PRINTED EDITION & nbsp;
ARCHIKIEIDISEISPOLITIKITOPIKAPARASKINIOMEDIAELLADAKOSMOSEPISTIMIPERIVALLONTECHNOLOGIASYNENTEFXEISCHRYSES ETAIREIESKOINONIAEIDISEISKYPROS OF CHTHESANAGNOSTI HAVE LOGOEPISTOLESSYNENTEFXEISDIMOFILI IN INTERNETVIDEOSAFIEROMATAADVERTORIALINSIDEREPICHEIRISEISKYPROSBRAND VOICECAPITALFORBESBLOOMBERG OPINIONPROTAGONISTESKAFTI GRAMMICHRYSES ETAIREIESKARIERAAPOPSEISARTHRA IN "F" INTERVENTION IN "F" MESSAGE YOUR SKITSAO WORLD TWITTERGOING OUTTHINGS TO DOCINEMAMOUSIKIESTIATORIABAR/CAFETV ODIGOSTILEORASIPOLITISMOSKYPROSKOSMOSKRITIKESEKDILOSEISPROSOPAATHLITIKAPODOSFAIROMPASKETPARASKINIAELLADADIETHNIALLA SPORAPOPSEISSKITSOVIDEOSAUTONEAPAROUSIASIAPOSTOLESAGONESKALI ZOIFGEIADIATROFIEF ZINASTRACHRYSES SYNTAGESSYNTAGES SEFVIMA VIMACHRISIMAFARMAKEIAGIATROIAERODROMIALIMANIATILEFONAOPAPKAIROSSYNALLAGMALACHEIAAPPSPROSFORESENTYPI EDITION POLITIKITOPIKAPARASKINIOMEDIAELLADAKOSMOSEPISTIMIPERIVALLONTECHNOLOGIASYNENTEFXEISCHRYSES COMPANIES EIDISEISKYPROS OF CHTHESANAGNOSTI HAVE LOGOEPISTOLESSYNENTEFXEISDIMOFILI THE INTERN ETVIDEOSAFIEROMATAADVERTORIAL EPICHEIRISEISKYPROSBRAND VOICECAPITALFORBESBLOOMBERG OPINIONPROTAGONISTESKAFTI GRAMMICHRYSES ETAIREIESKARIERA ARTICLES IN "F" INTERVENTION IN "F" MESSAGE YOUR SKITSAO WORLD OF TWITTER THINGS TO DOCINEMAMOUSIKIESTIATORIABAR/CAFETV ODIGOSTILEORASI KYPROSKOSMOSKRITIKESEKDILOSEISPROSOPA PODOSFAIROMPASKETPARASKINIAELLADADIETHNIALLA SPORAPOPSEISSKITSOVIDEOS NEAPAROUSIASIAPOSTOLESAGONES YGEIADIATROFIEF ZINASTRACHRYSES SYNTAGESSYNTAGES SEFVIMA STEP FARMAKEIAGIATROIAERODROMIALIMANIATILEFONAOPAPKAIROSSYNALLAGMALACHEIAAPPSPROSFORES ENTERPRISES LTD BRAND VOICE CAPITAL FORBES BLOOMBERG OPINION PROTAGONISTS HOT LINE GOLDEN CAREER COMPANIES
EXCLUSIVE COOPERATION
TOGETHER
Next Previous Cyta: Operation of the new ARSINOE submarine cable system HOME • INSIDER • BUSINESS • Cyta: Operation of the new submarine cable system …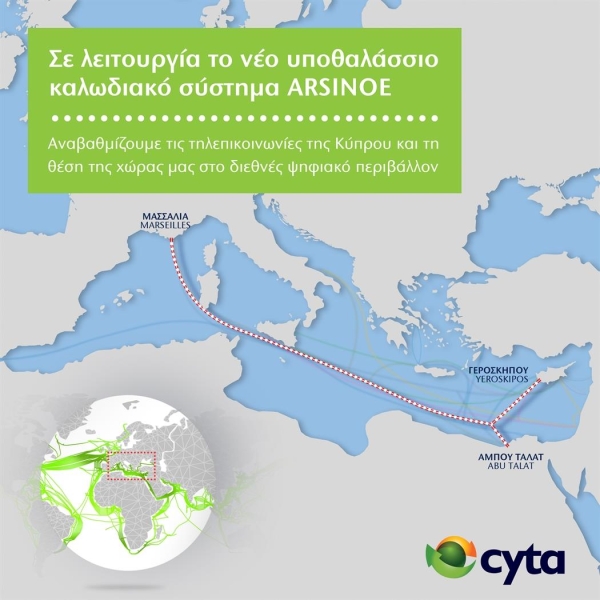 & nbsp & nbspInsider & nbsp; & nbsp;
Cyta announces the launch of the submarine fiber optic cable system, ARSINOE, which comes to meet the growing needs of the country for international connectivity in key areas, especially in Internet and Cloud services. Enhances the security of alternative routes in digital communications between Cyprus and the rest of the world, and meets the needs of services that require low data transfer delays.
ARSINOE, 3750km long, is added to the extensive submarine network of Cyta and connects the Eastern Mediterranean with data and telecommunication centers in Europe, Asia and the Middle East. & nbsp; Thus strengthening the role of the Organization and consequently of Cyprus, as a state-of-the-art telecommunication hub in the region.
The President of Cyta, Mr. Michalis Ioannidis, stated that, "ARSINOE is a tangible example of the Organization's commitment to providing reliable state-of-the-art technology services, both locally and internationally. It is another important addition to Cyta's international infrastructure, which will significantly contribute to the acceleration of the digital transformation of Cyprus, the main strategic goal of the Organization. "
Cyta CEO Andreas Neokleous noted that, "This is the completion of another important investment of the Organization, which will allow us to continue to do what our customers expect from us: to continue to upgrade the services we offer. At the same time, Cyta's 5G is approaching 100% population coverage while the Cypriot CytaFiber fiber optic network will reach all urban areas by the end of 2023. With these projects, not only the technological infrastructure of the country is upgraded, but also the competitiveness of the whole economy. " & nbsp; & nbsp; & nbsp;