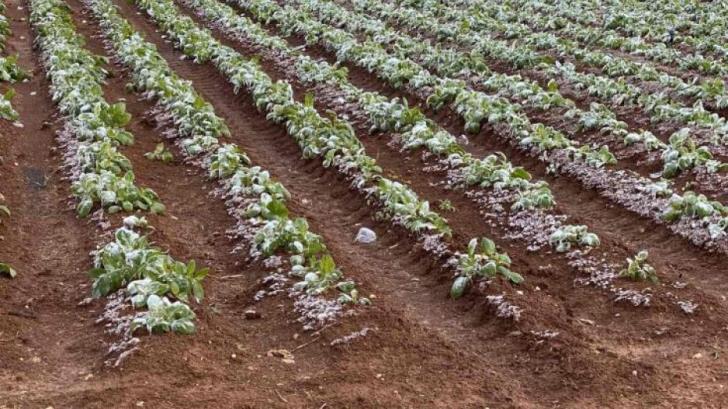 Angelos Nikolaou
Focusing on the area of Kokkinochoria and the area of western Nicosia where potato plantations were mainly affected, the areas of Dieronas and Arakapa where citrus fruits that have not yet been harvested were destroyed, but also in other areas throughout Cyprus where there was damage to vegetables in Larnaca communities. Cyprus is measuring the wounds left behind by the bad weather "Elpis" in agricultural crops.
Damage to crops was caused by the cold prevailing in Cyprus. In the last few days, with the fall of the temperatures, frost has developed in several areas that has panicked the farmers, alerting the agricultural organizations and the agronomists of the Department of Agriculture to run to record the damages. According to information from "F", agronomists went to the affected areas yesterday and recorded the damage from adverse weather conditions. The aim is to immediately activate the National Framework for the support of the affected farmers, in an effort to compensate as much as possible the loss of farmers' production and to ensure the viability of agricultural holdings for the next period.
SEE ALSO: New agricultural policy ready – What are the nine objectives?
According to the secretary general of EKA, Paniko Hampa, the damages in some areas are significant, noting that the real size will be seen in the coming days. He added that the crops were severely damaged by the adverse weather conditions. He called on the officials of the Department of Agriculture who make visits to record the damage as they take seriously into account that Cyprus as an island is bathed by three continents and therefore there are microclimates, which are not the same in all areas.
On his part, the secretary general of PEK, Christos Papapetrou, stated that according to the picture of the last few days, damages have been recorded in all areas of Cyprus due to the frost and snowfall. He added that seasonal crops in communities in Larnaca were particularly damaged. Damage to potato plantations was recorded in free Famagusta, as well as in western Nicosia where there is damage to open crops. Citrus fruits and mainly mandarins and oranges, which are also more sensitive crops, were affected by the frost in communities of Limassol.