The focus may have been on Moody's rating, but equally important is the rating of the Canadian House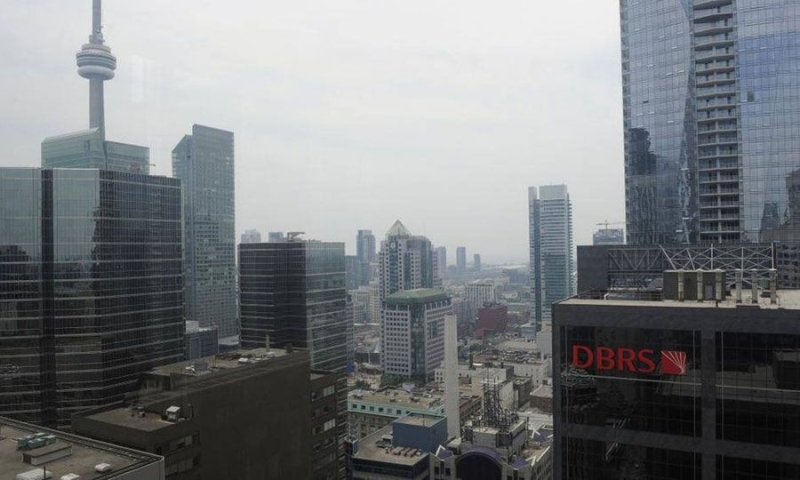 By Panagiotis Rougalas
DBRS Morningstar upgraded Cyprus' long-term ratings from BBB to BBB (high), while the outlook remained stable.
The interest may have been focused on the rating of the American Rating House Moody's because it was the House that had Cyprus in a non-investment category (junk), however, on the evening of Friday, September 29, the rating of the Canadian house, DBRS, was also expected.
According to DBRS, the upgrade is due to the recent decline in public debt and DBRS Morningstar's expectation that public debt metrics will continue to improve in the coming years. It comments that gross general government debt fell to 86.5% of GDP in 2022 from 101.2% in 2021 and is projected to further decline to 67.3% in 2025, driven by strong economic growth and large primary surpluses. "While moderating, economic growth is likely to remain among the strongest in the euro area. Real GDP is projected to grow by 2.4% in 2023 and by 2.7% in 2024, based on further growth in tourist arrivals, continued expansion of information and communication technology (ICT) industries and strong domestic demand," notes.
DBRS adds that these favorable economic developments, in turn, are likely to boost tax revenue growth in the coming years. In addition, DBRS Morningstar believes that the new government will continue to pursue a prudent fiscal policy. The government's stability program targets primary fiscal surpluses of 3.2% of GDP in 2023 and 3.7% in 2024. In addition, DBRS Morningstar notes that downside risks from global financial fragility, which had increased in their last review in March 2023, have retreated in recent months.
No surprises expected
While the realization of contingent liabilities by the banking sector remains a significant downside risk, DBRS Morningstar currently does not expect a sustained reversal of the downward trajectory in debt metrics in the coming years. Improvements in DBRS Morningstar's Debt and Liquidity and Fiscal and Policy Management components are the key drivers for the upgrades.
Cyprus' BBB (high) ratings and stable trend are supported by a stable political environment, the government's sound fiscal and economic policies in recent years and a favorable public debt profile. Furthermore, although governance indicators have weakened in recent years, DBRS Morningstar continues to consider the country's EU membership as an important basis for institutional quality. On the other hand, Cyprus also faces significant challenges due to the still high stock of legacy NPLs in the banking sector and the comparatively low level of labor productivity of the economy. In addition, Cyprus' ratings continue to be constrained by the small size of its service-based economy, which makes it vulnerable to external shocks.
Upgrading and Downgrading
Ratings could be upgraded under the DBRS if one or a combination of the following occurs: (1) sustained economic growth and sustained strong fiscal performance leading to a significant reduction in the public debt ratio; (2) evidence of increased economic resilience and increased levels of labor productivity.
The ratings could be downgraded if one or a combination of the following occurs: (1) a significant deterioration in the public debt trajectory, possibly due to a prolonged period of weak growth, increasing fiscal pressures or the materialization of large contingent liabilities; (2) substantial reversal of the downward trajectory in the stock of NPLs in the banking sector.
Economic growth moderated
DBRS reports that economic growth has moderated but is likely to remain stronger than in most other EU countries in the coming years. The momentum of economic growth has slowed in recent months. Real GDP growth slowed, though still good, to 2.1% year-on-year in the second quarter of 2023, from 3.1% in the first quarter of 2023 and 4.6% in the fourth quarter of 2022; due to the restraint of private consumption. In addition, a new round of economic sanctions in Russia in the spring of 2023 affected economic activity in the business services sector. Instead, growth continued to benefit from the recovery in tourism. In the first eight months of 2023, total tourist arrivals increased by 24.5% year-on-year. In addition, growth momentum in the ICT sector remained strong. Economic activity in the ICT sector has increased sharply since 2016, as several foreign ICT companies have relocated their operations to Cyprus, mainly as a result of different policy measures (e.g. tax incentives).
Looking ahead, economic growth is projected to strengthen gradually as real wages catch up. In addition, investment activity is likely to be boosted by the inflow of EU Next Generation funds and several large investment projects, especially in the tourism sector. The Central Bank of Cyprus (CBC) forecasts real GDP growth of 2.4% in 2023 and 2.7% in 2024, well above the growth forecasts of most other EU countries. The ECB forecasts real GDP growth in the euro area as a whole to just 0.7% in 2023 and 1.0% in 2024. A major downside risk to the economy's growth prospects is the escalation of the military conflict in Ukraine. Overall, Cyprus's ratings continue to be limited by the small size of its service-based economy, which makes it vulnerable to external shocks. Furthermore, despite strong economic growth dynamics in recent years, labor productivity levels in the economy remain below the EU average. According to Eurostat, the level of nominal GDP per employed person in Cyprus was only 87.1% of the EU-27 average in 2022.
Fiscal balances
DBRS reports that fiscal balances have improved significantly over the past year. The general government budget balance turned to a surplus of 2.1% of GDP in 2022 from a deficit of 2.0% in 2021, due to exceptional factors such as a large reduction in support measures for COVID-19 and as tax revenues were boosted by high increase in nominal GDP. Fiscal developments have remained favorable in recent months due to broad-based increases in tax revenues and social contributions. In the first seven months of 2023, total general government revenue rose 11.7% year-on-year, well outpacing a 6.5% increase in total spending that came largely from higher spending on public sector wages and social transfers. At the same time, the government approved two supplementary budgets in 2023 to cover higher current and capital expenditure.
DBRS Morningstar expects government revenues to be boosted by strong growth momentum in the economy. Furthermore, he is of the opinion that the new government will continue to follow a prudent fiscal policy. The Stability Program projects general government budget surpluses of 2.3% of GDP in both 2024 and 2025. Modest fiscal pressures are likely to arise from the recent revision of the cost of living allowance leading to greater automatic adjustment of public sector wages. sector and public sector pensions to inflation and from the planned expansion of KEDIPES. In order to avoid the foreclosures of vulnerable households, KEDIPES is planned to acquire eligible primary residences under the Mortgage to Rent program (market value below 250,000 euros) that have been used as collateral in NEDs and allocate these residences to vulnerable households. DBRS Morningstar understands that the fiscal costs of the KEDIPES expansion have so far not been factored into the government's fiscal projections. In general, possible future changes in international corporate taxation are a risk factor for public finances given Cyprus' relatively high share of fiscal revenues from this source. Corporate income tax revenue was a hefty 6.5% of GDP in 2021 compared to an OECD average of 3.1%.
Government Debt
strong>
The public debt-to-GDP ratio fell significantly last year, DBRS analysed. General government debt fell to 86.5% of GDP in 2022 from 101.2% in 2021 due to last year's fiscal surplus and very high nominal GDP growth. Looking ahead, continued fiscal surpluses and favorable debt dynamics are expected to lead to a further marked reduction in the debt ratio. The Stability Program projects that general government debt will decline to a modest 67.3% of GDP in 2025. In terms of the government's interest burden, the projected reduction in outstanding debt helps to offset the impact of the recent rise in interest rates. The European Commission projects that general government interest spending will moderate to 1.3% of GDP in 2024 from 1.5% in 2022. The pass-through to higher interest rates was moderated by the favorable debt profile after the average maturity of debt lengthened recent years. The weighted average maturity of public debt was 7.4 years in August 2023, up from 4.5 years in December 2012. Potential short-term financing risks are mitigated by the government's large cash reserve which stood at around 12% of GDP in August of 2023. The main risks to public finances come from a potential economic shock or the realization of potential liabilities in the large domestic banking sector whose total assets amounted to 261% of GDP in June 2023.
< strong>Risks for banks have decreased
Risks for banks have fallen significantly in recent years, but are still higher than in most other EU countries, according to DBRS. Financial stability is supported by the strong capitalization of the banking sector and very large liquidity reserves. At the same time, the legacy stock of non-performing loans (NPLs) in the banking system from the 2012-2013 crisis remains a credit weakness. Although the NPL ratio fell significantly from 46.4% in December 2016 to 8.7% in June 2023 mainly due to sales and bad loan write-offs, it is still significantly higher than in most other economies in the zone of the euro. The average NPL ratio of Eurozone economies stood at 2.5% in March 2023. In DBRS Morningstar's view, avoiding another suspension of the exclusionary framework would support the resolution of remaining NPLs.
The Christodoulidis Government
"The political environment in Cyprus is stable", reports the House, wanting to comment on the Christodoulidis Government. The election of Nikos Christodoulidis as president in February 2023 did not lead to significant policy changes, particularly in terms of fiscal policy and reforms embedded in the Cyprus recovery plan. These reforms aim to strengthen the efficiency of the judicial system and public administration, fight corruption and strengthen the green and digital transition of the economy. Implementation of the plan will depend on the government's ability to muster sufficient support in parliament to pass legislation. In terms of institutional quality, DBRS notes that the country's ranking in Global Governance Indicators (e.g. Control of Corruption, Rule of Law) has deteriorated in recent years and is now below the EU average. At the same time, the DBRS considers the country's EU membership as an important anchor for institutional quality. Regarding the United Nations (UN)-backed reunification talks, DBRS currently assumes that the chances of significant progress remain limited.
< iframe width='300px' height='500px' src='https://www.adstorebluebird.cy/api/banner/ServeBanner?zoneId=2734' frameborder='0' scrolling='no'>