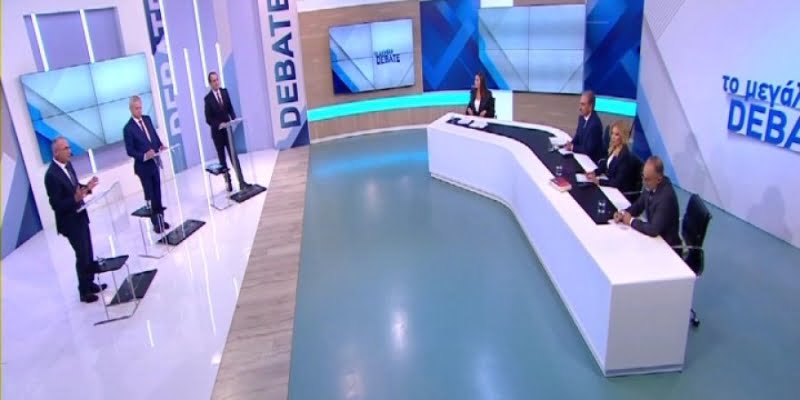 The second cross-channel debate in which Averof Neofytou, Andreas Mavroyiannis and Nikos Christodoulidis participated.
Among other things, the three main candidates for the Presidency of the Republic were asked to answer Petra Argyrou's question on what they would do to change the Central Prisons.
The first to speak was Andreas Mavroyiannis who said the following, "first, a full investigation and clarification of what is happening and what is reported to be happening in the prisons without prejudging and without pre-deciding what the real situation is. It seems that there is a huge issue that absolutely must be fully investigated but this is not enough, the necessary reform must be done so that we can be sure that the structures that exist in prisons are the right ones so that such phenomena do not happen again. Because what we have now is a conflict between institutions, they are diametrically opposed narratives and it is not possible for the common citizen to have a clear picture.
We wanted transparency, accountability and attribution of responsibilities without, however, reaching a witch hunt to promote a political agenda or why there are differences between people or institutions. It takes absolute seriousness and commitment to act quickly.
See also: The "Achtarmas", the jets and the Christodoulidis documents – What was submitted to the debate
< p>Then, answering the question, Nikos Christodoulidis said, "If I were President, I would invite all those involved to the Presidential Office to discuss all the issues raised. One issue I would raise at the meeting is to stop public statements on the issue that you perceive negatively affects society's sense of justice. So I would call this meeting with everyone involved so that they can provide concrete evidence for everything they support and after research I would make decisions based on the data.
We are a member state of the European Union, we are a member state of international organizations, there are international standards that concern the operation of prisons as well as such matters in general and very specifically on the basis of these specifications I would make decisions after having a complete picture of the situation.
See also: LIVE: They face off again in the cross-channel "arena" the three main candidates
Last to answer the question was Averof Neophytou who said, "We are not allowed to have laws and not apply them, mobile phones are prohibited in the Central Prisons. Perfect. We should not have laws that are not enforced and to have classroom instruments that communicate with barypoinites through cell phones. Prisons are for incarceration not as a headquarters for new crimes to be organized.
Current laws must be effectively and decisively implemented. In 2022 the easiest thing to do is to check for mobiles. We have hundreds of workers there, we have to protect the workers too.
A prison guard cannot be 40-45 years in the same post. Why' in addition to the implementation of current laws, institutional changes are also needed.