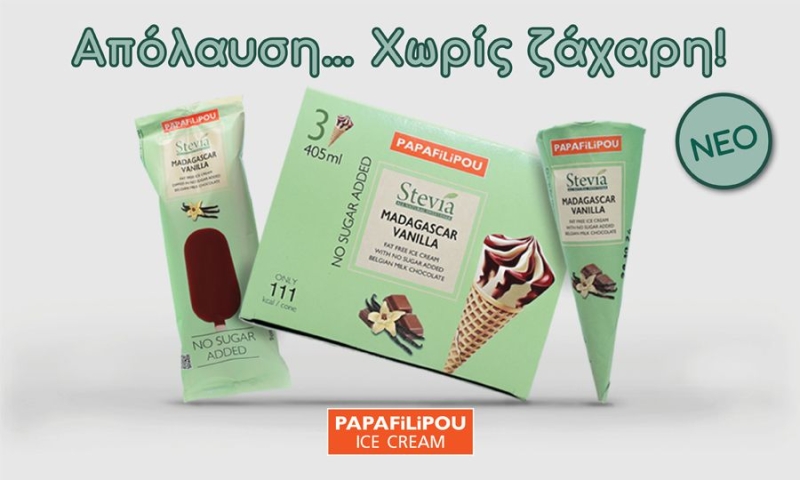 Summer is shaping up to be exciting and PAPAFiLiPOU Ice Creams are making a difference again, introducing two new, delicious, individual cone and stick ice creams, sugar free, with stevia, as well as a brand new multipack!< /p>
Today, they are introducing 2 new individual ice creams in 3 new packages?
New non-fat, sugar-free, stevia vanilla Madagascar vanilla ice cream in a cone, with sugar-free Belgian chocolate and only 111 calories!
New individual fat-free, sugar-free, stevia vanilla Madagascar ice cream on a stick, covered in Belgian chocolate, sugar-free and only 152 calories!
In addition, for those who want more moments of indulgence, they present and the newPackagingMultipackCone which includes 3 individual ice creams in a cone, without sugar, with stevia for even more enjoyment!
PAPAFiLiPOU ice creams currently produce 9 sugar-free ice creams, with stevia, in 21 different packages, offering many delicious options to those who watch their diet.
The new individual ice creams are produced in Cyprus from fresh Cypriot skimmed milk and Belgian milk chocolate, without added sugar, with organic stevia, without gelatin – therefore also suitable for vegetarians – and is rich in dietary fiber, but also very low in calories, always with the PAPAFiLiPOU quality seal.
Discover for yourself the new individual sugar-free cone and stick ice creams at the kiosks, find the new multipack cone at the supermarkets and, of course, enjoy another exciting, tasty Summer!
< iframe width='300px' height='500px' src='https://www.adstorebluebird.cy/api/banner/ServeBanner?zoneId=2734' frameborder='0' scrolling='no'>