POWERED BY:
13:26 Τρίτη
March 29, 2022 INSIDER • GOAL • IN-CYPRUS • PROPERTY • CYPRUS-IS • CAREER LIKE • GOING OUT • XRYSES SYNTAGES • ACTIVE • PHILGROUP NEWS & nbsp; SOCIETY & nbsp; INSIDER & nbsp; OPINIONS & nbsp; GOING OUT & nbsp; CULTURE & nbsp; SPORTS & nbsp; AUTO & nbsp; GOOD LIFE & nbsp; USEFUL & nbsp; PRINTED EDITION & nbsp;
ARCHIKIEIDISEISPOLITIKITOPIKAPARASKINIOMEDIAELLADAKOSMOSEPISTIMIPERIVALLONTECHNOLOGIASYNENTEFXEISCHRYSES ETAIREIESKOINONIAEIDISEISKYPROS OF CHTHESANAGNOSTI HAVE LOGOEPISTOLESSYNENTEFXEISDIMOFILI IN INTERNETVIDEOSAFIEROMATAADVERTORIALINSIDEREPICHEIRISEISKYPROSBRAND VOICECAPITALFORBESBLOOMBERG OPINIONPROTAGONISTESKAFTI GRAMMICHRYSES ETAIREIESKARIERAAPOPSEISARTHRA IN "F" INTERVENTION IN "F" MESSAGE YOUR SKITSAO WORLD TWITTERGOING OUTTHINGS TO DOCINEMAMOUSIKIESTIATORIABAR/CAFETV ODIGOSTILEORASIPOLITISMOSKYPROSKOSMOSKRITIKESEKDILOSEISPROSOPAATHLITIKAPODOSFAIROMPASKETPARASKINIAELLADADIETHNIALLA SPORAPOPSEISSKITSOVIDEOSAUTONEAPAROUSIASIAPOSTOLESAGONESKALI ZOIFGEIADIATROFIEF ZINASTRACHRYSES SYNTAGESSYNTAGES SEFVIMA VIMACHRISIMAFARMAKEIAGIATROIAERODROMIALIMANIATILEFONAOPAPKAIROSSYNALLAGMALACHEIAAPPSPROSFORESENTYPI EDITION POLITIKITOPIKAPARASKINIOMEDIAELLADAKOSMOSEPISTIMIPERIVALLONTECHNOLOGIASYNENTEFXEISCHRYSES COMPANIES EIDISEISKYPROS OF CHTHESANAGNOSTI HAVE LOGOEPISTOLESSYNENTEFXEISDIMOFILI THE INTERN ETVIDEOSAFIEROMATAADVERTORIAL EPICHEIRISEISKYPROSBRAND VOICECAPITALFORBESBLOOMBERG OPINIONPROTAGONISTESKAFTI GRAMMICHRYSES ETAIREIESKARIERA ARTICLES IN "F" INTERVENTION IN "F" MESSAGE YOUR SKITSAO WORLD OF TWITTER THINGS TO DOCINEMAMOUSIKIESTIATORIABAR/CAFETV ODIGOSTILEORASI KYPROSKOSMOSKRITIKESEKDILOSEISPROSOPA PODOSFAIROMPASKETPARASKINIAELLADADIETHNIALLA SPORAPOPSEISSKITSOVIDEOS NEAPAROUSIASIAPOSTOLESAGONES YGEIADIATROFIEF ZINASTRACHRYSES SYNTAGESSYNTAGES SEFVIMA STEP FARMAKEIAGIATROIAERODROMIALIMANIATILEFONAOPAPKAIROSSYNALLAGMALACHEIAAPPSPROSFORES ENTERPRISES LTD BRAND VOICE CAPITAL FORBES BLOOMBERG OPINION PROTAGONISTS HOT LINE GOLDEN CAREER COMPANIES
EXCLUSIVE COOPERATION
TOGETHER WITH
Powered by
Next Previous DEOK submitted a memorandum with requests to A. Anthousi HOME • INSIDER • CYPRUS • DEOK submitted a memorandum with requests to A. Anthousi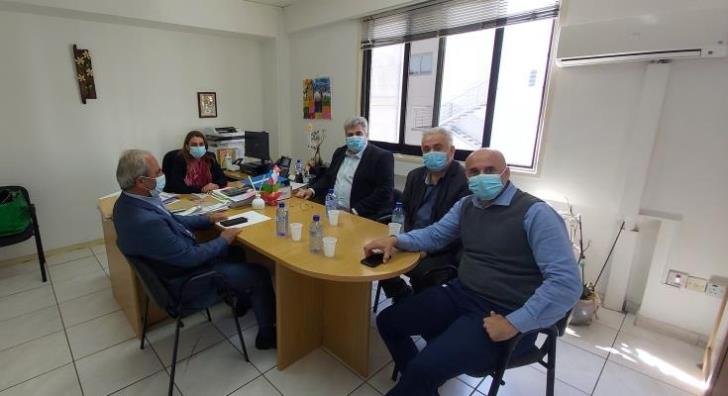 & nbsp & nbspInsider/ΚΥΠΕ & nbsp; & nbsp;
The Board of Directors of DEOK had the third meeting with the Deputy Minister of Social Welfare Anastasia Anthoussi during which it highlighted the need for modernization and reconstruction of the Social Welfare Services and delivered a memorandum of & nbsp; requests. Among the demands are the reassessment of the minimum guaranteed income and the increase of child, single parent, disabled and student allowances. It is also proposed to strengthen the institution of the social worker and its expansion in all regional structures and schools of Cyprus.
According to a press release of the DEOK, the President of Joseph Anastasiou referred to the need to modernize and restructure the Social Welfare Services, as well as the urgent implementation of an emergency plan to financially support the weakest social groups, which are being tested by its unprecedented crisis. of continuous price increases. & nbsp; In particular, the President of DEOK stressed the need for a radical transformation of the social welfare system in a way that responds to modern challenges and complex social problems.
In this context, he stated that it is extremely important to apply the principle of subsidiarity in order to social care services to be transferred to the municipalities, which are close to the citizens and can manage their problems and needs more directly and efficiently. & nbsp;
In addition, DEOK proposed the creation of autonomous departments with the aim of Specialized support and reintegration of social groups such as drug users, prisoners, migrants and victims of trafficking and sexual exploitation.
faster and more efficient service to the recipients of social benefits. There was also extensive information and exchange of views on the immigration problem and the need for the State Department to respond to the urgent social needs of immigrants.