A holistic approach and turning challenges into opportunities is the right path for the future of our shipping, said Marina Hatzimanoli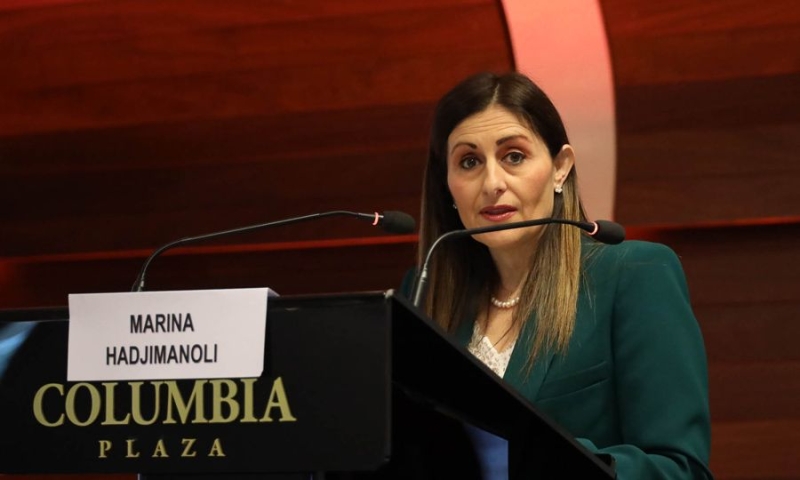 < p>A holistic approach and turning challenges into opportunities is the right path for the future of our shipping, said the Deputy Minister of Shipping, Marina Hatzimanoli, noting that the new government has an ambitious vision and clear goals for Cypriot shipping.
Marina Hatzimanoli welcomed, on Tuesday, the 6th annual Cyprus Maritime Forum of Capital Link, in Limassol, stating that the first priority of her Deputy Ministry is the provision of high quality public services to the local maritime industry.
Cyprus, he continued, has made significant progress in simplifying all procedures, reducing red tape and creating a paperless maritime administration in an effort not only to reduce its environmental footprint, but above all to provide a more flexible, effective, efficient and customer-centric service, which will further increase the attractiveness of the Cyprus Registry and its related services.
In this direction, he added, the Deputy Ministry is creating a one-stop maritime service framework, through the its digital transformation, which will maximize its operational efficiency.
"Furthermore, the implementation of the Limited Liability Shipping Company (N.E.P.E.) Law enacted in October 2022 will improve the competitiveness of the Cypriot flag in international shipping as well as simplify the procedures and operating regime of Cypriots of shipping companies that own Cypriot ships", he added.
Indicating that the actions of the Deputy Ministry are not limited to the development of the ship registry, the Deputy Minister said that they also extend to the further development of our maritime complex and that "all our efforts are aimed at strengthening our role in the international maritime arena and providing fertile conditions for the sustainable development of our shipping industry".
Ms Hatzimanoli said that one of the main challenges today is the transition to a green and digital shipping and assured that "Cyprus supports the shipping industry in achieving its decarbonisation goals by providing green tax incentives to shipowners and managers, encouraging and supporting Cypriot-registered ships to use alternative fuels such as biofuels and hydrogen".
"This, together with a unique set of competitive advantages, has allowed Cyprus to grow and develop into world-class shipping center," he added.
At the same time, the Deputy Minister underlined that despite the illegal Turkish embargo on Cypriot-flagged ships, the Cypriot registry has developed significantly, with a strong voice and a large displacement in the international shipping scene, playing an important role in decision-making processes, while effectively contributing to global and European maritime policies.
"The stable economic and business-friendly environment, as well as the wealth of know-how offered by Cypriot shipping, have attracted a significant number of trading companies to Cyprus," said Ms Hatzimanoli, indicating that over the past decade there has been a notable increase in the number of companies which are registered in the tonnage tax system, namely from 95 to 320 companies.
He also reminded that Cyprus has a large shipping industry with more than 200 shipping companies based in Cyprus, covering the entire spectrum of shipping activities, from ship ownership and ship management to telecommunications, IT, insurance, finance, the provision of spare parts, ship repairs and maintenance etc.
Having said that a maritime nation like Cyprus must have a clear strategy for the future development of the maritime sector in order to ensure that it holds a leading role in development of the global and European maritime agenda, Mrs. Hatzimanoli stated that "Cypriot shipping must be competitive, strong, resistant to crises and act proactively in response to challenges and new trends".
"We have a ambitious vision and clear goals for Cypriot shipping and we are determined to turn this vision into sustainable actions in order to lead positive changes for Cyprus and global shipping", she added.
She expressed her certainty that a holistic approach and the transformation of challenges into opportunities is the right way forward and assured that the Deputy Ministry will do its best to support and enhance the goals of our shipping industry.