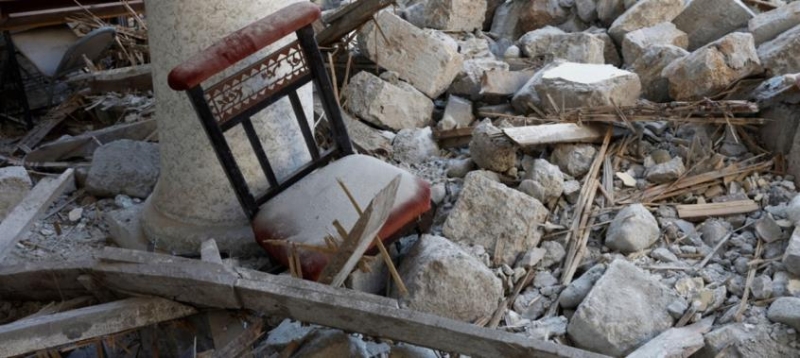 We are determined for any kind of legal fight for the "citizens" of the "tdvk" – as he called the pseudo-state – who lost their lives in the Isias Hotel in Antiyyaman during the earthquake, said Turkish leader Ersin Tatar, referring to the related decision taken by the "Council of Ministers" late yesterday evening.
In a written statement on Saturday afternoon, Mr. Tatar said that the relevant request is in the process of being implemented . "It is alleged that the Isias Hotel in Antiyaman was destroyed as a result of gross negligence, abuse and/or mistakes. 35 of our citizens lost their lives in this hotel. Prosecutors in Turkey have started ex officio investigations," he said.
He added that the Turkish Foreign Ministry forwarded the pseudo-state's request to the Ministry of Justice, the General Directorate of Criminal Affairs, the Prefecture and the General Prosecutor's Office of Antijaman to open a judicial investigation into the collapse of the Isias Hotel and take samples from the building, before move the debris.
"Our pain is great. We are drowned by our lost children. We share the pain of our Turkey and Turkey our pain." He concluded by saying that he hopes "justice will be served" and that those found to have committed wrongdoing will be punished.
As a "government" we will not allow anyone who tried to kill people to escape justice, said " prime minister', Unal Ustel, both for the hotel in Antijaman, and for the arrest and deportation of the owner of a luxury apartment complex near Adana, Hasan Alpargyoun.
Alpargyoun, who fled Turkey and was "arrested " to the occupied territories, he was "deported" last night to Turkey, where he will be brought to trial. He is facing charges of manslaughter and wounding.
VIDEO: "Miracle" – Baby rescued after 128 hours is photographed smiling
VIDEO: Ray of life in the ruins-Man was pulled out alive after 149 hours
Searches for the 24-year-old athlete who sent sms from the ruins-No sign of life
Unsuccessful b>
Anger erupts over paper buildings in Turkey-Over 100 arrests