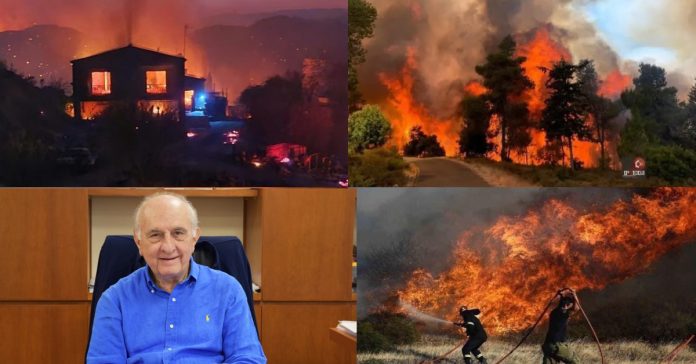 Not even a penny of government aid has been received by the Arakapa area fire victims, despite the promises. On the contrary, the inhabitants of the villages that were affected by the catastrophic fire received the financial aid that had been promised to them by the Chairman of the Board of Alfamega Supermarkets, Mr. Andreas Papaellinas.
Last Wednesday, Mr. Papaellinas himself visited the offices of the Arakapa community council and distributed the 500,000 euros he had promised. In consultation with the community leaders of the communities affected by the catastrophic fire regarding the way of allocating the money, Mr. Papaellinas gave the checks to the selected ones. An amount of 400,000 euros was given by personal checks to the victims, while another 100,000 were given to cover other needs. The checks were handed over to permanent residents of the area whose homes and businesses have been destroyed. In his statements, Mr. Papaellinas thanked the community leaders of the affected areas for the cooperation, emphasizing that after consultation with them, it was deemed appropriate that the financial assistance he had announced be available to support families living permanently in the area and businessmen who lost their life. "This help is just a small stone so that these people can rebuild their lives. "The next day for the fire victims will depend, not only on the type and size of state and private support that will be provided to them, but also on the consistency that will be shown," he pointed out.
Also, the CEO of Alfamega Supermarkets, George Theodotou, handed over to the local authorities of the region additional gift vouchers worth € 100,000 from the Alfamega Supermarkets that will be distributed to the permanent residents of the nine affected villages, to cover immediate needs and other food items. emergency. As Mr. Theodotou pointed out, "as a socially sensitive company, we considered it our minimum obligation to stand by our fellow citizens in these difficult times, contributing to their immediate relief."
Mr. Papaellinas's help was praised this morning on RIK radio by the mayor of Arakapa, Mr. Vassilios, who on the other hand stated that government aid, despite the promises, has not been given yet. Mr. Vassiliou also stressed the need for flood protection works before the rains come because otherwise there will be additional damage and destruction to homes and property.
For his part, the mayor of Odos Menelaos Filippou confirmed that no government assistance has been received yet. However, he said that he has promises from officials that the first checks will be given next Monday or Tuesday. Mr. Filippou stated that as the days go by, the financial problem of the residents grows.