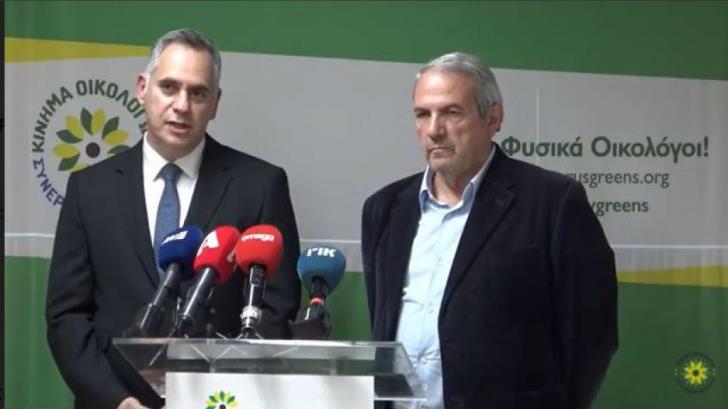 i style = 'color: black' class = 'fa fa-user' aria-hidden = 'true'> & nbsp & nbspphilenews & nbsp; & nbsp;
The meeting between the delegation of the Movement of Ecologists – Citizens' Cooperation, led by the President of the Movement Mr. Charalambos Theopemptou, and the delegation of DIKO, led by the President of Nikolas Papadopoulos with the Vice President 2023 elections. & nbsp; During the meeting, views were exchanged on both sides, with the common goal of the desire to change the Government.
In his statements, after the end of the meeting, the president of the Movement thanked DIKO for the interesting discussion. He referred to the excellent cooperation they had & nbsp; in the past in presidential elections and there is a common understanding of the need for a change of government. citizens
Specifically, Mr. Theopemptou stated that "we have a government that has broken all records in the matter of corruption, it is the worst government in terms of environmental issues and there are many issues in terms of economic issues, social issues, which concern the people of culture. We as a Movement will proceed with informing the political committee about the meeting we had today and we will see how we will proceed in the future with our plans. "We hope to have a common candidate in the opposition parties who wins the election to finally see a change in the country."
It is recalled & nbsp; that the decision of the Central Committee of the Movement is that they will listen & nbsp; to all the candidates and political parties that wish to cooperate, but it was clarified that there is no case of cooperation with ELAM.
"The goal is to change the current government and work in a way to bring about an ecological upgrade of the government of the Republic of Cyprus, as required by the climate crisis and the economic impasse of our current economic policy." & Nbsp; has clarified that it has no intention of submitting its name as a possible joint candidate of an enlarged alliance but will seek cooperation on convergences of our program positions with a candidate person. "We will not accept any cooperation with an individual or political parties that do not accept the introduction of our red lines in the program positions of the candidate we will choose", it is stated in a statement of the Movement.
Tomorrow Wednesday night & nbsp; the Political Committee of the Movement will meet, in order to be informed about the meetings that have already taken place. A meeting of the Investigated Central Committee of the Movement will follow to make decisions on the next steps.
After the meeting, the president of DIKO Nikolas Papadopoulos stated the following:
< p>"We had a very cordial and constructive discussion with the president and the other members of the Movement leadership. The subject of our discussion was the upcoming presidential elections. "
"As DIKO, we believe that we must make every effort for the opposition parties to implement the desired goal of society, which is change. And precisely because the Green Movement has been established in the consciousness of society, of public opinion, as a political force that fights passionately for the improvement of the quality of life, for tackling climate change, for the protection of the environment, for sustainable green development, we believe that he is potentially a viable and important partner in this effort for change. "
" And that is why we have agreed to continue this debate, hoping come up with an agreed-upon framework to transform this goal into practice. In other words, to be able to win the bet of the development of the Cypriot economy, under the very adverse conditions that are formed every day. To deal with the shadows of entanglement and corruption. To bring a way out of the impasses that we unfortunately find every day on the issue of the Cyprus issue. "
" For this very reason we thank the Movement of Ecologists-Citizens' Cooperation that gave us today the opportunity to exchange views on all these issues that concern us. "
" We hope that these efforts will lead us to the desired goal. To take the country forward and give hope to our people. "