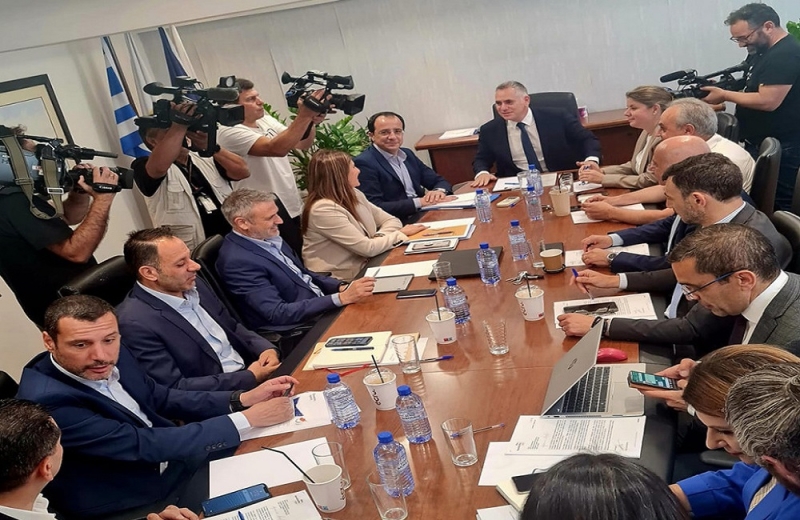 It seems that DIKO is very close to the support of Nikos Christodoulidis, with what has been shared in yesterday's meeting of the Presidential candidate with the Secretariat of the party. The meeting took place amid already existing information that the party is close to supporting Christodoulidis, but is seeking its own role in the election campaign.
Yesterday's meeting, based on the statements of both Nikolas Papadopoulos and Nikos Christodoulidis, rather leads to the conclusion that the two sides are very close to cooperation. The reports of the President of DIKO that Nikos Christodoulidis has the characteristics and can respond to the concerns and demands of civil society, clearly gave the stigma of an ongoing support of DIKO. "It was a very interesting discussion, he was asked to answer questions from the Secretariat on specific program positions. Society will be called to answer which person we want to be the president of our country for the next five years. I believe that Nikos Christodoulidis has the characteristics to be a possible answer to this question ". of origin ". As he mentioned, in his staff there are collaborators from all political areas who may have different starting points but are united by the common vision for the future and tomorrow of the homeland. A general, of course, somewhat vague statement, with which he hopes to reassure the DIKO executives who appear annoyed by his insistence while appearing as an independent, to consider himself a member of the Democratic Alarm.
More about the issue in the print edition of "P" and for its subscribers CITIZEN PREMIUM the digital edition of the newspaper in PDF at the same time with its daily print edition from at 05.00 in the morning.