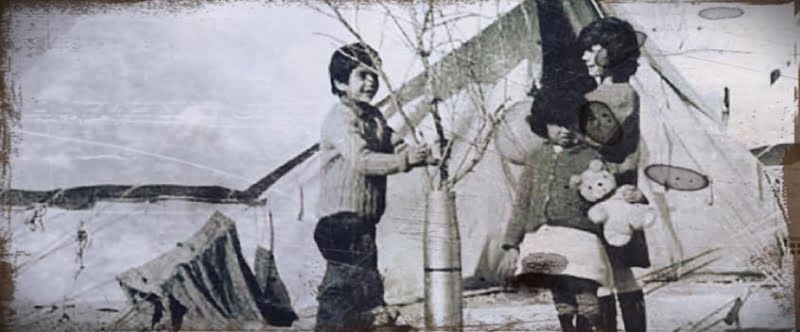 "The Christmas of 1974 found us in Thessaloniki, hosted by friends, but far from our relatives. A fight for survival has begun. As good as the weather was, our thoughts were with our family and our island. […] Do you know what it means to walk the streets with the quilt on your back? That's where we broke out", was the description of Mr. Koudounas and the pain was evident in his voice. "At Christmas, my brother took a barrel he found in the barn, filled it and we turned it into a furnace. We bought a tin and put the lamb in the oven. We ate and cried because we missed Christmas in Lysi", was the description of Ms. Marias Kontou, when he remembered the Christmas of 1974. "At Christmas we were the persecuted, the unhappy, the refugees with a bunch of dead and missing and trapped. We begged God to give us the strength to live", recounts Mr. Kostas Lafazanis.
Three descriptions out of the thousands, which bear witness to the pain, the sleepiness, the sadness of alienation. A stranger in their own homeland. The pain that since 1974 is constantly present, in all the celebrations, the joys, but also the sorrows, since now those who have been uprooted from their homes leave one after the other, with the sorrow of the return burning the soul them.
Kyriakos Koudounas, Maria Kontou, Kostas Lafazanis are three of the thousands of refugees who lived in their skin what it means to celebrate the Christmas holidays far from your place. Some stayed in Cyprus, some went abroad, but all of them were connected by the tragic event of July 20, 1974. Morphou, Lysi, Kyrenia were handed over to the Turkish invaders and are still under their occupation.
The three of them talk to the REPORTER and remember the last Christmas in their home, the tragic days after the uprooting and end up with the first Christmas in 49 years living away from their homes.
"You know what does it mean to walk the streets with the quilt on your back?"
Mr. Kyriakos Koudounas, who is currently the deputy mayor of the occupied Municipality of Morphou, when the Turkish invasion took place was only 26 years old and ready to start his life. He was preparing for his wedding, but Attila's violent plans turned everything upside down.
"At Christmas 1973 I was a trainee lawyer in Morphou. I had just finished my studies, I got engaged and at the end of 1973, beginning of 1974 I opened my law office there. I was a restless spirit and seeing the political situations and some who were undermining democracy and the President, I was very worried about the future of the country. I started my first attempts to get caught as a lawyer in Morphou and in 1974, some with their actions made sure to bring the Turks.
From here began the great struggle for survival. We lost everything. I was getting ready to get married on August 25, 1974, we got invitations, preparations were made and conscription was done. We joined the army, fought and were hanged. We didn't have a job, neither me nor my fiancee, we lost our possessions and took the road of alienation.
In the fall of 1974 we settled in Thessaloniki, with only a few shirts and trousers in our suitcases and none of the 25 pounds we had in our pockets. We started a fight for survival. Because I had studied in Thessaloniki, I had some contacts and some friends, who stood by me as if they were my own people. I have had terrible experiences with the friends who hosted us, until they left their room for me and my fiancee to enter.
Christmas found us guests in a warm environment with friends, in Thessaloniki, but far from my family and my wife's relatives. The fight for survival has begun. That Christmas, as good as it was, as much as the people who hosted us opened their hearts and we thank them for that, we were in agony about what this place would become. Our thoughts were with our people and our island. It was a moment when we wanted to be funny for our friends, but our thoughts were with our parents, who were refugees and left their homes and professions. As good as Christmas was, it didn't compare to the Christmas we lived in Morphou.
We felt a disappointment, a reflection that we were in a foreign country, but I didn't give up, I didn't give up and I continued looking for a job. I found a job in a law firm and then was appointed to the Aristotle University. My feelings were about how me and my fiancee were going to face the future, rather than how we were going to experience Christmas."
When asked to recall the feelings he felt that first Christmas away from home, his voice began to crack, getting lower as it filled with pain and it took a few seconds before he could regain control and continue.
"Do you know what it's like to have everything in your house and lose it? Running from one friend to another with the quilt on your shoulder? We had to leave a friend of ours because his parents came to visit and we went to another friend of ours and he was missing. My wife and I broke out there. We kept the bed and returned to Thessaloniki to find people to host us".
Although Mr. Koudounas and his wife sought a better future in Thessaloniki, their path was paved with obstacles.
p>
"Even in Thessaloniki where we went, we experienced the suffering. We gave exams to 500 people for 12 positions at the University and I came first, but they didn't hire me because I had to prove that I had a Greek conscience. The eleven were appointed, but I was delayed three months. I worked at Aristotle University for 3.5 years.
Then there were the great earthquakes in Thessaloniki and the apartment building we lived in was deemed unsuitable. We also had our daughter then, one year old, and we went from park to park to sleep until we found a place to stay. Then we said that the climate in Greece was not ideal and at the end of 1979 we returned to Cyprus. We returned to a half of Cyprus, which was bleeding and facing thousands of refugee, missing and dead problems. We threw ourselves headlong into work, to succeed in creating something for ourselves. We started working overtime, to be able to create something. Our life, in our best years, was full of problems because we lost our homeland and we are still living the effects of the invasion".
"We ate the lamb and wept"
Ms. Maria Kondou was only 30 years old when Attila entered Cyprus. She had failed to start her life and had to leave everything behind and make a new beginning, full of pain and bitterness far from her home. The last Christmas he lived in Lysi did not foreshadow this disaster.
"Christmas 1973 was very nice. We were a large family, with eight siblings and two parents, a total of ten people. I can't say we were well off, but we were having a good time. We had a herd and a pervoli. We were five boys and three girls. In those days, my brother would slaughter the lamb for us to have for Christmas and then we would prepare the oven. It was a very merry Christmas. The yards were all whitewashed. As long as I remember them, it's as if I see them in front of me.
In Lysi, we had a custom of crossing the marbles. We put lime and with a small brush, we formed the cross where the marble ended and it looked like a plumed floor. We decorated our good bed, baked buns and breads for everyone to eat at Christmas. We went to the church in the morning and shuddered when we went there, from its beauties. We have not yet come across such a church anywhere.
It was a beloved world in Lysi. We would leave the house at 5:00 in the morning and find the neighbors passing our house to go to church. It was a very beautiful thing.
After the invasion we went to Dasaki tis Achna. My father had brought our herd from Lysi before the invasion and found a house outside the village, which belonged to a man from Xylotymbou. By Christmas we were all finally living in that house in the orchard. The first Christmas, my brother took a barrel he found in the barn, filled it and we turned it into a furnace. We bought a tin and put the lamb in the oven. It turned out really nice, but we ate it and cried because we missed Christmas in Lysi. We managed to have Christmas in the fields and pervolias, but we didn't have the manners and customs of Lysis. We kneaded a piece of bread to eat at Christmas, but it was with heartache. I still do these customs to this day. I knead pretzels, make jelly and sausages, but my complaint is bitter. It's like I'm in meltdown every time I do it. It's what keeps us alive".
Despite the fact that Ms. Maria and her family had to experience celebrations in a foreign environment, this was not capable of breaking them apart. Instead, the tragedy brought them together even more.
"What I remember is that we were all siblings together. We were eight siblings and both were married with babies and we all lived together. It was weird, but also nice because it made us bond more as a family. Inside a house, without windows and yet we were united. I often say that I may have been hurt, but my mother had to cook for so many people, no one was misunderstood. We were all very closely related, even though we lived in the field.
After so many years there is a desire to return. No matter what anyone does and gold they give us, all we want is to get back to Lysi. It has been 47 years since we saw our neighbors, but if we come back it will be as if we were together every day all these years. We also have a meeting with all the girls in the neighborhood. All of us girlfriends get together once a year and have a good time, we were loved. Every year during the holidays, we will talk on the phone, but everything is different, it's not the same".
Before closing the interview, Ms. Maria also wanted to read us a poem that her husband wrote for Lysi, entitled "The Solution after the invasion".
"Lysi I came to see you, again before I die
But you are a ruin and something more
Most of your sparks look old
Something is a bit old and the others are damaged
I'm sorry, I didn't return to the light of my childhood
But was it you who smelled of my games?
You weren't the Jane I knew, who caught the firsts
In the cleanliness, in the matches, in the schools.
First with grass, field in the countryside
You are a team that played in the first division.
Yea You are also the SYKALI who wrote history.
Where are your clubs and cafes
The bust of Auxentios that you are in the square?
Jeino the cenotaph and the other monuments. p>You want my opinion, let me tell you where I went yesterday,
First you were an archon, now you are an old woman of 903.
Jiai 'coma siirottero, jinno who annoys me< /p>
When I entered the church, I regretfully heard Khodzia calling out
Straight away a woman entered my car
Yes, I was sick".
"We asked God to give us strength"
At the age of 32, Mr. invaders, who arrived in Cyprus through the sea of ​​his birthplace, Kyrenia. He was an officer in the army and was responsible for the fate of soldiers who were in the Kyrenia camps. He himself, when he spoke to REPORTERhe remembered what it was like last Christmas in Kyrenia, the city that was first captured by the invaders, but also what he was called to do during the invasion, that black summer.
"At Christmas, when we were in our places, there was a grandeur, a very church-like atmosphere. People rushed to the churches, which were brightly lit and decorated to celebrate the birth of Jesus. It was something everyone enjoyed. The singers and priests gave their best, to leave the best impressions on the world. It was that decoration, the lighting of the trees, the entrances of the houses, that made Kyrenia bright from one end to the other. We didn't know that it would be the last Christmas in Kyrenia. No one could have expected this development, it was something that saddened us a lot, because things started to get difficult.
When the Invasion happened, I was an officer and a student of mine brought me a marching card to my house because I am a teacher. I went where they sent me and we saw the Turkish ships that were sailing in the sea of ​​Kyrenia and with the first light of day we also saw the shells falling from the Turkish planes that were falling on our camps. I went out on a rock and told the soldiers "I am an officer, if you accept that I organize you to face the Turks, don't attack us" and they told me to do whatever I thought. We did so and found that the resident officers were gone and I put the policemen inside the outposts. We heard the Turkish tanks coming towards us and then I said the phrase "the saving self is saved" and the soldiers started to leave.
I walked past fifteen soldiers outside my house and it was closed. I found my car locked and no keys to start it, and we drove up to Pentadaktylos, where my grandfather had a field with drinking water. We drank water, rested, and then I asked them what they wanted us to do and if they wanted us to go back to Kyrenia, which we could see smoking. They told me not to return and to leave and go to Kythrea. There, I found that my family was missing.
I went down to Nicosia, I read that my family was among those trapped in Belapais, at my brother-in-law's house. Then I took a car, wrote on it with green PRESS tape, wore civilian clothes instead of military ones, and a soldier of mine came with me, who didn't let me go alone. We went there and found about a dozen old men, who were sitting there in agony. I gave them cigarettes and asked them if there were Turks at school. They told me that he had and not to go. Then I turned to the soldier and told him to stay there and go alone because I had to go to my family, but the soldier did not want to stay. We went to the house, they slowly left the house, we took them and went to Kythrea.
In Kythrea, which has seven parishes, we randomly entered a house and my wife said "you didn't tell me who you are and what's your name?" I told her my name and when she heard it she asked if my father was Savvas Lafazanis. I told her yes and asked why and she said "son is this the house you were born in?" You are twins and your mother had a carriage for two children and she used to put you in it". Fate led us to enter the house where I was born.
After that, we had to go to Limassol, because September was approaching and I would be appointed. The first Christmas after the invasion they found us in Limassol. In the churches we went to, which were decorated and we saw the Christmas trees, we were the haunted, the unhappy, the refugees with a bunch of dead and missing and trapped. We begged God to give us strength to live, we begged him to make peace with our dead, help our trapped and help us find our missing. We begged him to help us return to our homeland, to our homes".
And Mr. Lafazanis, for his part, wanted to close his narrative with a poem he wrote about his beloved Kyrenia. , Tserynia enslaved
You languish in me, my mother, but you are sad
Why are you the Archangel in the sea below
Where he is the all-powerful lamp-bearer.
< p>Ai Yorkis above, who is the trophy bearer
Ziai was victorious in all his matches.
These people have you in their care, in their thoughts
Why did no one think of harming you in your life.
Tziai Panagia Glytziotissa, perfect on the gyma
If he gives you freedom because you are a pity
Yes, the people of Tzerynio who are in pain are crying away from you
They are praying with tears to come to you.
Yes where you are, my Tzeryneia, the miracle is born.
May the sobs stop, the mourning and the crying.
May the pines and the mother be in your arms.< /p>
Your beauties are the mountains, the castle, the port,
They will receive them with joy, with laurels, with a wreath.
They will comfort them with words cheers,
Jiai with warm hugs, jiai with sweet kisses".
The Easter of another era and the customs that Attila's boot erased
He got his air gun that he left in his house in the occupied territories 48 years ago
A touching story… He found the 17-year-old who helped her in 47 years after the invasion