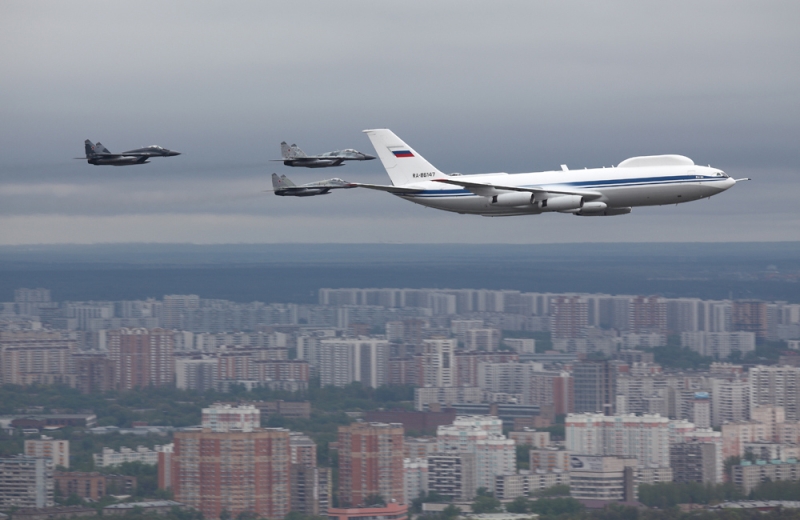 There are many scenarios for what exactly Vladimir Putin will announce on May 9, a national holiday of the Russians and a day of victory of the Soviet troops against the Nazi forces. The Western media has been quick to call the day a "day of doom," with the Russian president "opening the gates of hell." Serious analysts remain calm, challenging scenarios of a total nuclear war. In any case, the prevailing climate, however, matches the nickname of the "monster" aircraft, which is nothing more than doomsday. Its official name is "Flying Kremlin" and it is an Ilyushin Il-80 aircraft.
The Soviet-era giant aircraft has no windows other than the cockpit. According to Kremlin sources, this will fly in a low flight during the parade, sending messages both abroad and at home. Mostly, however, to the opponents of the Russian President. It will be accompanied by two MiG-29s. Immediately after, eight MiG-29SMTs will form the number Z, as a move to symbolize and support the Russian invasion of Russia. The plane could house Putin, his family and much of his government in the event of a nuclear war. "From there he can give orders and continue to rule safely," the reports insist. Someone a little cool would wonder "who will he rule in the event of a nuclear war?"
Fine print! This is the first and basic information circulating about doomsday. Name and thing!
An Il-80, Putin's 'Doomsday' plane and potential nuclear battle headquarters is seen preparing for the Victory Day military display over Moscow.

Video: Novaya Gazeta. Europe pic.twitter.com/Uc1S6eJDuG

— Novaya Gazeta. Europe (@novayagazeta_en) May 4, 2022
The plane has not flown since 2010. Its appearance this year, a show of force that usually includes a display of military equipment and a large number of troops, will be of particular importance due to Russia's invasion of Ukraine. After all, it is likely that Putin will "grit his teeth" in the West, warning them that if they continue to get involved, the war will spread. He has already come out of inactivity and even to prepare for the big day.
The crown of the Russian aircraft, also known as the Zveno-S, includes an advanced communications suite that uses satellite antennas mounted on top of a large oval-shaped pod at the front of the aircraft.
https: //twitter.com/KyivIndependent/status/1522637484169084928?ref_src=twsrc%5Etfw
Two more large pods & # 8211; fastened under the wings & # 8211; each has an engine that acts as an additional power source for the vehicle equipment. There is also a special Very Low Frequency Antenna System (VLF) used to communicate with ballistic missile submarines.
The Il-80s first flew in 1987 and an upgrade program began in 2008, in which the second Zveno-S version was introduced on at least two of the aircraft.
Length: 200 feet (60 m)
Wingspan: 160 feet (48 m)
Cruising speed: 530 mph (850 km/h)
Range: 2,230 miles (3600 km)
Engine type: Kuznetsov NK-86
Manufacturer: Ilyushin
First Flight: 5 March 1987
Construction Number: 4